Nurse Practitioner Schools in Ohio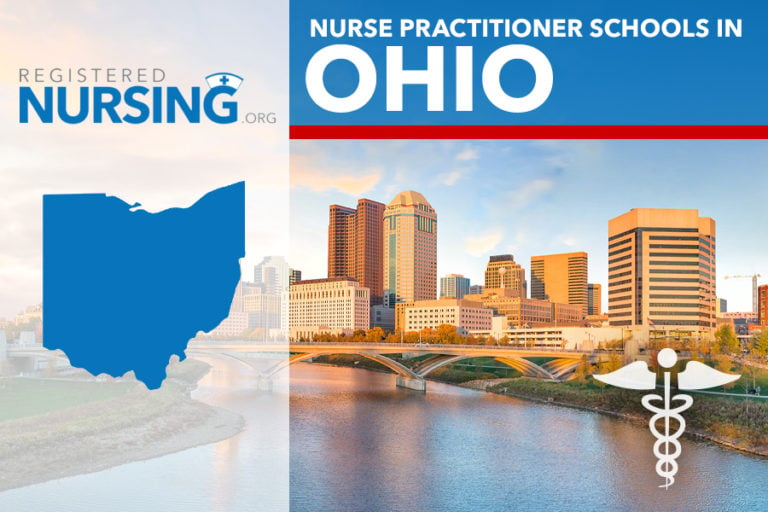 Health care is a rapidly growing and evolving field. While registered nurses are in demand, advanced-practice nurses are in demand as well. In fact, the projected job growth for advanced-practice nurses (including nurse practitioners) is expected to rise 28% by the year 2028 – much faster than average.
As far as the scope of practice, nurse practitioners in Ohio must first establish a collaborative agreement with a physician to diagnose and treat, as well as prescribe medications. They can function as a primary care provider, however.
Choosing a Nurse Practitioner Program
When choosing an advanced-degree program (master's or doctoral) to become a nurse practitioner, students should consider the following:
Accreditation- Nurse practitioner schools/ programs should be accredited by either the Accreditation Commission for Education in Nursing (ACEN) or the Commission on Collegiate Nursing Education (CCNE). Ohio has a bounty of advanced-level degree programs for nurses- twenty-four accredited schools from which to choose.
Program Cost- The cost to attend a graduate nursing program can vary from state to state, and from school to school. In Ohio, students can expect to spend an average of $730 per credit- and graduate programs can be 35-50 credits to completion. This figure is for Ohio state residents- out of state, and international students can expect a higher tuition. Additionally, the cost of books, supplies, and university fees are not included.
Program Length- If starting out with an ADN in nursing, it can take around two years to earn a BSN. Many graduate programs require a minimum of a BSN before enrollment. Some schools offer bridge options for ADN nurses, and students needing a BSN can take advantage of available online or classroom programs. BSN to MSN can take two to three years, and BSN to DNP can take about three to four years. These time frames are based on full-time status.
Internship/Externship Opportunities- Nurse practitioner tracks in graduate programs require a specific number of clinical hours for the student to gain essential advanced-practice nursing skills (usually between 500-600 hours of supervised externship). A new practice is taking root in many states in which nurse practitioners can apply for "residency" programs. These programs further the NPs' clinical skills to better prepare them for independent practice.
Online/Campus Options- Online or distance learning is the wave of the future. Online learning allows for flexibility with regards to traveling as well as flexibility with learning methods. There are seven accredited schools with 51- 100% online learning available. Students are encouraged to research each school of interest to determine the campus visitation requirements (if any).
Admission and Certification Requirements
Specific admission requirements may vary between schools, but MSN/DNP students may be required to:
Have a BSN from an accredited undergraduate nursing program
Have a valid, active RN or APRN license
Provide letters of recommendation
Have a GPA of 3.0 or higher (GPA may vary between schools)
Complete a Graduate Record Examination (GRE)
Have prior work experience as an RN/ APRN
Complete a college/university-level statistics course
Provide transcripts from previous collegiate coursework
Licensing/ Certification
Ohio NP students are permitted to apply for licensure before completing school and before testing for specialty certification. Applications are kept for one year. Specialty certification (i.e., adult, pediatric, women's health, etc.) can be obtained from an external credentialing agency, such as the American Nurses Credentialing Center (ANCC) or others that are approved by the board.
When applying for licensure as a "Certified Nurse Practitioner" in Ohio, the certifying agency must send documentation of certification directly to the Ohio Board of Nursing. Additional licensing requirements include:
Have an RN license
Have completed 45 contact hours of advanced pharmacology
Transcripts must be sent from the graduate school directly to the board
Complete a background check
Complete the online application and pay any applicable fees
Establish a collaborative agreement with a physician within thirty days of practicing
Detailed information is readily available on the Ohio Board of Nursing's website
Ohio Nurse Practitioner Agencies and Organizations
Schools That Offer Nurse Practitioner Programs in Ohio
Nurse practitioners are highly sought-after health care providers. Utilizing the nursing process to diagnose and treat patients, they offer comprehensive care to their patients. Ohio has the fifth largest employment level in the nation for nurse practitioners, making it a state with great educational as well as professional opportunity.
Akron, OH
Athens, OH
Canton, OH
Cincinnati, OH
Cleveland, OH
Columbus, OH
Dayton, OH
Kent, OH
North Canton, OH
Pepper Pike, OH
Toledo, OH
Westerville, OH
Youngstown, OH
Are we missing your school's program or need to update information listed? Please contact us so we can make the necessary changes.