Best Ohio RN to BSN Programs
Nurses work hard to demonstrate innovation and communication in their day-to-day duties and interactions with doctors, fellow nurses, and patients. With professional excellence as their guide, many nurses look to the bachelor's level of study in order to continue their professional development in the hopes of creating a healthier future for individuals and communities. For current registered nurses without a bachelor's degree, an RN to BSN program is perfect.
2022 - Best Online RN to BSN Programs in Ohio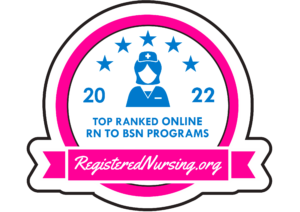 Ohio RNs who hold an ADN or nursing diploma can expand their employment opportunities and earning potential by earning a BSN degree. Luckily, specialized RN to BSN completion programs exist to help nurses advance their education in a quick and efficient manner. For those who wish to keep working or need flexibility, online RN to BSN programs are a convenient option. We have ranked the top online RN to BSN programs in Ohio to help nurses find the perfect program to reach their goals. Browse our rankings below to get started.
For more information on our top nursing school rankings, visit our Methodology Page (https://www.registerednursing.org/rankings-methodology/).
Admissions Requirements for Ohio RN to BSN Programs
Throughout the state, there is some variance in the requirements for RN to BSN programs; each university decides what admissions requirements will ensure that the best nurses can gain entry to the program and earn their undergraduate degrees. Nurses can expect to encounter the following types of requirements; we encourage you to check directly with your school of choice for school-specific admission criteria.
Proof of residence in a state that has an articulation agreement with Ohio's university network
Associate's Degree in Nursing from a school that is approved by the Ohio State Board of Nursing
Proof of cumulative GPA of 2.0+
Valid U.S. RN license without encumbrances
Pre-requisite nursing and arts courses have been met
Provide proof of current immunizations
RN to BSN Classes & Courses
Ashland University simplifies the process of undertaking the process of moving from RN to BSN. With dedicated faculty, some of whom have international acclaim, students advance at a flexible pace through course material such as:
Introduction to Informatics in Healthcare
Genetics and Healthcare
Research & Evidence-Based Practice
Health Care Systems
Community & Public Health
Health Care Systems
Legal, Ethical & Political Perspectives
27 credit hours in nursing are required, in addition to as many art courses as an individual needs in order to make up the entire BSN curriculum at Ashland.
Online RN to BSN Programs in Ohio
There are about 35 schools throughout Ohio that offer the online RN to BSN option - it is clear that the state prioritizes the advancement of nurses and the well-being of its patient populations. There are a number of programs that offer hybrid options, as well as fully online courses. Many have staggered start dates to ensure maximum flexibility for nurses who are trying to balance professional and personal commitments in addition to academics.
Admissions and Program Length
Accredited by the Commission on Collegiate Nursing Education (CCNE), Franklin University takes pride in its experienced nursing faculty. Offered fully online, the program is considered 'accelerated' with the goal of integrating nursing theory and patient outcomes with critical thinking to make nursing leaders. In order to earn a BSN from Franklin University, students must complete at least 30 of the 120 credits through the university. Students may prepare a portfolio, undergo proficiency testing, or challenge exams in order to gain transfer credits to apply toward their degree.
Tuition and Cost of Attendance
RN to BSN programs in the state often charge students per credit. For example, RNs who choose Kent State University are charged a per-credit fee of about $400 for online courses. With a total of 30 credits required, this adds up to about $12,000 total for the program, regardless of state residency.
Does an RN to BSN Increase My Salary?
While motivated by professional curiosity and development, nurses also choose to pursue their BSN degree because the investment will likely net a raise at some point during the near future. While some employers have an automatic adjustment for degree-earners, others will expect nurses to apply for promotions to roles such as community health nurse, nursing leadership, or nurse manager in order to gain greater pay.
RN to BSN Salary Comparison in Ohio
Nurses in Ohio earn anywhere from about $45,000 to almost $100,000, or slightly higher than national averages - however, who earns what? While the Bureau of Labor Statistics doesn't collect data on the salary differences between ADN and BSN nurses, we can make an educated guess that ADN nurses start near the bottom 10% of wage earners, and don't have many opportunities for pay raises as compared to BSN nurses. Having a BSN is also the gateway to graduate work, specialty fields, and doctoral research.
2022 List of RN to BSN Programs in Ohio
Nurses holding a BSN or greater degree in Ohio are reported to earn around 50% more than an ADN nurse, putting a BSN nurse at more than $90,000 per year. The state has upward of 30 colleges that offer RN to BSN programs and can put students well on their way to a degree. Ohio believes strongly in a degree in nursing and has strong support from different foundations, which has led to scholarships being offered for prospective nurses, as well as actively working nurses. A career in management, clinic supervisory roles or nursing educator roles could be in your future with a BSN degree.
Find RN to BSN Programs By City:
Program
Website

Ashland University

Online

Dwight Schar College of Nursing and Health Sciences

401 College Ave

Ashland

,

OH

44805

(419) 521-6802

ashland.edu

Aultman College

Online

BSN Completion Program

2600 Sixth Street SW

Canton

,

OH

44710

(330) 363-6347

aultmancollege.edu

Capital University

Campus

School of Nursing

1 College and Main

Columbus

,

OH

43209-2394

(614) 236-6703

capital.edu

Cleveland State University

Online

School of Nursing

2121 Euclid Avenue

Cleveland

,

OH

44115-2214

(216) 523-7237

nursing.csuohio.edu

Defiance College

Online

701 North Clinton Street

Defiance

,

OH

43512

(419) 783-2448

defiance.edu

Fortis College

Online

School of Nursing

555 E Alex Bell Rd

Centerville

,

OH

45459

fortis.edu

Franklin University

Online

College of Health and Public Administration

201 South Grant Avenue

Columbus

,

OH

43215

(614) 947-6209

franklin.edu

Good Samaritan College of Nursing and Health Sciences

Campus

RN-BSN Completion Program

375 Dixmyth Ave

Cincinnati

,

OH

45220

gscollege.edu

Kent State University

Online

College of Nursing

1375 University Esplanade

Kent

,

OH

44242

(330) 672-8794

kent.edu

Kettering College

Online

Nursing Education

3737 Southern Blvd

Kettering

,

OH

45429

(937) 395-8601

kc.edu

Lourdes University

Online

College of Nursing

6832 Convent Boulevard

Sylvania

,

OH

43560

(419) 517-8905

lourdes.edu

Mercy College of Ohio

Online

BSN Completion Program

2221 Madison Avenue

Toledo

,

OH

43604

(419) 251-1524

mercycollege.edu

Mount Carmel College of Nursing

Online

Online RN-BSN Completion Program

127 South Davis Avenue

Columbus

,

OH

43222

(614) 234-5950

mccn.edu

Mount Vernon Nazarene University

Online Campus

School of Graduate and Professional Studies

800 Martinsburg Road

Mount Vernon

,

OH

43050

(740) 397-9000 x3261

mvnu.edu

Muskingum University

Online

Department of Nursing

163 Stormont Street

New Concord

,

OH

43762

(740) 826-6160

muskingum.edu

Notre Dame College

Online

Division of Nursing

4545 College Road

South Euclid

,

OH

44121

(888) 568-7361

online.notredamecollege.edu

Ohio Northern University

Campus

Department of Nursing

525 South Main Street

Ada

,

OH

45810

(419) 772-3947

onu.edu

Ohio University

Online

School of Nursing

Grover Center E365, Ohio University

Athens

,

OH

45701

(740) 593-9134

ohio.edu

Shawnee State University

Online

Department of Nursing

940 2nd St

Portsmouth

,

OH

45662

shawnee.edu

The Christ College of Nursing and Health Sciences

Online

Department of Nursing

2139 Auburn Avenue

Cincinnati

,

OH

45219

(513) 585-1317

thechristcollege.edu

The Ohio State University

Online

College of Nursing

1585 Neil Avenue

Columbus

,

OH

43210

(614) 292-8900

nursing.osu.edu

University of Akron

Online Campus

School of Nursing

302 E Buchtel Ave

Akron

,

OH

44325

(330) 972-5930

uakron.edu

University of Cincinnati

Online

College of Nursing

2600 Clifton Ave.

Cincinnati

,

OH

45221

(513) 558-5330

nursing.uc.edu

University of Rio Grande

Online

Holzer School of Nursing

218 N College Ave

Rio Grande

,

OH

45674

(740) 245-5353

rio.edu

University of Toledo

Online

College of Nursing

2801 W. Bancroft

Toledo

,

OH

43606-3390

(419) 383-5858

utoledo.edu

Wright State University

Online

College of Nursing and Health

3640 Colonel Glenn Highway

Dayton

,

OH

45435

(937) 775-3133

nursing.wright.edu

Youngstown State University

Online

Bitonte College of Health and Human Services

1 University Plaza

Youngstown

,

OH

44555

ysu.edu
Are we missing your school's program or need to update information listed? Please contact us so we can make the necessary changes.