2023 - Best Nursing Schools in Kentucky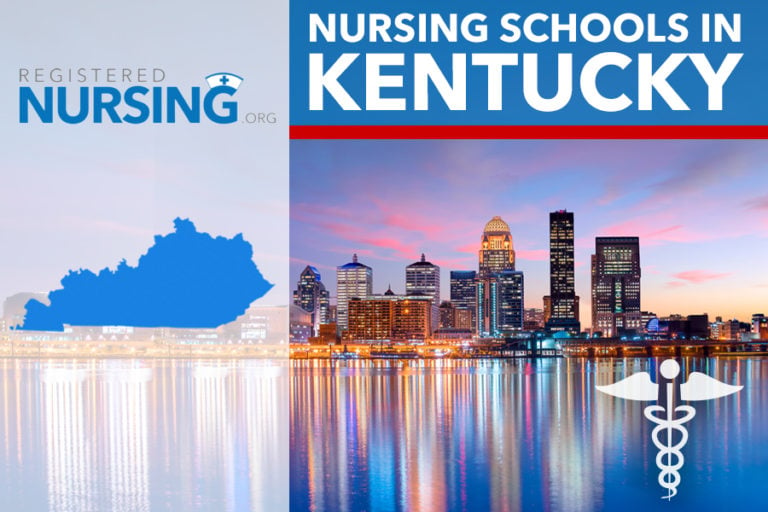 Kentucky's current state of health is one that requires a high standard of care, met by professionals with specific skill sets. In order to meet those needs, the state is looking for candidates that possess a higher level of education, and are offering higher salaries, and advancements in specialties as equivalent compensation. The overall outlook on future nursing positions for the state is projected at 20% per year, which equates to an average of 1,000 new positions. The state is in need of nurses that are striving toward a Bachelor's of Science in Nursing or greater to help meet the demand of such a complex and diverse health care system.
For RN bridge programs visit:
2023 Best RN Programs in Kentucky
ADN Programs in Kentucky
High school and mature students are presented with a variety of post-secondary options – one of which is that of pursuing an ADN or Associate's Degree in Nursing through a community or vocational college. With an ADN degree, students are able to sit the national licensure examinations, known as the NCLEX-RN and from there, be able to practice as a registered nurse.
There are over 40 college diploma programs for nurses offered at institutions throughout the state. Pre-licensure nurses who wish to learn and practice in their home state should be well equipped to do so.
What to Look For in an ADN Program in Kentucky
Examining colleges' accreditation, licensure and program outcomes data is a great way for students to compare which school will help them meet with success in a way that aligns with their personality and values. With more than 40 schools to choose from throughout the state, comparing data like this can make it easy to eliminate all but the top two or three choices for ADN.
Accreditation
Accreditations are a voluntary industry standard that shows good faith toward the public and toward the individual consumer – in this case, the students who are interested in ADN programs. Each nursing program has the option of submitting to a periodic review of their faculty, programs, facilities, and outcomes in order to carry the 'seal of approval' that accreditation brings. Throughout the country, the two nursing accreditation organizations are the Commission for Education in Nursing (ACEN) and the Commission on Collegiate Nursing Education (CCNE). Each organization has a list of which programs have met the accreditation standards in a given review period.
Licensing
The board of nursing for the state has a hand in reviewing and correcting aspects of ADN programs that are not suitable for creating qualified nursing candidates. As such, a program's licensure is periodically under review and given feedback if it doesn't meet rigorous criteria. As stated on the Board of Nursing website, a school should have a high rate of multi-year NCLEX pass statistics that are in line with the rest of the country when adjusted for time frames and demographics.
Program Outcomes
Colleges collect information annually and use it to publish and compare their outcomes to those of other colleges – as a benchmark to success and to attracting more students and positive publicity. Parents and students can compare program outcomes between different colleges to see which might be the best investment in their nursing education.
Graduation data
Enrolment information and demographics
Hiring data
First-attempt NCLEX pass/fail data
Consumer (student) reviews
Southcentral Kentucky Community & Technical College in Glasgow is renowned for the strength of its ADN program. Meeting all the licensure and accreditation reviews, pre-licensure students are proud graduates of SKCTC.
ADN Program Admission Requirements in Kentucky
Each institution has its own unique requirements for student admission, but we've collected some of the most common elements here so that you can best prepare your application and be admitted to the school of your choice:
Submit all transcript document directly to the Admissions department
Have a cumulative GPA of 2.5 or greater; pre-requisite courses must meet competitive standards
Professional fluency in additional languages meets the competitive standard
Be considered 'in good standing' by the Admissions department
Pass drug screening, abilities screening, and criminal background check
Tuition and Costs of ADN Programs in Kentucky
For students who are recent graduates of high school, the cost of tuition, materials, and living expenses can cause quite a shock. Fortunately, many students qualify for financial aid and scholarships – additionally, students can lower some costs by working part-time, and by attending an ADN program at a local college. Direct entry into the workforce after licensure also helps defray the cost of post-secondary.
Nursing students at Elizabethtown Community and Technical College can expect to pay about $182 per credit hour as an in-state student in the ADN program. On top of this cost are books, material, and administrative fees, as well as living and food costs.
Advantages of ADN Programs
The accessibility and affordability of the ADN program stream continue to ensure that the programs are in high demand, even as the industry becomes more focused on BSN offerings. With low tuition prices and accessible campuses, students find excellent value in an ADN degree. As well, diligent graduates are prepared to take the same NCLEX exam for licensure as their BSN counterparts.
LPN to RN Programs in Kentucky
Those in Kentucky who want to pursue an RN degree after having already earned a Licensed Practical Nursing (LPN) degree have a few pathways to choose from. Depending on the nurse's career goals, they can enter an LPN to ADN or an LPN to BSN program.
LPN to ADN/BSN Programs
The quickest route to an RN degree for a practical nurse is the LPN to ADN pathway. Students can receive credit for some of the LPN courses already taken, making it much faster than a traditional RN program. Kentucky LPNs can opt for a program such as Maysville Technical & Community College's online LPN to RN offering. Those who want to earn a bachelor's degree in nursing can pursue the slightly longer LPN to BSN program, which will reward them with expanded employment opportunities upon graduation. The University of Kentucky's College of Nursing, for example, offers an LPN to BSN program that offers entry in the Summer and Fall semesters.
BSN Programs in Kentucky
BSN or Bachelor of Science in Nursing programs are offered in the university environment. Candidates attend school for four years instead of an ADN's two-year timeline and are then eligible to sit the NCLEX exam for licensure as an RN. BSN grads are well-positioned to continue to climb the career ladder; further qualifications will net them a graduate or doctoral degree depending on their path and interests.
Kentucky has more than 15 BSN programs offering 4-year degrees for pre-licensure nursing students throughout the state and beyond.
What To Look For in a BSN Program in Kentucky
When evaluating BSN programs for possible attendance, students should consider a few logistical factors, such as cost, whether a university is public or private, tuition, and faculty reputation. Beyond these measures, students may wish to consider if the university seems to share a certain set of values with them and if other students would say they benefited from the program culture and environment on campus.
University of Kentucky – Lexington offers a traditional 4-year BSN program that prepares graduates to meet the changing face of healthcare. With well-regarded classroom, lab, and clinical experiences, students can augment their education with special opportunities and internships.
BSN Program Length in Kentucky
Eight semesters is the traditional length of time for an undergraduate degree. Students must successfully complete about 120 credit hours of classroom time, as well as their clinical placements in order to be eligible for graduation. Students can also pursue an accelerated degree, which is condensed to about 2.5 years of continuous education. RNs who have graduated previously from an ADN program and who wish to upgrade their qualifications may apply to the state's RN to BSN programs, which are also shorter than the traditional 4-year track.
BSN Program Admission Requirements in Kentucky
BSN programs each strive to enroll the best pool of applicants from high school, the workforce and post-secondary transfer. With that in mind, you can see how admission requirements would be similar yet unique across programs in the state. Here we've listed a few of the most common ones for your review:
Complete and accurate online application submitted
3.25 GPA or higher as per official transcript
ACT composite score of 22+ and math score of 19+
Pre-requisite courses have competitive marks
You are a student 'in good standing' with the university
Negative background and drug screening results
Tuition and Costs of BSN Programs in Kentucky
Tuition and other costs associated with attending school can be considerable – there is also quite a bit of difference between different universities in the same state. In order to best prepare yourself for the investment in your future, be aware that you'll have administrative fees, tuition, housing and food costs, transportation, materials and books, and nursing equipment to provision for.
Kentucky State University has tuition of about $5,700 per semester, with room and board at about $7,000 per semester and books and supplies about $1,300 for the year.
Advantages of BSN Programs
It's advantageous to pursue a BSN! Those students with a 4-year degree will find that they have different and more mobile career paths, as well as the opportunity for more pay sooner than their ADN counterparts do. When pursuing a leadership role or graduate studies, those students with a BSN are considered more competitive due to their degrees.
MSN Programs in Kentucky
Nurses who wish to earn within the top range of salary for their profession should look to pursue a Master's of Science in Nursing or MSN degree. With specialties like Nurse Practitioner, Nurse Teacher, and roles in leadership and policymaking, MSN degrees are increasingly in demand.
About five graduate degree programs throughout the state lead RNs to an MSN degree. There is a mix of online, on-campus, and hybrid options available.
MSN Program Length in Kentucky
The average length of an MSN program in the state is 2 to 3 years. Students must participate in about 40 credit hours of didactic study, coupled with almost 800 hours of clinical time in order to be eligible for graduation. While part-time study is available in most cases, nurses may run into time requirements to complete various components of their degree.
MSN Admission Requirements in Kentucky
MSN programs are becoming more in demand year over year as our population continues to age. Each program has its own unique criteria for admission, but there are some similarities:
Able to practice nursing in Kentucky
Minimum BSN GPA of 3.0
Have submitted professional letters of recommendation from practicing nurses
Submit all post-secondary and CE transcripts
Submit a professional resume and personal statement
For NP programs visit:
Getting a Kentucky Nursing License
Kentucky state candidates looking to acquire nursing licensure through examination or endorsement are required to provide:
A completed application and the corresponding fees, as well as further information such as:
Criminal background check
Fingerprint card - signed and completed
Kentucky Jurisprudence Exam completed
Graduate of an approved nursing program
Passing score on NCLEX exam
Candidates that are applying by endorsement must include all preceding documentation and these additional requirements:
Proof of required continuing competency
Verification of licensure from original state
Official transcripts from nursing program - sent directly via program to state board
Accelerated Nursing Programs in Kentucky
A BA in another field could help you earn a BSN in nursing! The accelerated programs offered at several different institutes throughout the state, can provide you with a second degree in as little as 12 months. The 12-month timeframe can vary a little bit depending on any required course to be completed before entrance will be permitted. The additional course can add to the cost of completing the degree program, so research the program and college to find out more about tuition costs for accelerated programs.
Latest Kentucky NCLEX-RN Pass Rates and Statistics
Total Number of State Approved Schools: 49
Total Number of Test Takers in 2021: 3,058
2021 Average Statewide Kentucky NCLEX-RN Pass Rate: 84.1%
Continued List of All RN Programs in Kentucky
Here is a continued list of all RN Programs a continued list of all RN Programs a continued list of all RN Programs a continued list of all RN Programs a continued list of all RN Programs a continued list of all RN Programs.
Are we missing your school's program or need to update information listed? Please contact us so we can make the necessary changes.