Nursing Programs in Omaha, NE
With the demand for registered nurses expected to grow at an increasing rate over the next several years, many individuals are pursuing careers in the nursing field. An exciting and personally rewarding career path, there are several accredited education programs in the Omaha area to help prepare you for your first nursing job or to train you for a leadership or advanced practice nursing position.
To get started in nursing or to advance your nursing career, check out our accredited program listings sections below: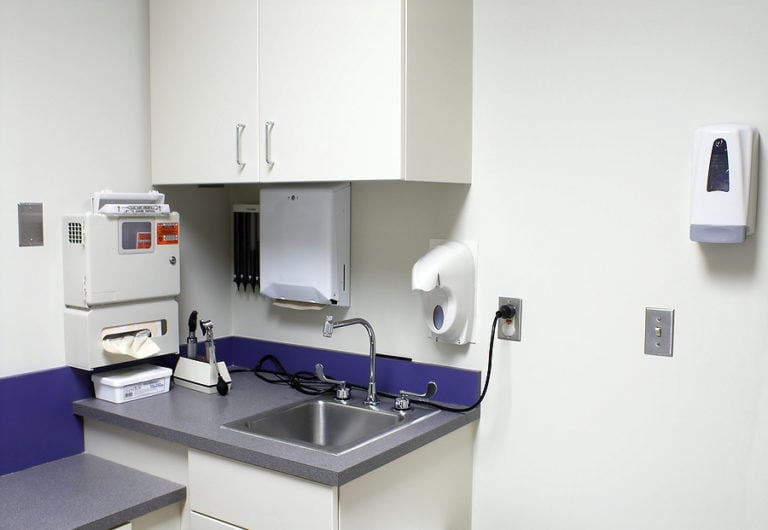 Entry-Level ADN & BSN Programs in Omaha, NE
The place to begin your career in nursing is an entry-level training program that will prepare you for the NCLEX licensing exam and for your first professional nursing job. Students in the Omaha area have the choice of Associate's Degree in Nursing (ADN) programs, which provide a foundational knowledge of nursing and preparation for entry-level nursing jobs, as well as Bachelor of Science in Nursing (BSN) programs that provide a more in-depth nursing education and take around double the time to complete.
ADN Programs
ADN programs generally take around two years to complete, and can be found at community colleges, vocational schools and some colleges and medical centers. Metropolitan Community College, as one example, offers a 108 credit hour ADN program that is designed to be completed in two years. Coursework includes chemistry, anatomy and physiology, family nursing, medical assessment, and therapeutic interventions.
Direct-Entry BSN Programs
Including more in-depth coursework not typically covered in an ADN program, BSN programs also prepare students to take the NCLEX exam and begin working as an RN. Completion time can vary from school to school depending on whether a student takes a full-time or part-time course load. Nebraska Methodist College offers a traditional four-year on-campus BSN program, as well as an accelerated BSN program for students with a bachelor's degree in a non-nursing subject that can be completed in just 15 months.
Learn more about Nebraska Accelerated BSN Programs
Omaha RN Program NCLEX-RN Pass Rates
Top Ranked Accredited Nursing Programs in Omaha
Listed below are the top nursing schools in Omaha based on our RegisteredNursing.org RN program rankings for Nebraska out of 16 other accredited programs offered in the state:
Clarkson College - #3
Nebraska Methodist College - #4
RN to BSN/MSN Programs in Omaha, NE
Many working nurses in Omaha who hold an RN license and an associate's degree are considering going back to school to earn their BSN or Master of Science in Nursing (MSN) in order to move into more senior nursing roles and earn a higher salary. For these nurses, an RN to BSN or RN to MSN program is ideal, as it provides an accelerated pathway to a higher degree for professional nurses.
RN to BSN Programs
RN to BSN programs provide a faster way to earn a bachelor's degree than a traditional four-year BSN program, as they take into account previous ADN coursework. Oftentimes, RN to BSN programs can be taken online for maximum convenience, which is especially important for nurses who wish to continue working while they take classes. The RN to BSN program at Bellevue University is fully online, with the hands-on practicum component completed in the healthcare organization of the student's choosing.
Learn more about Nebraska RN to BSN Programs
RN to MSN Programs
Another option for nurses who hold the RN license and an associate's degree is the RN to MSN program, which is somewhat less common than the RN to BSN program, and prepares students for advanced practice nursing careers as well as leadership positions. The RN to MSN Nurse Educator program at Nebraska Methodist College is an online program that prepares nurses for teaching positions and can be completed in just 30 months of study.
Learn more about Nebraska RN to MSN Programs
APRN & Nurse Practitioner Programs in Omaha, NE
Nurses who want to pursue leadership positions and advanced practice nursing roles, including nurse practitioner jobs, will likely need to earn an advanced practice degree. Options for these degrees include traditional MSN programs, post-master's certificate programs and doctorate programs such as the Doctor of Nursing Practice (DNP) and Doctor of Philosophy (Ph.D.) programs.
MSN Programs
Many MSN programs allow students to focus their studies in a particular advanced practice specialty, and prepare students for leadership roles in nursing. Clarkson College offers an online MSN program that allows students to choose from four specialty areas: Nursing Healthcare Administration, Nursing Education, Adult-Gerontology Primary Care Nurse Practitioner, and Family Nurse Practitioner.
Learn more about Nebraska Nurse Practitioner Programs
Post-Master's Certificate Programs
Post-master's certificate programs allow nurses with their MSN to learn a new advanced practice nursing specialty or expand their areas of expertise. For example, Creighton University offers an 18-credit hour Clinical Nurse Leader certificate that requires 600 hours of supervised clinical hours and is completed over two years of study.
Learn more about Nebraska Post-Master's Certificate Programs
DNP & Ph.D. Programs
Doctorate-level programs, including DNP and Ph.D. programs, are the highest level study for nurses. DNP programs, such as the one at Creighton University, prepare nurses for the highest level of clinical practice. Ph.D. programs, like the one offered at the University of Nebraska Medical Center, prepare nurses for careers in research and academia.
Learn more about Nebraska DNP Programs