Nurse Practitioner Schools in Nebraska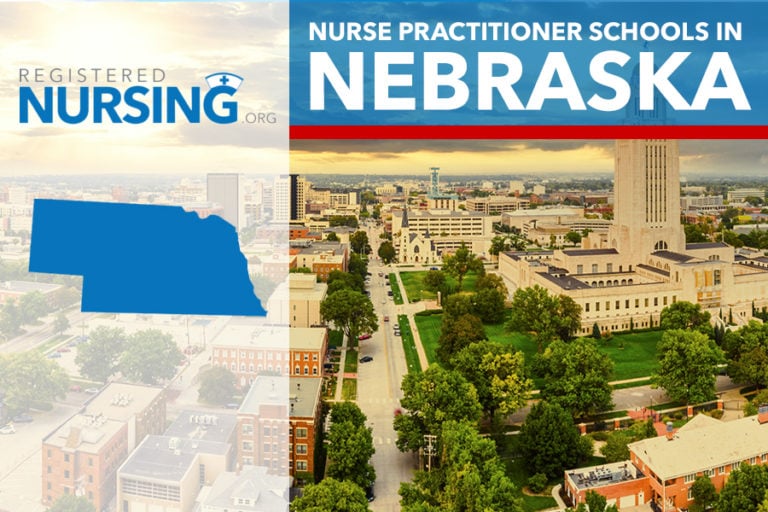 Nurse Practitioners are advanced-practice nurses who enjoy autonomy, leadership, and patient care management. While they help offset the current physician shortage in the United States, they also provide top-notch, comprehensive care to patients. According to the American Association of Nurse Practitioners (AANP), they can also help lower the cost of health care and increase patient satisfaction.
In Nebraska, nurse practitioners can practice independently, act as a primary care provider, and prescribe medications.
Choosing a Nurse Practitioner Program
When selecting a nurse practitioner program, several factors should be considered to ensure the education meets national standards as well as the individual student's needs. Factors include:
Accreditation- The graduate program must be accredited by the Commission on Collegiate Nursing Education (CCNE). The CCNE ensures certain educational standards are met to include curriculum, faculty, and graduation criteria. Currently, Nebraska has four accredited graduate programs for nurses.
Program Cost-The cost for a graduate program is an important consideration when choosing a school. Tuition for graduate nursing programs in Nebraska average around $600 per credit hour. This figure is for Nebraska state residents- non-resident cost per credit is slightly higher. Books, fees, supplies, and living expenses are not included in the cost of tuition.
Program Length- BSN to MSN can take approximately two years to complete if attending full time. BSN to MSN can take three to four years (full time). Some programs require a minimum of a BSN for enrollment so ADN nurses can expect a slightly longer career path.
Internship/Externship Opportunities-Graduate nursing programs incorporate clinical practicums in the program, but many nurse practitioners choose to participate in nurse practitioner residency programs following graduation. This allows for more clinical learning to build upon the knowledge they established in school. Unfortunately, nurse residency programs are a relatively new concept, and there are no NP residency programs in the state of Nebraska*.
Online/Campus Options-Online learning is a wonderful option for those who need to continue to work and balance a family life while going to school. The flexibility of online programs also allows for self-directed, self-paced learning. Luckily, three of the four accredited programs have over 50% distance learning Students are encouraged to visit the schools' websites to determine the campus visitation requirements.
*As of February 2017
Admission and Certification Requirements
Admission requirements for graduate nursing programs may vary between schools, but students may be required to:
Have a BSN from an accredited university
Have an active RN/APRN license
Have a GPA of 3.0 or higher (individual GPA requirements may vary)
Have taken a course in statistics
Provide letters of recommendation
Graduate Record Examinations (GRE) may be required
Complete interviews with faculty
Provide transcripts for any previous collegiate coursework
Have prior RN experience in the specialty area of the desired NP track
Licensing/Certification
Nurses enrolled in graduate programs for the role of nurse practitioner can obtain certification in the specialty track upon graduation. If not obtained from the program, nurse practitioners can become credentialed through a nationally recognized certification agency, such as the American Nurses Credentialing Center (ANCC). The ANCC offers certification in:
Adult-Gerontology, both primary and acute care
Pediatrics, both primary and acute care
Psychiatric-Mental Health
Family NP
Emergency NP
Proof of certification is required for NP licensure in Nebraska. Other licensure requirements include:
Have a current RN license
Have completed an approved graduate program which includes didactic and preceptorship of five hundred contact hours
Have earned a master's or doctoral degree in nursing
Have completed thirty contact hours of pharmacotherapeutic education
Completion of Advanced Health Assessment and Advanced Pathophysiology/ Psychopathology
Have taken or passed a national credentialing exam specific to the nurse practitioner role
Have graduated or practiced as a nurse practitioner a minimum of 2080 hours, OR have graduated within the previous five years
Complete fingerprinting/ criminal background check
Attest that professional liability insurance will be provided
Temporary licenses are granted in Nebraska- applicants are encouraged to visit the Nebraska state division of nursing for details regarding temporary licensure, as well as other licensing requirements.
Nebraska Nurse Practitioner Agencies and Organizations
Schools That Offer Nurse Practitioner Programs in Nebraska
Not only can advanced practice nurses work with certain patient populations (i.e., pediatrics, adults, women's health), they can work as nurse executives, nurse informaticists, and nurse educators as well. In many states, including Nebraska, nurse practitioners have been granted authorization to provide full-scope services to patients. This level of autonomy and independence makes advanced-practice nursing a desirable and in-demand career choice.
Omaha, NE
Graduate Certificate ProgramsMSN Programs
101 S. 42 Street
Omaha
,
NE
68131
(402) 552-3100
DNP ProgramsGraduate Certificate Programs
2500 California Plaza
Omaha
,
NE
68178
(402) 280-2700
MSN ProgramsGraduate Certificate Programs
42nd and Emile
Omaha
,
NE
68198
(402) 559-4000
Are we missing your school's program or need to update information listed? Please contact us so we can make the necessary changes.