Pennsylvania Post-Graduate Certificate in Nursing Programs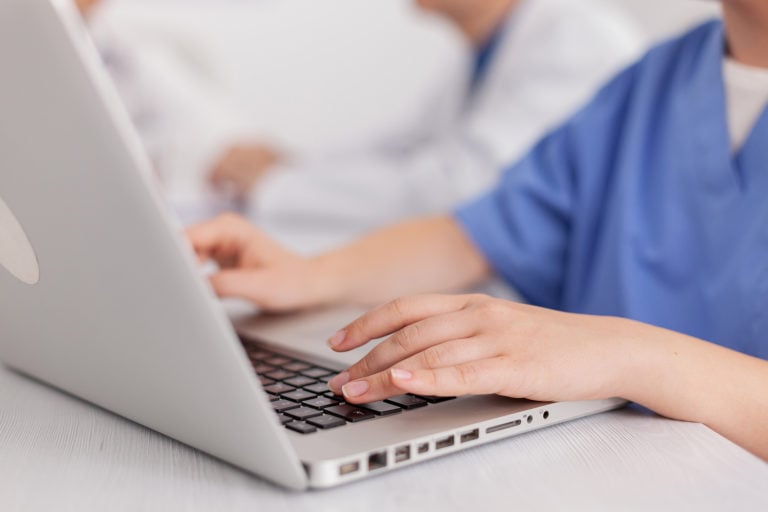 For nurses who want to advance in their careers, a post-graduate nursing certificate can provide the education needed to gain a first or second Advanced Practice Registered Nurse (APRN) designation. Earning an APRN designation opens up the possibility of a rewarding career as an advanced practice nurse.

Post-Graduate Certificate in Nursing Admission Requirements in Pennsylvania
Although admissions requirements can vary from one school to another, they amount to basically the same thing—proving that the student is ready for the post-graduate program. Students generally have to provide transcripts, letters of application, and sometimes, test scores. At PennState's graduate school, the requirements are as follows:
Have a bachelor's degree or MSN
Submit official transcripts
Prove English proficiency if you are a non-native speaker
It's important to note that while PennState's certificate program will admit BSN-level nurses, most programs require a minimum of an MSN to be eligible for a post-grad nursing certificate.
Post-Graduate Certificate in Nursing Classes and Courses
Post-graduate nursing programs are generally made up of advanced nursing courses. Usually, at least half of the courses directly apply to the specialty being studied but there may also be some general nursing courses. The curriculum for the Family/Individual Across the Lifespan Nurse Practitioner Post-Master's Certificate at Drexel University is a good example. This program requires:
Pharmacology for family nurse practitioners
Integrative practicum in family practice across the lifespan
Primary care of adults and older adults across the adult age spectrum I and II
Primary and episodic care of infants, children and adolescents
Primary care of the emerging family
Professional issues for nurse practitioners
Advanced health assessment & diagnostic reasoning
Advanced pharmacology
Advanced pathophysiology
Program Length
Post-graduate certificate programs can vary in length from fewer than 10 credits to as many as 30. They generally take around two years to complete, but some can be completed more quickly. Students who want to earn their certificates quickly should look for a full-time accelerated program.
Tuition and Cost of Attendance
Post-graduate students in Pennsylvania should expect to pay $900-$1000 per credit or more for their post-graduate certificates. Prices at private schools are often higher. University of Pennsylvania School of Nursing beaks down the cost of their post graduate certificate programs here.
Online Post-Graduate Nursing Certificate Programs in Pennsylvania
Online programs are in high demand by busy nurses who need to fit their coursework around their work schedules and other commitments. Fortunately, many Pennsylvania universities offer post-graduate nursing certificates online.
Featured Online School
Drexel University offers seven post-graduate nursing certificates—and every one of them is available online. Students can improve their clinical skills while earning a post-graduate certificate that will help them take their careers to a whole new level. The school offers nurse practitioner post-graduate certificates in the following specialties:
Women's health/gender related nurse practitioner
Psychiatric mental health nurse practitioner
Pediatric primary care nurse practitioner
Pediatric acute care nurse practitioner
Family nurse practitioner (individual across the lifespan)
Adult gerontology primary care nurse practitioner
Adult gerontology acute care nurse practitioner
Post-Graduate Certificate in Nursing Career Pathways in Pennsylvania
Pennsylvania nurses have a lot of choices when it comes to post-graduate nursing certificates. Here are some of the programs available in Pennsylvania:
Post-Graduate Nursing Certificate Salary & Job Outlook
According to the U.S. Bureau of Labor Statistics, job opportunities for nurse practitioners are expected to increase by around 26% between 2018 and 2028, which is much higher than the average of 5% for all occupations. Nurse practitioners are well paid, with the median income coming in at $113,930. The highest-paid 10% earn over $182,750.
List of Pennsylvania Post-Graduate Certificate in Nursing Programs
A post-graduate nursing certificate puts nurses on the path to a higher-paid and more fulfilling nursing career. Here are some Pennsylvania schools that offer post-graduate nursing programs.
Aston, PA
California, PA
Center Valley, PA
Clarion, PA
Mechanicsburg, PA
Millersville, PA
Moon Township, PA
Philadelphia, PA
Pittsburgh, PA
York, PA
Are we missing your school's program or need to update information listed? Please contact us so we can make the necessary changes.