Nursing Programs in Roanoke, VA
Nursing is an exciting and personally rewarding career path, and demand for nurses is expected to grow over the next several years as the Baby Boomer population ages. Aspiring nurses in the Roanoke area can take advantage of this increased demand and pursue a career in nursing by entering a nursing training program that will prepare them for the RN licensing exam and their first jobs as nurses. Experienced nurses have the option of several accredited programs that will allow them to learn new skills and earn a higher salary, some of which are offered in an online format to make getting a higher degree faster and more convenient. Keep reading for details about the nursing training programs available to students in the Roanoke area.
To get started in nursing or to advance your nursing career, check out our accredited program listings sections below: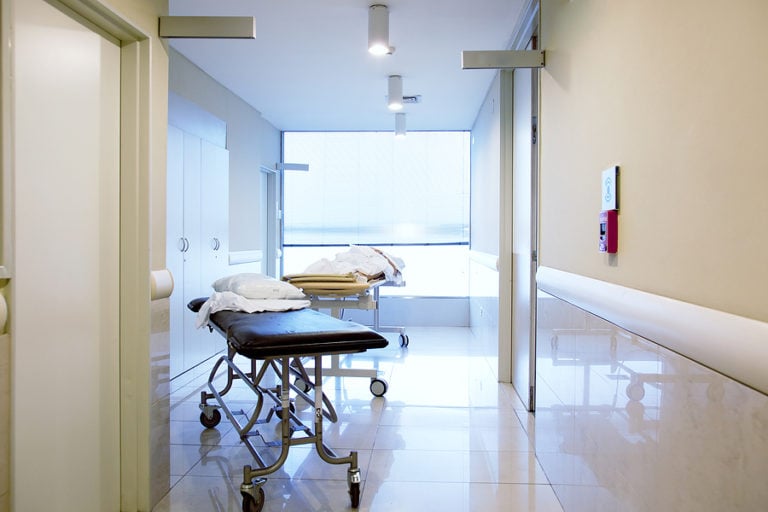 Entry-Level ADN & BSN Programs in Roanoke, VA
For recent high school graduates, or for individuals looking to switch careers, an entry-level nursing training program will prepare you for your first professional job as a nurse. Options for entry-level programs in Roanoke include LPN to RN, the Associate's Degree in Nursing (ADN), and the Bachelor of Science in Nursing degree programs, all of which will provide a foundation of nursing principles and practices and prepare students for the licensing exam. There are some differences in cost, curriculum and completion time between these program types that students need to be aware of.
LPN to RN Programs
For Licensed Practical Nurses (LPNs) who wish to become RNs, transitional LPN to RN programs exist to help them reach that next level. Students can typically choose between earning an ADN or BSN degree, depending on what kind of LPN to RN program they enter. No matter which degree type is chosen, graduates of these programs are eligible to sit for the NCLEX-RN examination. Virginia Western Community College, for example, offers an LPN to AAS pathway for aspiring RNs.
ADN Programs
ADN programs are the most basic entry-level nursing program and are ideal for students who wish to begin working as soon as possible, as they are completed in around two years of study. ADN programs are usually offered at community colleges, such as Virginia Western Community College, which offers a 65-credit hour, two-year program that is approved by the Virginia Board of Nursing.
Direct-Entry BSN Programs
BSN programs generally take longer to complete than ADN programs, and usually include additional general education coursework as well as more in-depth nursing curriculum. Increasingly, healthcare employers are looking for entry-level employees with a bachelor's degree or higher, making BSN programs attractive options for entry-level training programs. Radford University offers a BSN program that includes courses on nursing research, community health nursing, pediatric nursing, gerontology nursing and leadership in nursing.
Find out more about Virginia Accelerated BSN Programs
Roanoke RN Program NCLEX-RN Pass Rates
Top Ranked Accredited Nursing Programs in Roanoke
Listed below are the top nursing schools in Roanoke based on our RegisteredNursing.org RN program rankings for Virginia out of 67 other accredited programs offered in the state:
Roanoke Higher Education Center - #11
RN to BSN Programs in Roanoke, VA
RN to BSN "bridge" programs are ideal for experienced nurses who have earned their ADN degree and hold a current RN license who would like to earn their BSN. These programs provide an accelerated pathway that builds upon an experienced nurse's previous experience and coursework, and can often be taken online to accommodate a working nurse's busy schedule. The RN to BSN program at Jefferson College of Health Sciences is offered fully online and offers students the option of full- and part-time study.
Find out more about Virginia RN to BSN Programs
APRN & Nurse Practitioner Programs in Roanoke, VA
Many experienced nurses wish to move into leadership roles, or to transition into a nurse practitioner or administrative position. For these nurses, advanced practice nursing degree programs are the next logical step. In the Roanoke area, students have the option of online programs offered by out-of-state schools or the Master of Science in Nursing (MSN) programs offered at Jefferson College of Health Sciences.
MSN Programs
MSN programs are ideal for nurses who want to become nurse practitioners or take on an education, administration or leadership role in their organization. Jefferson College of Health Sciences offers both Family Nurse Practitioner and Nurse Administrator programs in a hybrid online and on-campus format. in these programs, students participate in 2-3 on-campus intensives in which they will learn hands-on skills while taking courses online and participating in clinical practice hours in a facility near a student's home.
Find out more about Virginia Nurse Practitioner Programs