2023 - Best Nursing Schools in Virginia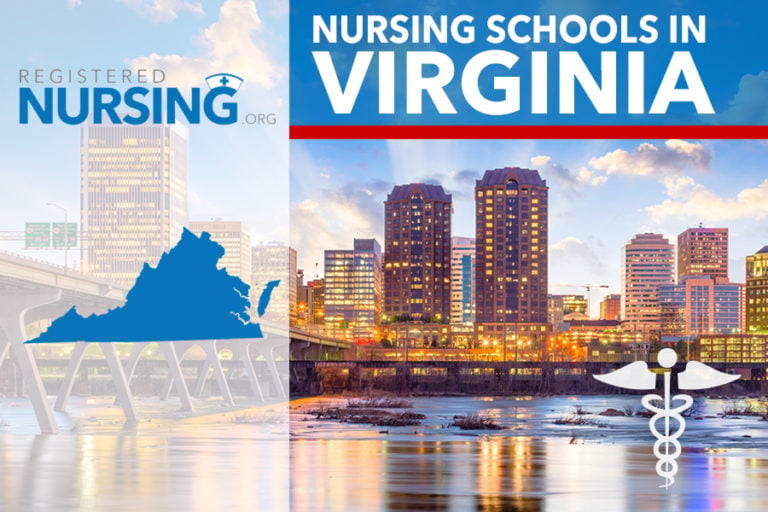 Beginning your career as a registered nurse in the state of Virginia couldn't come at a more opportune time. According to the Virginia Nurses Association, there is a nursing shortage in the state; needless to say, registered nurses are in high demand. With an average salary of roughly $76,680 (according to the Bureau of Labor Statistics), a career in registered nursing that is both rewarding and lucrative can be a reality in Virginia.
For RN bridge programs visit:
2023 Best RN Programs in Virginia
ADN Programs in Virginia
A 2-year Associate's Degree in Nursing (ADN) is a great way to start your career as a registered nurse. The shorter length makes it particularly attractive to those who are looking to get started in the field as quickly as possible. Since ADN programs are often offered at community and technical colleges, it can also be a more cost-effective way to become an RN.
With astounding 40-plus schools in the state that offer an ADN program, students from both rural and urban areas have the ability to find schools that suit their needs.
What to Look For in an ADN Program in Virginia
There are many things to think about when trying to choose the right ADN program. Here are a few examples of what you'll want to look for as you check out different schools:
Accreditation
Choosing a school with proper accreditations is crucial. You'll want to be sure the schools you consider hold accreditation from national organizations such as the Accreditation Commission for Education in Nursing (ACEN) and/or the American Association of Colleges of Nursing's Commission on Collegiate Nursing Education (CCNE). You'll also want to ensure that your school's program is accredited locally by the Virginia Board of Nursing.
Licensing
It's important that your school of choice's program fully prepares you to take the National Council Licensure Examination for licensure as a Registered Nurse (NCLEX). The American Association of Colleges of Nursing reports that 87% of new nurse graduates in Virginia passed their NCLEX exam in 2015 and received licenses.
Program Outcomes
The main indicator of a program's success is statistics of its outcomes, which many schools are happy to report. The following are all good indications of the school's reputation:
Graduation rate
Licensure exam pass rate
Graduate satisfaction
Employment rate
Located in Lynchburg, Virginia, Centra College of Nursing is just one example of a school that offers an accredited ADN program in the state.
ADN Program Admission Requirements in Virginia
Each ADN program will have its own specific set of requirements for admission. Here are a few that you may find when looking at programs in the area:
Must supply official transcripts
Completed pre-requisite courses with a grade of C or higher
Cumulative GPA of 2.5 or higher
Tuition and Costs of ADN Programs in Virginia
It's crucial to consider tuition costs as you compare ADN programs. You'll also need to remember that tuition is just one portion of what you'll be paying for in order to earn your degree. Textbooks, fees, and uniforms are all examples of costs you may incur, and these may or may not be included in the price of your school's tuition. As an example, the ADN program at Virginia Western University, located in Roanoke, Virginia, has a tuition cost of $170.09 per credit hour for in-state students and $370.19 per credit hour for out-of-state residents.
Advantages of ADN Programs
There are many advantages to going through an ADN program, but arguably the two biggest advantages are length and cost. At 2 years, it's one of the fastest ways of becoming a registered nurse. Because of the shorter length of the program, it also costs considerably less than other 4 year programs and can be found at affordable institutions such as community colleges.
LPN to RN Programs in Virginia
For those who have already completed a Licensed Practical Nurse (LPN) program, there are accelerated pathways available to advance to registered nursing. These LPN to RN "bridge" programs build upon the LPN's prior education, making the total program time much shorter than a traditional program.
LPN to ADN/BSN Programs
The first-degree option available to LPNs is the ADN degree via the LPN to ADN program. This is the shortest route to registered nursing, often taking less than a year to finish. Virginia Western Community College in Roanoke offers an LPN to ADN (AAS) pathway to prepare students for a career as an RN. For those interested in a bachelor's degree, there are also LPN to BSN programs available, though these are slightly longer. Hampton University, for example, offers a 3-year LPN to BSN program.
LPN to RN programs in Virginia may require the following for admission:
Graduation from an accredited LPN program
Current, unencumbered Virginia LPN license
Completion of any prerequisite courses
Minimum GPA
BSN Programs in Virginia
If you are looking for a more advanced nursing career, a Bachelor's of Science in Nursing (BSN) is an excellent option. Earning your BSN opens you up to a larger pool of job opportunities, including public health nurse and nurse educator. These jobs often come with a substantially higher salary as well. The trade-off is that the program is a bit longer, at roughly 4 years to complete for a traditional BSN. With over 20 BSN programs offered at schools all over the state, Virginia is a great place to earn your BSN.
What To Look For in a BSN Program in Virginia
Just like you would for an ADN, you'll want to look for a few main things when considering a school to earn your BSN. Things like legitimate accreditation, program outcomes, and proper preparation for your licensure exam are all very important when it comes to comparing programs. You may also want to see if your school offers an RN to BSN program if you already hold a nursing license.
As an example, Norfolk State University in Norfolk, Virginia offers an accredited BSN program.
BSN Program Length in Virginia
A traditional BSN program will last 4 years. However, programs are considerably shorter if you are already an RN, as many schools also offer an RN to BSN program. If getting done quickly is of utmost importance, you can also look for a school that offers an Accelerated BSN program.
BSN Program Admission Requirements in Virginia
While each program will have its own requirements, here is a sampling of some typical BSN admission requirements:
Official transcripts from previously attended colleges or high school
Completion of one biology course and one algebra course, with a grade of C or better
Cumulative GPA of 3.0 or higher
Tuition and Costs of BSN Programs in Virginia
Tuition and other costs and fees for your BSN can be hard to decipher and can vary from school to school. Sometimes a school's tuition includes additional costs, like books and uniforms, and sometimes these fees are separate. For example, Bon Secours Memorial College of Nursing, located in Richmond, Virginia, has an estimated total BSN program cost of $37,740, including tuition, fees, books, and other costs.
Advantages of BSN Programs
The great thing about earning a BSN is the number of options it gives you. Increased job opportunities and a higher salary are just two of the reasons that going for a BSN can be advantageous. Even those who are already registered nurses choose to go on and complete their BSN to advance their careers.
MSN Programs in Virginia
If you're looking to go beyond a BSN, a Masters of Science in Nursing degree (MSN) (link to ) is the logical next step. This advanced degree can lead to nursing jobs including Clinical Nurse Specialist, Certified Nurse Midwife, and Nurse Practitioner, among other specialties. You must already hold a BSN if you want to move on and earn an MSN.
MSN Program Length in Washington
Most MSN programs last roughly 3 years. Many schools structure the MSN programs so that they are flexible since most students in the program are busy working nurses. It's a good idea to see what kinds of schedules your desired MSN program offers; part-time, night classes, and even online classes are sometimes available, depending on the school.
MSN Admission Requirements in Virginia
MSN admission requirements can vary, so always check your school of choice for details. Here are a few standard MSN admission requirements to give you a general idea:
A BSN degree from a regionally accredited institution
Active Virginia RN license
Current CPR card
Work experience as an RN
Tuition and Costs of MSN Programs in Virginia
As with other nursing degrees, tuition and costs for MSN programs can vary widely. As an example, the University of Virginia School of Nursing lists its estimated tuition for in-state residents at $23,356.
For NP programs visit:
Getting a Virginia Nursing License
Virginia State Board of Nursing mandates that candidates looking to procure a license meet certain criteria, as well as completing an application, candidates must submit supporting documentation.
If applying for licensure through examination candidates must complete the appropriate application and also submit:
Official transcripts - sent directly to the Board via the school
Criminal Background Check - with fingerprint
Register for NCLEX - successful outcome upon completion
If applying for licensure through endorsement candidates must submit the above criteria, as well as this additional information:
Verification of licensure from originating state - either by request form or through NURSYS
Learn more about VT RN license requirements at the Virginia Department of Health Professions - Board of Nursing.
Accelerated Nursing Programs in Virginia
How long is too long to fast track your career? If you complete an accelerated program in 12 to 18 months, would you consider taking the full-time commitment that it requires? Accelerated programs are rigorous in nature and require participants to attend as full-time studies, working during these programs is not recommended. Gaining entrance into the programs will be dependent upon any required credits that need to be completed prior to the beginning of the program. Fees for these programs are based on the rate charged per credit hour, which means if there any additional credits required, fees may increase.
Latest Virginia NCLEX-RN Pass Rates and Statistics
Total Number of State Approved Schools: 67
Total Number of Test Takers in 2021: 4,690
2021 Average Statewide Virginia NCLEX-RN Pass Rate: 82.9%
Continued List of All RN Programs in Virginia
Here is a continued list of all RN Programs a continued list of all RN Programs a continued list of all RN Programs a continued list of all RN Programs a continued list of all RN Programs a continued list of all RN Programs.
Are we missing your school's program or need to update information listed? Please contact us so we can make the necessary changes.