Nurse Practitioner Schools in Virginia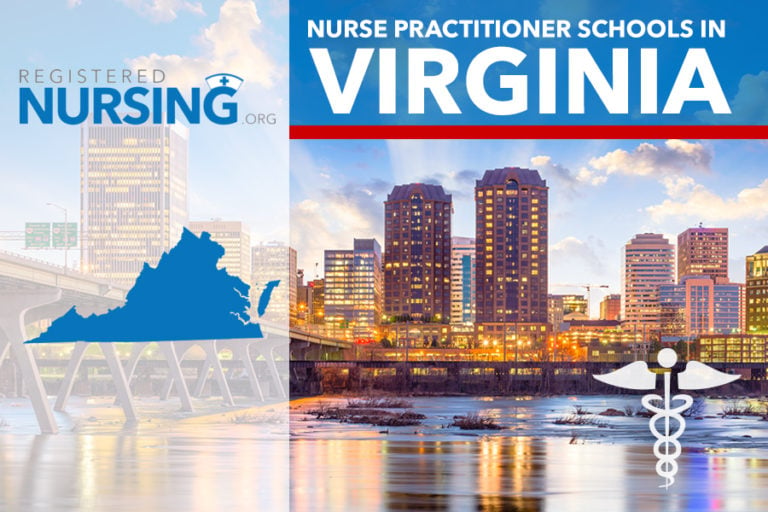 With healthcare a growing field, many nurses are looking for opportunities to grow their careers. Advanced practice registered nurses, including nurse practitioners (NPs), enjoy the benefits of taking on more responsibilities, entering leadership roles, and earning higher salaries. Nurse practitioners in Virginia can enter into a variety of specialized roles, and can even offer primary care services to patients.
Choosing a Nurse Practitioner Program
With both master's and doctoral degree levels available, students should consider the following when researching nurse practitioner programs:
Accreditation- Nurse practitioner programs are typically accredited by the Accreditation Commission for Education in Nursing (ACEN) or the Commission on Collegiate Nursing Education (CCNE). Virginia boasts over 20 advanced level nurse practitioner programs.
Program Cost- Tuition costs can fluctuate based on factors like location, school, and degree level. Virginia residents can expect to pay $500 to $700 per credit hour, with up to 50 credits required for an MSN-level degree, and around 80 credits for a doctoral degree.
Program Length- Most graduate level nurse practitioner programs require a BSN in order to enroll. ADN-level nurses can take a two-year bridge program to get up to the BSN level. MSN programs can take 2-3 years to complete, while DNP programs can take 3-4 years, depending on full-time or part-time attendance.
Internship/Externship Opportunities- Nurse practitioner programs require a certain number of clinical hours to complete the degree. Many schools have relationships with hospitals and medical centers in the area in which students can complete internship/externship clinical rotations.
Online/Campus Options- Schools offering nurse practitioner programs are increasingly offering both online and campus-based options to suit the needs of a variety of potential students. There are also "hybrid" options in which students complete a large portion of the coursework online, but also attend some lectures and labs on campus.
Admission and Certification Requirements
For most MSN/DNP nurse practitioner programs in Virginia, students must meet the following criteria:
Hold a baccalaureate degree in nursing from an accredited institution
At least one year of prior clinical nursing experience
Current, active RN license
GPA of 3.0 or higher typically required
GRE or similar tests may be required if minimum GPA is not met
Have prior work experience as an RN/ APRN
Submit transcripts from all colleges attended
Letters of recommendation and/or a personal essay may be required
Licensing/Certification
Virginia nurse practitioners are eligible to become certified in the nurse practitioner specialty of their choice (such as nurse midwife, family nurse practitioner, clinical nurse specialist, and more) upon completion of the correlating NP program. In order to receive the certification, the NP must pass the credential examination, typically offered by the American Nurses Credentialing Center (ANCC).
According to Virginia law, nurse practitioners, certified nurse midwives, and certified registered nurse anesthetists must be licensed as such by the Virginia Board of Nursing. Requirements for licensure include:
Current Virginia RN license
An official transcript from a graduate degree program in an advanced practice nursing program, sent directly from the educational institution
Transcripts must be sent from the graduate school directly to the board
Submit a completed application
Virginia Nurse Practitioner Agencies and Organizations
Schools That Offer Nurse Practitioner Programs in Virginia
With this sought-after career on the rise, and expected to grow by 31% in the next few years, it's no wonder why many nurses are looking into NP programs. Luckily, Virginia is rising to the occasion by offering a bounty of accredited and well-respected nurse practitioner programs.
Arlington, VA
Charlottesville, VA
Fairfax, VA
Hampton, VA
Norfolk, VA
Radford, VA
Richmond, VA
Roanoke, VA
Winchester, VA
Are we missing your school's program or need to update information listed? Please contact us so we can make the necessary changes.