A Shortcut to Becoming a Registered Nurse (RN)
Last Updated/Verified: Jun 28, 2020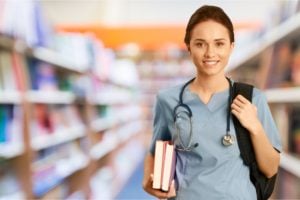 Registered Nurses are in Demand
The demand for registered nurses is high. With the aging Baby Boomers population requiring medical care and with many nursing reaching the age or retirement, RN positions need to be filled.
Hospitals, skilled nursing facilities, and outpatient centers are in desperate need of registered nurses to care for the constant influx of patients. And, the nursing shortage is expected to get worse as the years go by. 
But, this is nothing new.
The call for nurses has been made by commercials, media, nursing schools, and hospitals. Students have heard the cries and have heeded the call! So now, so many students want to be nurses that getting into nursing school has never been more competitive!
Many prospective students have completed their prerequisites and are not-so-patiently waiting on university waitlists while they retake classes to replace B's with A's. Most are working students and struggle to balance work and school while fulfilling volunteer hours and extracurricular activities to try to stand out above the crowd. 
Many students begin to wonder whether there is an easier way! 
Have no fear! The pathways to earning a career as a registered nurse are evolving and there is a shortcut to getting started faster as a registered nurse!
How? 
Take It Step-By-Step
Earn a certificate as a nursing assistant (CNA) then work as a CNA while attending a CNA to LPN program. Many are tailored to working students. The CNA program is usually just a couple of months of part-time work and the CNA will earn experience in nursing while earning more money than most college-aged jobs pay.
CNA's can work in home health, for private homes, in hospitals, and in skilled nursing facilities.
Next, keep the CNA job and go to LPN school or consider a CNA to RN program is available.
These are usually full-time programs but the beauty of working in healthcare is the 24/7 hours! CNAs can work evenings after LPN school is out for the day. The program is usually about a year-long, prerequisites vary by school, and the waitlist is usually fairly short. LPN careers while important, it is being emphasized to continue your nursing education in most states; instead, use it as a stepping stone to qualify for an LPN to RN program or find a direct BSN program.
Once LPN school is completed, work as an LPN while attending an LPN to RN program. This is an Associate's Degree in Nursing (ADN).
These are usually designed for the working nurse and many schools offer evening and weekend classes. Online classes may be available but because clinical hours are required by each state these must be fulfilled in-person. Some schools may offer online classes with a preceptor to fulfill clinical hours, but in this nurse's opinion, being present in a classroom is important for this year of nursing school. The core of nursing is taught in the first 2 years.
Once the RN degree is finished he or she can work, as a nurse, while earning their nursing degree online or in the evenings. See RN to BSN programs.
So now, instead of spending 3 years on a waitlist for a 4-year Bachelor's Degree in Nursing program, the nurse can actually be spending that time working, gaining experience as an RN, and earning great money in nursing.
Many nurses can even stay within the same healthcare system as they continue to gain education and the employer will probably offer tuition reimbursement!
Learn more about how to become an RN traditionally or even going from medical assistant to RN.
So Why Doesn't Everyone Take This Path?
Most students don't realize a Bachelor's degree is not required to start a career as an RN. Let's caveat this by saying that at some point in the distant future it may be required. But, for now, in 2016, most hospitals and non-hospital do not require a BSN in nursing to get started.
Some large teaching hospitals may require the BSN for new graduates, but most hospitals do not. Those that don't may have a hiring stipulation of obtaining a BSN within 5 years, but for this, they likely offer tuition assistance. Most BSN programs are designed for the working nurse and are less than 2 years. Many are 100% online. Learn more about accelerated BSN programs if you are looking for a faster-paced option.
Look up the job requirements for New Graduate RNs on hospital websites. You may be surprised!
CNA & RN FAQs
What's New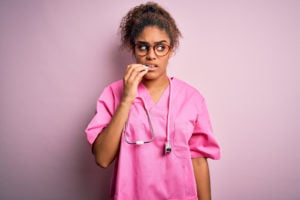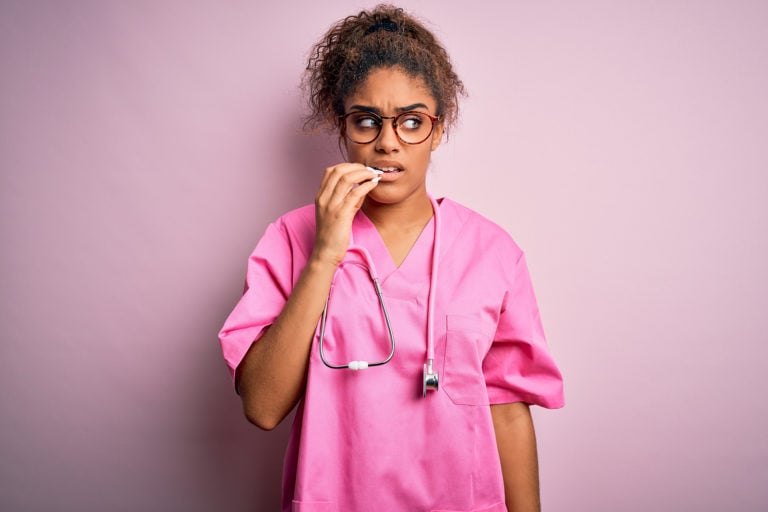 You Are Not Alone: Tips to Deal With or Avoid Anxiety for the Nervous New Nurse
It's the night before her shift and nurse Kayla is starting to get a sinking feeling in her stomach, worrying…