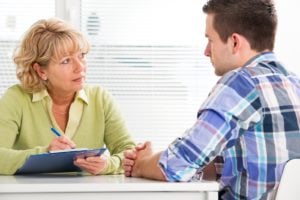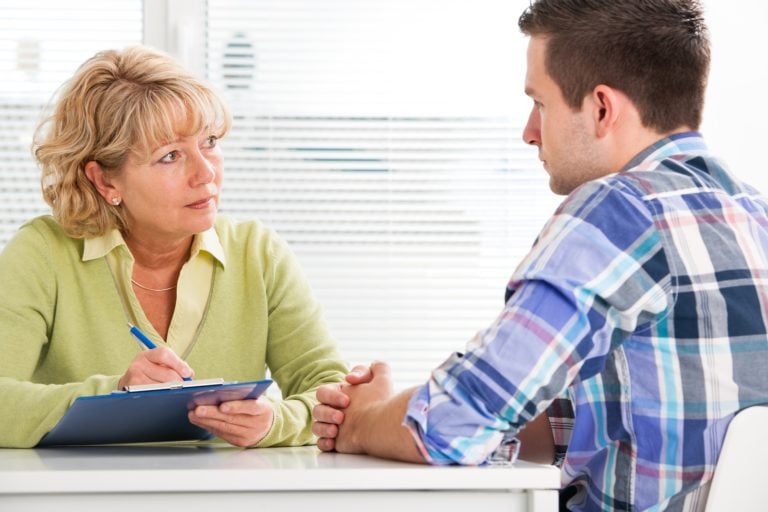 What Is a Substance Abuse Nurse?
A substance abuse nurse, sometimes referred to as an addiction nurse, specializes in the treatment of patients addicted to drugs, alcohol or other substances. Substance abuse nurses are trained in mental health in addition to general medicine. They provide pain management, education for patients and caregivers about the dangers of substance abuse, and emotional support to patients in crisis.
Becoming a Substance Abuse Nurse
As with other nursing careers, the first step in becoming a substance abuse nurse is to complete an Associate's Degree in Nursing or Bachelor of Science in Nursing degree to gain a general nursing education. For aspiring addiction nurses, elective courses in mental health will be particularly important. Once a nurse has completed schooling, they must pass the NCLEX-RN exam. From there, an RN may begin work as a substance abuse nurse. Certain employers may require that the RN gain certification as a Certified Addictions Registered Nurse (CARN).
A typical job posting for a substance abuse nurse position would likely include the following qualifications, among others specific to the type of employer and location:
ADN or BSN degree and valid RN license
Ability to make safe judgment calls in patient care
Strong communication skills for educating patients and their families about the dangers of substance abuse and their treatment options
Proficiency in computer programs and data entry for maintaining patient records
Experience in mental health and/or addiction preferred
Caring and professional demeanor with compassion for patients struggling with addiction
To search and apply for current substance abuse nurse positions, visit our job boards.
What Are the Education Requirements for Substance Abuse Nurses?
Substance abuse nurses are generally required to have completed an ADN or BSN degree and to hold a valid RN license in the state in which they plan to practice. A higher nursing degree is usually not required unless the RN wishes to become an Advanced Practice Certified Addictions Registered Nurse (CARN-AP), in which case a minimum of an MSN degree must be held. At any degree level, elective courses in mental health and addiction are critical for students interested in pursuing a career in substance abuse nursing.
Are Any Certifications or Credentials Needed?
Once a nurse has completed 2,000 hours of professional nursing experience in the substance abuse sector and 30 hours of continuing education related to addictions nursing within the last three years, he or she may sit for the Certified Addictions Registered Nurse (CARN) certification exam offered by the Addictions Nursing Certification Board (ANCB).
There is also an opportunity to gain certification as an Advanced Practice Certified Addictions Registered Nurse (CARN-AP) through the ANCB. This certification requires a Master's of Science in Nursing (MSN) or higher, as well as 45 hours of continuing education and 1500 hours of advanced-practice addictions nursing experience (with a minimum 500 hours of supervised addictions nursing experience) within the last three years.
Both of the CARN certifications are valid for four years. While not required for all substance abuse nursing positions, the CARN certifications communicate a nurse's commitment to substance abuse nursing to prospective employers.
Where Do Substance Abuse Nurses Work?
Substance abuse nurses work with patients and their families in a variety of settings, including:
Mental health clinics
Psychiatric wards in hospitals
Inpatient or outpatient substance abuse treatment facilities
What Does a Substance Abuse Nurse Do?
A substance abuse nurse provides direct patient care to individuals struggling with substance abuse and addiction. They assist physicians in developing treatment plans, perform patient assessments, monitor a patient's progress and administer medications and pain management services. An important aspect of substance abuse nursing is mental health and emotional support services. Substance abuse nurses often conduct mental health screenings and provide emotional support for patients and their families during treatment. They also educate patients and their loved ones about the dangers of substance abuse and provide resources and information about the various treatment options for addiction.
RELATED - What Different Settings Do Addiction Nurses Work In and What Are Their Job Duties in Each Setting?
What Are the Roles and Duties of a Substance Abuse Nurse?
Perform patient assessments and medical screenings at admission and monitor patient's status throughout treatment
Assist physicians with developing individual treatment plans and implement and monitor those plans
Administer medications and provide pain management services
Update and maintain patient's medical records and charts
Educate patients and their loved ones about the dangers of substance abuse and various treatment options
Provide emotional support to patients and their families struggling with addiction, which may include organizing and facilitating support groups
Substance Abuse Nurse Salary & Employment
Substance abuse nurses are in high demand across the country as the number of individuals suffering from substance abuse addiction rises. The median wage for registered nurses as a whole is $68,450 annually according to the U.S. Bureau of Labor Statistics, and nurses with specialized skills and knowledge may earn even higher incomes. Relevant certifications, such as the CARN certification, can also help nurses earn higher pay.
Helpful Organizations, Societies, and Agencies
Substance Abuse Nurse FAQs
Substance abuse nurses, or addiction nurses, can work in a few different settings.
Patients who are acutely ill with the effects of drugs or alcohol may require inpatient detox. In this setting, nurses must first focus on the physical effects of drugs or alcohol as well as withdrawal symptoms. Because of the nature of an acute setting, duties are more centered around physical symptoms and may include:
Recognizing symptoms and identifying the type of substance abuse
Managing symptoms such as DTs, seizures, rapid heart rates, etc.
Utilizing standards for assessing withdrawal symptoms, such as the CIWA protocol
Administering medications to assist in managing withdrawal symptoms, such as Diazepam, Valium, or "banana bag" IV fluids
Monitor for behavioral changes
Once the physical symptoms of alcohol or drug abuse and withdrawal are managed, mental health nursing comes into play. Psychiatric nursing may occur concurrently with inpatient or ambulatory treatment. Duties may include:
Assessing for mental health diagnoses that may have contributed to the addiction
Assessing for events (i.e., abuse or neglect) that may have led to substance abuse
Developing a plan of care in collaboration with a psychiatrist
Administering and monitoring the use of psychiatric medications
Ensuring the patient is engaged with the treatment plan and is compliant with the treatment regimen
Substance abuse nurses can struggle with guilt when patients relapse and overdose. But what about the legal ramifications for nurses?
In reality, it depends on the situation. For example, let's say a substance abuse nurse follows all the organizational policies and procedures, assesses and documents that a patient is on the right track with recovery, and administers prescribed medications (like methadone) correctly. Then the patient ends up relapsing and overdosing. That nurse is likely not going to be held liable. However, if the nurse fails to accurately monitor, assess, evaluate, and document a patient's care, or administers the wrong dose or drug, then yes - that nurse could be held liable in the event of an overdose.
Basically, any violation of the state's nurse practice act could place nurses at risk. For example, let's say a substance abuse nurse fails to document an assessment or progress note on a patient. Or, perhaps the patient failed to complete a routine drug screening, and the nurse administered methadone anyway, leading to an overdose. The nurse would likely be found negligent and legally liable for the overdose. Cases like this are why nurses should know their state's nurse practice act, as well as their organization's policies and procedures.
One challenge substance abuse nurses face is relapse. When developing a relationship with patients and observing the recovery process, it's difficult when relapse occurs. Many nurses feel they have "failed" their patients in some way. It's important for nurses to remain grounded and recognize that addiction is like any disease - sometimes treatment must be altered to reach the desired outcome.
Another challenge is dealing with the family and friends of the patient. Nurses must be able to recognize enabling behavior and abuse which hinders recovery. Engaging family and friends in the treatment process is sometimes necessary, but it is difficult when they are not willing to change their behavior to help the patient recover. Using a multi-disciplinary approach, enlisting the help of mental health professionals such as psychiatrists, social workers, and counselors can help bring a patient closer to recovery.
Perhaps one of the most significant challenges is losing a patient to addiction. After developing a relationship with a patient and trying various medical and behavioral treatments, sometimes it isn't enough for the patient to beat addiction. Reminding oneself that addiction is like any disease and sometimes treatment fails despite the most valiant effort can help ease the pain.