Cardiac Catheterization Laboratory Nurse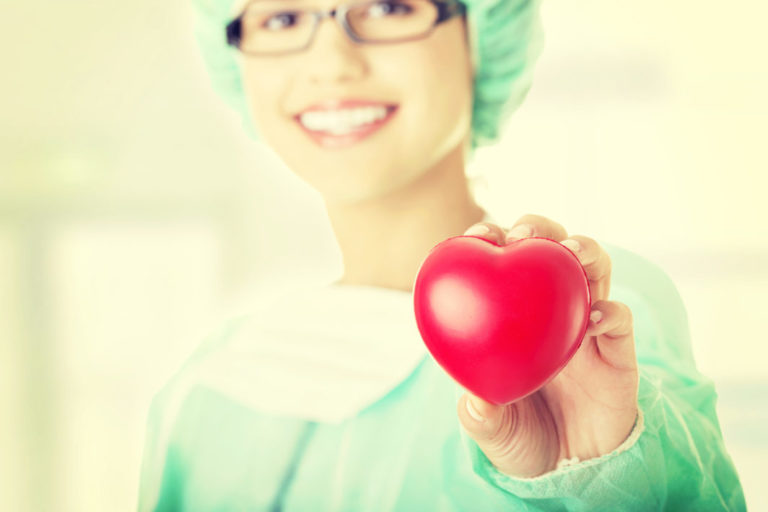 What Is a Cardiac Catheterization Laboratory Nurse?
Typically only available in large hospitals and clinics, and open only to nurses with suitable credentials and practical experience in a specialty role, the Cardiac Catheterization Laboratory Nurse must be a patient-care specialist in all aspects of the Cardiac Catheterization laboratory or Cath Lab. The role does vary, but commonly, the Cath Lab nurse assists the Cardiac Interventionist in performing diagnostic and therapeutic percutaneous coronary intervention (PCI) on patients with heart disease and defects. PCI helps to diagnose and treat myocardial infarction and typically includes placing stents to coronary arteries. Closely monitoring the patient for improvement or complications, administering medications including conscious sedation, and assisting the Interventionist are some of the tasks of this role.
Becoming a Cardiac Catheterization Laboratory Nurse
Becoming a Cardiac Catheterization Laboratory nurse involves rigorous post-licensure training and clinical experience. The most competitive candidates are ones that have a breadth of experience as a nursing generalist, coupled with a drive to promote public awareness of signs and symptoms of cardiovascular disease and advocate lifestyle modifications to reduce risk disease markers. Candidates will show aptitude and diligence to increase early detection of vascular disease, as well as actively promote a lifestyle to help patient outcomes in the vascular unit.
What Are the Education Requirements for a Cardiac Catheterization Laboratory Nurse?
At the minimum, nurses require an ADN diploma coupled with the successful completion of the NCLEX-RN license. Nurses are required to be in good standing with the state Board of Nursing and have clinical experience on the nursing floor. Today, most candidates often possess a BSN degree to remain competitive for job opportunities.
Any Certifications or Credentials Needed?
The following credentials and experience are listed here in order to give candidates and those interested in becoming a CCL nurse the best opportunities for professional development prior to the required certifications. While not universally required, those nurses who have a number of relevant credentials may stand a better chance in a job competition.
ICU Competency exam with a score of 80% or higher
Minimum 2 years' experience in acute care
Minimum 2 years' experience in cardiology
Proficiency in cardiology nursing procedures and skills, including cardiac dysrhythmia interpretation
Knowledge of cardiovascular anatomy, physiology, hemodynamic, and rhythm interpretation
Having achieved some or all of the pre-requisites and professional development, nurses may then apply to the Cardiac Vascular Nursing Certification (RN-BC) program offered by the American Nurses Credentialing Center (ANCC). RN-BC certifications must be renewed every five years. Practical experience is best obtained through the cardiac cath lab training program through your employer. Programs are intense, and lasts about 6 months, depending on the hospital and state where you're located. Once certified, you'll be a competitive candidate for the Cardiac Catheter Lab position.
Where Do Cardiac Catheterization Laboratory Nurses Work?
Typically found in hospital settings, the Cath Lab nurse may also work some shifts in the outpatient clinic environment. Shifts are commonly 8 or 10 hours on the hospital floor, 4-5 days a week, with the option for on-call hours as well. Some hospitals offer the typical 12-hour three days a week shift of other nursing roles.
What Does a Cardiac Catheterization Laboratory Nurse Do?
The Cath Lab nurse assists the Cardiac Interventionist in performing diagnostic and therapeutic interventions. He or she closely monitors the patient for complications, administers medications including conscious sedation, and assists the Interventionist are the main tasks of this RN.
What Are the Roles & Duties of a Cardiac Catheterization Laboratory Nurse?
Be able to assist in circulate and scrub cardiac catheterization and electrophysiology procedures
Assist in other procedures both diagnostic and interventional in nature like angioplasties, implants pacemakers and diagnoses cardiac conditions
Be able to administer and monitor patient sedation to moderate levels
Monitor and annotate patent vital signs records
Monitor for signs of infections or procedural side effects
Be prepared to provide emergency intervention if patients experience bleeding or serious side effects from the procedure
Administer patient medications
Update patient charting according to clinic and professional best practice
Manage and communicate regarding pre-procedure patient preparation
Manage and communicate about post-procedure processes including recovery and outpatient appointments
Manage administrative aspects of cardiac catheterization and electrophysiology patients
Assist with the organization and administration of other areas of the clinic during downtimes
Provide instruction to patients and families before discharge regarding medication, lifestyle, activities, and care of the surgical site
Cardiac Nurse FAQs
The cardiac care nurse and cardiac catheterization laboratory nurse both require advanced knowledge of the different heart rhythms. In both roles, you are required to use electrocardiography equipment frequently.
A cardiac care nurse provides direct care to the cardiac patient population and assists in the treatment of a variety of complex cardiac diagnoses. Responsibilities include caring for patients, both pre and post-cardiac surgery. They also provide care to patients experiencing moderate to severe symptoms related to cardiac disease.
A cardiac catheterization laboratory nurse assists with the different cardiac procedures in the cath lab, ranging from basic diagnostic procedures to more complex interventions. Responsibilities include pre-op preparation of the patient, along with recovering patients directly after their procedures. They also provide education to the patient and family members regarding their treatment plan.
Cardiac Catheterization Laboratory Nurse Salary & Employment
The median salary of a Cath Lab nurse is about $68,000, though salary does range from $52,000 to almost $100,000. Largely depending on experience, level of education, additional certifications, state, and whether you're in a rural or urban locale, are all factors that may affect salary for this position.
Cardiac disease is still responsible for about a quarter of deaths in the United States – a multifactorial problem, there is a great demand for nurses to help patients meet and overcome these challenges. With current rates of sedentary behavior and the Western diet, there is a definite demand for cardiac catheterization lab nurses.
Helpful Organizations, Societies, and Agencies