The Importance of the Nurse-Patient Relationship for Patient Care
Taking care of patients can be rewarding and fulfilling. However, sometimes it can also be emotionally and physically draining. Nurses work in patient care, but also in customer service. Maintaining a professional, courteous interpersonal relationship can be challenging. However, it can be critical in a patient's overall health and well-being.
Establishing a healthy nurse-patient relationship is vital. Nurses should greet the patient by name, make eye contact, and display confidence and professionalism. They should explain everything they will be doing and review the plan of care, making sure to involve them in decision making. Maintaining patient privacy is also essential. For some patients, touch is a way to demonstrate compassion and caring, but nurses should be aware of personal boundaries, as some patients prefer not to be touched. Remaining culturally sensitive as well is vital; providing handouts and patient information in a patient's primary language should be offered, as well as an interpreter if needed. These essential items help to develop trust and open the lines of communication.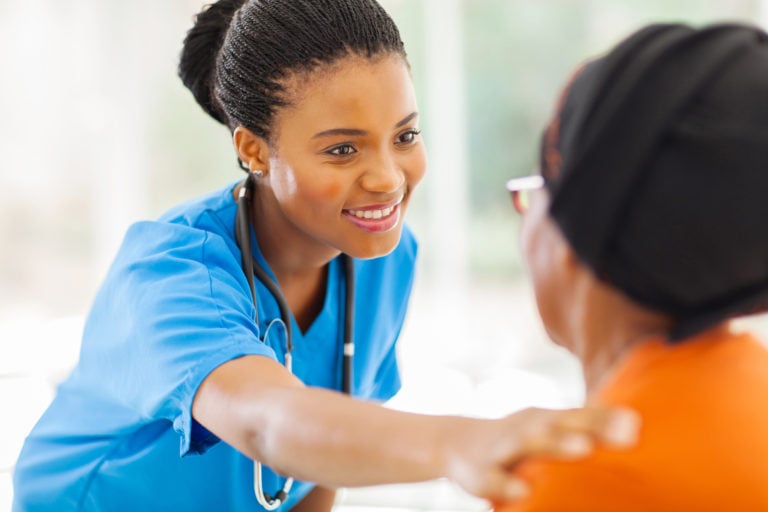 RELATED: Do BSN Educated Nurses Provide Better Patient Care?
So, how do trust and communication help patients? When patients seek health care services or are hospitalized, many are unfamiliar with the process or what to expect. They may be apprehensive about what's to come and not understand the medical jargon. For some, being spoken to using medical terminology is like a foreign language. Imagine being in a foreign country with people talking to you, and you have no idea what is being said. One can feel helpless and out of control, which may lead to anger or resistance to learning. Suppose a healthy nurse-patient relationship is established from the get-go. In that case, the nurses can help the patient feel more at ease in their situation, encourage questions and participate in their care.
RELATED: Beyond the Bedside: Nurse Navigator
Nurses must get buy-in from patients when it comes to their care. As any nurse will tell you, working with a non-compliant patient is nearly impossible. Little to no improvement is made. Encouraging participation and educating patients is paramount. As stated earlier, establishing a healthy nurse-patient relationship is essential as the first step to opening the lines of communication. Communication must be ongoing and involve patient education. For example, a non-compliant diabetic may believe skipping meals helps lower blood sugar. A nurse can take the opportunity to explain the importance of regular meals and snacks and explain what happens physiologically when meals are skipped in diabetic patients. The patient may not know. Education can lead to better compliance and patient engagement and improve patient care outcomes. In this example, improved blood sugar and A1C levels.
RELATED: What Are Some Ways Nurses Can Influence Healthcare Organization Costs?
Nurses are on the front lines of health care. They become experts at establishing relationships with patients and can do so without a second thought. A healthy nurse-patient relationship built on trust and respect goes a long way in improving a patient's overall health.

Latest posts by Amanda Bucceri Androus, RN, BSN
(see all)