DNP Programs in Alabama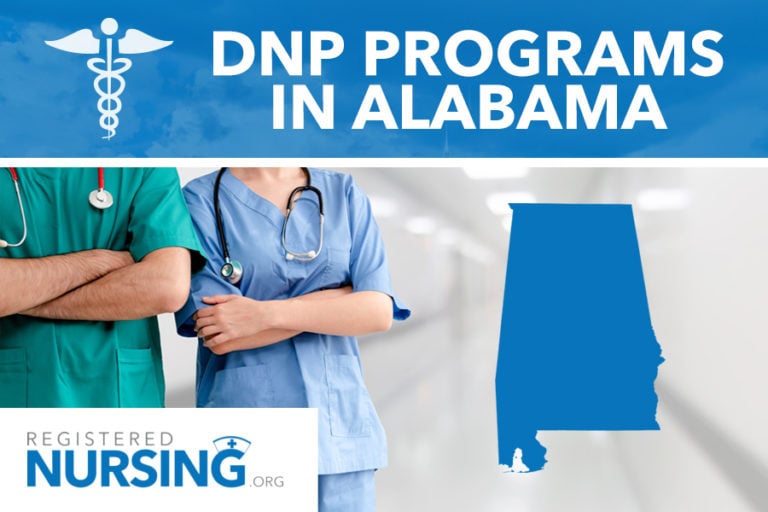 Doctor of Nursing Practice (DNPs) are 'terminal' degrees which prepare graduates for clinical nursing education and advanced practice nursing. Registered nurses seeking DNP degrees are able to focus their studies on either advanced practice nursing and systems or organizational/educational leadership. In clinical nursing settings, DNPs act as role models, advocates, and problem solvers for other kinds of nurses and medical professionals, while those DNPs who have taken the organizational track tend to focus on systems-level thinking and analysis. Those who have obtained their DNP degree in the state of Alabama often go on to open their own practices and administer advanced patient care. Others become heads of faculty at colleges and universities.
In order to be admitted into a DNP degree program in the state of Alabama, individuals will need to have successfully completed a BSN or MSN program. The number of units required to complete DNP programs ranges anywhere from 65 to 95 units, with typically a minimum of 1,000 supervised clinical practice hours required. The time it takes to complete a DNP program will depend on the nursing student's starting point (i.e. which degree they have earned at the time prior to admission– BSN or MSN). Generally, a full-time BSN to DNP program will take around three to four years to complete, whereas a full-time MSN to DNP program takes only two years.
Choosing a Doctor of Nursing Practice Program
The state of Alabama offers students six different DNP programs. Before enrolling into one of these programs, there are a few important factors to consider.
What to Consider When Choosing a DNP Program
Program Cost—Tuition can vary widely from program to program and from state to state. In the state of Alabama, tuition for DNPs can range from $360 to $490 per credit hour for in-state residents, while out-of-state students can expect to pay anywhere from $720 to $1,272 per credit hour. For students completing courses for their DNPs online, tuition ranges between $540 and $600 per credit hour.
Online/Campus Options—three of the six DNP degree programs in Alabama offer students the chance to complete course work online.
Accreditation—Prior to enrolling in any given institution's program, it's important to consider accreditation. DNP programs in the state of Alabama are accredited by the Commission on Collegiate Nursing Education (CCNE).
Residency Options—DNP programs in the state of Alabama are available to both in-state and out-of-state students, though out-of-state tuition tends to be at a substantially higher cost.
Admission & State Licensing or Certification Requirements
Admission
Entrance into DNP programs in Alabama will vary from program to program, however, prospective students who hope to qualify will most likely be required to fulfill the following:
Currently hold a BSN or MSN degree
Currently hold an unencumbered RN license
 Provide a Statement of Purpose
Have maintained a 3.0 GPA, based on a 4.0 system in either their undergraduate or graduate degree program (depending on the degree point from which they're entering from)
Admission is contingent upon drug and background screen results that are deemed acceptable by appropriate University officials.
Provide resume or curriculum vitae (CV)
Verification/documentation of clinical hours
Contact information for two references
Transcripts of previous educational institutions attended
GRE test results
A personal interview by phone or in person with a School of Nursing faculty member or designee
Certification
Completion of DNP programs in the state of Alabama permit students to sit for certification exams in specialty areas including, but not limited to the following:
Neonatal Nurse Practitioner
Nursing Informatics
Pediatric Acute Care Nurse Practitioner
Psychiatric (Family) Nurse Practitioner
Clinical Nurse Specialist – Adult Health
Licensing
Individuals who have completed the BSN to DNP track will need to be licensed via the Alabama Board of Nursing. Requirements for licensure as an APRN include the following:
Completion of an application
Provide transcripts from all educational institutions
Submit verification of specialty certification
Pass a criminal background check
Complete fingerprinting
After a DNP APRN has passed through these steps and becomes fully licensed, the individual can apply for a DEA number.
Alabama BSN to DNP Program Options
Depending on the university, DNP degrees can be obtained by both pre- and post-master's nurses. Four of the six DNP programs in the state of Alabama offer students BSN to DNP pathways. Admission requirements will differ from program to program. Typically, courses in the general curriculum of these BSN to DNP programs will include:
Advanced physiology and pathophysiology
Advanced Pharmacology
Health and Physical Assessment
Evidence-based practice
Population Health in Advanced Practice Nursing
Advanced Decision-Making in Health Care Settings
Clinical Research for Advanced Practice Nursing
Epidemiology for Advanced Nursing Practice
Public Policy in the Context of Nursing and Health
DNP Residency
Related Education Paths
Helpful DNP Agencies and Organizations in Alabama
List of Campus and Online DNP Programs in Alabama
Birmingham, AL
Huntsville, AL
Mobile, AL
Troy, AL
Tuscaloosa, AL
Are we missing your school's program or need to update information listed? Please contact us so we can make the necessary changes.
Find DNP Programs By City: