Nursing Programs in Mobile, AL
For aspiring nurses interested in building a career in the nursing field, there has never been a better time to get started. Demand for experienced professional nurses is high and expected to grow over the next several years nationwide. In the Mobile area, there are a number of training programs to get you ready for your first job in nursing, and to expand the skill sets of working nurses across Alabama.
To get started in nursing or to advance your nursing career, check out our accredited program listings sections below: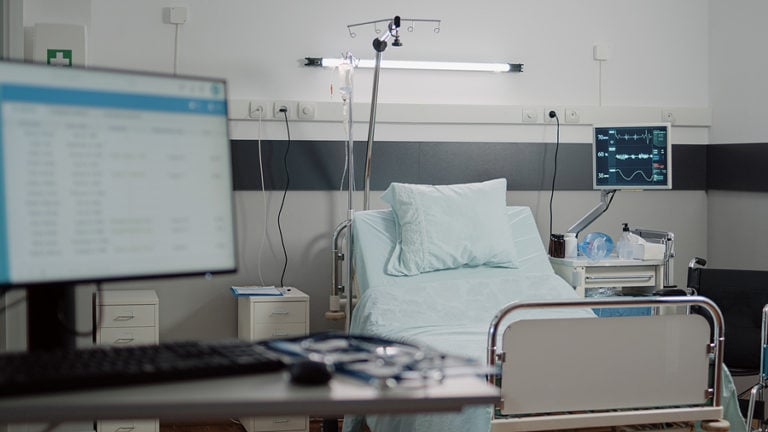 Entry-Level ADN & BSN Programs in Mobile, AL
For students who want to land their first jobs as registered nurses, an entry-level training program is the place to begin. These programs prepare students for the NCLEX-RN licensing exam and provide the coursework and clinical experience opportunities that will prepare them for their first jobs. In the Mobile area, entry-level programs include LPN to RN programs designed to help experienced licensed practical nurses become RNs, Associate's Degree in Nursing (ADN) programs, and Bachelor of Science in Nursing programs.
LPN to RN Programs
LPN to RN programs offer practical nurses a pathway to becoming RNs, and result in an associate's degree or a bachelor's degree in nursing depending on the school and curriculum. The LPN to RN "Career Mobility" track at Bishop State Community College is a three-semester program in which practical nurses and paramedics can be trained as RNs through coursework in advanced nursing concepts, microbiology and advanced evidence-based clinical reasoning.
ADN Programs
An ADN program provides a baseline education in nursing for students with no prior nursing training and is generally completed in 4 to 5 semesters of study. Coastal Alabama Community College offers an ADN program that includes coursework in anatomy and physiology, human growth & development, nursing concepts, evidence-based clinical reasoning, among other topics.
Direct-Entry BSN Programs
BSN programs are generally offered at colleges and universities and are typically four-year degree programs. Featuring additional coursework in nursing research, community nursing, and leadership topics, BSN programs are becoming more popular entry points to the nursing profession. Spring Hill College in Mobile offers one of the state's top-ranked BSN programs as ranked by RegisteredNursing.org.
Learn more about Alabama Accelerated BSN Programs.
Mobile RN Program NCLEX-RN Pass Rates
Top Ranked Accredited Nursing Programs in Mobile
Listed below are the top nursing schools in Mobile based on our RegisteredNursing.org RN program rankings for Alabama out of 38 other accredited programs offered in the state:
Coastal Alabama Community College - Bay Minette - #1
University of South Alabama - #10
RN to BSN/MSN Programs in Mobile, AL
Due to the demand for experienced nurses with a bachelor's degree or above, many nurses are seeking an RN to BSN or RN to MSN "bridge" program that can help them attain this higher degree in less time. RN to BSN/MSN bridge programs take into account previous coursework and clinical experience to deliver a bachelor's or master's degree in an accelerated timeframe.
RN to BSN Programs
RN to BSN bridge programs provide ADN-educated nurses with the additional coursework needed to earn their bachelor's degree in nursing. Many RN to BSN programs are offered in an online format to allow nurses the flexibility to continue working while they take classes. The University of South Alabama, for example, offers a fully online RN to BSN program that consists of 18 prerequisite courses and 6 professional nursing courses.
Learn more about Alabama RN to BSN Programs.
RN to MSN Programs
Some schools also offer RN to MSN programs in which experienced nurses can earn their master's degree in nursing and enter advanced practice nursing careers. Generally, these programs begin with bachelor's degree-level coursework and progress to master's level courses. The RN to MSN program at Spring Hill College prepares nurses for careers as Clinical Nurse Leaders and combines online coursework with clinical practice in a student's local area.
Learn more about Alabama RN to MSN Programs.
APRN & Nurse Practitioner Programs in Mobile, AL
Experienced nurses who want additional career opportunities and/or to advance their careers into leadership positions, an advanced practice degree program may be the next step. In the Mobile area, students have the option of Master of Science in Nursing (MSN) programs at the University of Mobile, University of South Alabama or Spring Hill College. Doctoral options are also available for interested students.
MSN Programs
MSN programs prepare nurses to be certified in a variety of advanced practice specialties, such as various nurse practitioner roles, clinical nurse leaders, nurse educators, and nurse administrators. MSN programs generally offer career-specific tracks to align with the desired career path and may be offered in online or on-campus formats. The University of South Alabama offers a variety of MSN specialties, such as adult-gerontology nurse practitioner, executive nursing administration, women's health nurse practitioner, pediatric nurse practitioner, nursing informatics, among several others.
Learn more about Alabama Nurse Practitioner Programs.
DNP Programs
The Doctor of Nursing Practice (DNP) is the terminal nursing degree type, intended for nurses who want to hold the most prestigious nursing titles. This advanced degree is often available to BSN or MSN-educated nurses and is focused on high-level clinical practice. The University of Mobile offers options for both RN degree types, helping students achieve their doctoral goals.
Learn more about Alabama DNP Programs.