DNP Programs in Arizona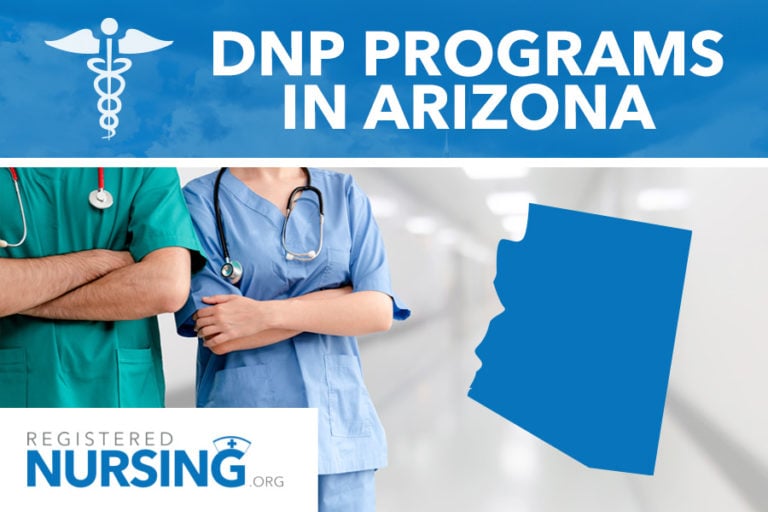 Within the field of nursing, the doctor of nursing practice (DNP) degree is considered to be a post-master's, terminal degree type. This means that the DNP degree is one of the highest levels of education available within the nursing field. This degree type is considered superior to a master's degree, and helps students prepare to work in both clinical settings and organizational/educational settings. Nurses who have obtained a DNP can work in executive leadership roles like nursing/hospital administration, as well as advanced practice roles such as nurse practitioners and certified nurse midwives.
Universities nationwide offer DNP programs to students. Although it varies, most of these programs will require the completion of 65 to 95 unit hours. Depending on the program, prospective DNP students will need to have already earned their BSN or MSN degree. Typically, a full-time BSN to DNP program will take around three to four years to complete, whereas a full-time MSN to DNP program takes only two years.
Core competencies to be mastered by students during DNP programs will include:
Advanced Pharmacology
Advanced Physiology and Pathophysiology
Epidemiology for Advanced Nursing Practice
Public Policy in the Context of Nursing and Health
Quantitative Research Methods and Evidence Based Practice
Advanced Decision-Making in Health Care Settings
Clinical Research for Advanced Practice Nursing
Health and Physical Assessment
Choosing a DNP Program
The state of Arizona offers four DNP programs. Prior to applying and enrolling in one of these programs, there are a few key factors to consider.
What to Consider When Choosing a DNP Program
Program Cost— Tuition for DNP programs in the state of Arizona can range from $640 per $975 per unit hour for Arizona residents. Conversely, for non-resident students enrolled in DNP programs, a single unit hour will cost approximately $1,216.
Online/Campus Options— Both Grand Canyon University and the University of Arizona have DNP programs which are offered to students in a 100% online format.
Accreditation— Before enrolling in an institution's program, it's important to consider accreditation. DNP programs in the state of Arizona are accredited by the Commission on Collegiate Nursing Education (CCNE) and approved by the Arizona Board of Nursing.
Residency Option— Arizona DNP programs are available to in-state and out-of-state students. Not surprisingly, out-of-state tuition is considerably more expensive than in-state tuition.
Admission & State Licensing or Certification Requirements
Admission
Standards for admission to DNP programs in the state of Arizona will vary from university to university. To be successful, prospective nursing students will need to have fulfilled the following prerequisite requirements:
Be in possession of an unencumbered RN license
Possess a BSN or MSN degree
Have maintained a 3.0 grade point average, based on a 4.0 system in either their undergraduate or graduate degree program
Provide academic transcripts
Write a statement of purpose
Pass a drug and background test
Provide resume or curriculum vitae (CV)
Verification/documentation of clinical hours
Provide two letters of recommendation/references
Certification
All accredited DNP programs in the state of Arizona allow students to sit for certification upon successfully completing programs. Different universities offer students different DNP tracks. Depending on the specific university attended in Arizona, students who have successfully completed DNP programs in the state can become certified in Advanced Nursing Practice (Innovation Leadership), or as Pediatric Nurse Practitioners, Women's Health Nurse Practitioners, and more.
Licensing
Prospective advanced practice nurses who have completed their DNP programs are licensed through the Arizona State Board of Nursing. Becoming licensed as an APRN in Arizona will generally require the completion of the following steps:
Provide transcripts from all educational institutions
Provide proof of least 500 hours of clinical practice during graduate school
Completion of an application
Submit verification of specialty certification
Pass a criminal background check
Complete fingerprinting
If seeking prescribing and dispensing authority, individuals should complete the correct section of the application and submit written documentation of 45 contact hours of education in pharmacology or clinical management of drug therapy within three years before submitting your APRN application.
Arizona BSN to DNP Program Options
Of the four DNP programs in the state of Arizona, two of them offer BSN to DNP pathways to students. Requirements for admission will inevitably vary from program to program. Generally, courses in the general curriculum of these BSN to DNP programs will include:
Public Policy
Advanced Epidemiology
Clinical Research for Advanced Practice Nurses
Health and Physical Assessment
Advanced Pharmacology
Advanced Physiology and Pathophysiology
Evidence Based Practice/Medicine
Population Health in Advanced Practice Nursing
DNP Residency
Related Education Paths
Helpful DNP Agencies and Organizations in Arizona
List of Campus and Online DNP Programs in Arizona
Flagstaff, AZ
202 E Pine Knoll Dr | PO Box: 15035
Flagstaff
,
AZ
86011
(928) 523-2671
Phoenix, AZ
College of Nursing and Health Innovation
550 N 3rd St
Phoenix
,
AZ
85004
(602) 496-2644
3300 West Camelback Road
Phoenix
,
AZ
85017
(855) 428-5673
Tucson, AZ
1305 N. Martin | PO Box 210203
Tucson
,
AZ
85721
(520) 626-6154
Are we missing your school's program or need to update information listed? Please contact us so we can make the necessary changes.
Find DNP Programs By City: