DNP Programs in Arkansas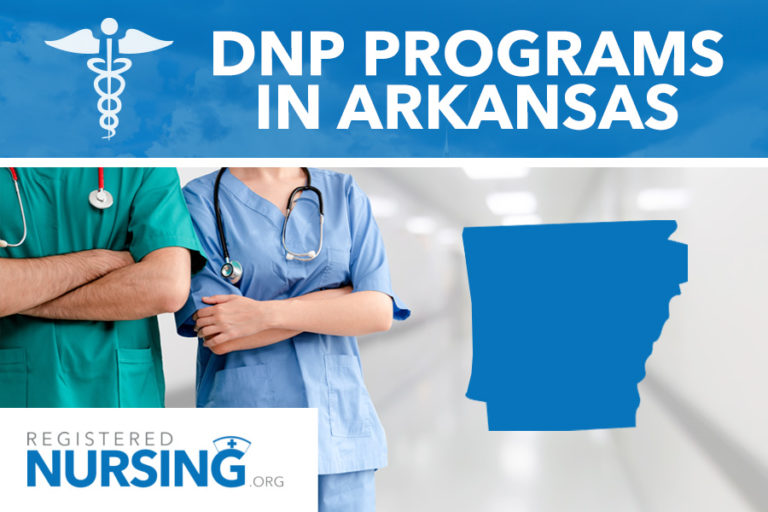 The doctor of nursing practice (DNP) is considered the "terminal" degree for nurses. It is a higher level than a master's degree, which is the minimum degree requirement for advanced-practice nurses. Nurses who hold a DNP can work as nurse practitioners, certified registered nurse anesthetists (CRNAs), and nurse midwives. They are also able to work in executive roles, such as nursing administration, leadership, and as directors.
DNP programs are available nationwide. The number of credits needed may vary, but it may require between 70 and 90 credits to graduate and a specified number of supervised clinical hours as well. The length of time it takes depends on the type of degree held at the time of admission (i.e., BSN or MSN), and the area of specialty selected. The core concepts that are covered in DNP programs may include:
Advanced assessment
Advanced Pharmacology
Leadership
Quantitative Methods
Research
Evidence-based practice
Healthcare policy
Population-specific studies
Choosing a DNP Program
Choosing to enroll in a DNP program is a significant step in a nurse's life. As such, there a few considerations that must be addressed. Arkansas has three DNP programs available.
What to Consider When Choosing a DNP Program
Costs– Tuition is a significant factor for those wanting to go back to school for a higher degree. In Arkansas, DNP tuition can range from $333 to $435 per credit for in-state residents. These figures do not include additional fees or supplies.
Online option-All three DNP programs in Arkansas are online-only. Some campus visitation may be required (i.e., for interviews, orientation, academic guidance, etc.)
Accreditation-Ensuring a DNP program meets the standards for nursing education is essential. The DNP programs in Arkansas are all accredited by the Commission on Collegiate Nursing Education (CCNE).
Residency Options-Because the DNP programs in Arkansas are online, out-of-state students can apply to the programs. However, out-of-state tuition is significantly higher per credit hour.
One of the schools in Arkansas offering a DNP program is the University of Arkansas in Fayetteville. Students in this DNP program may choose an NP track (BSN students) with a concentration in Adult-Gerontology or Family Medicine. Students can also become nurse educators or clinical nurse specialists. Both BSN and MSN to DNP tracks are offered. For more information, students may visit the University of Arkansas website.
Admission & State Licensing or Certification Requirements
Admission
Admission to the DNP programs in Arkansas may vary between schools, but students may be required to:
Hold a current BSN or MSN degree
Have a current, unencumbered RN or APN license
Maintain certification as an APN (for MSN applicants)
Complete a basic health assessment and statistics course (for BSN applicants)
Interview with faculty
Submit GRE scores
Submit a resume/CV submission
Transcripts of all education institutions attended must be sent to the school of choice
Certification
The DNP programs allow for students to sit for certification testing. Depending on the school and tracks offered, students may become certified in Adult-Gerontology, Family Medicine, Nurse Educators, Clinical Nurse Specialists, etc. (BSN to DNP students).
Licensing
For nurses who completed the BSN to DNP track, they will need to be licensed by the board of nursing in Arkansas. Requirements for licensure as an APRN include:
Completing an application
Background checks
Provide transcripts from all educational institutions
Submit verification of specialty certification
Complete fingerprinting
Additionally, Arkansas allows temporary permits for APRNs in the interim between license application and issuance. The temporary permit is valid for six months. Following licensure, the DNP APRN can apply for prescriptive authority and a DEA number.
Arkansas BSN to DNP Program Options
Earning a DNP is not just for post-master's nurses. Two of the three DNP programs in Arkansas offer BSN to DNP tracks. Admission requirements may vary and are listed above. The course of study for BSN to DNP students may also vary, but the general curriculum may include:
Statistics in education and healthcare
Advanced physiology
Advanced Pharmacology
Evidence-based practice
Research
Role Development
Capstone seminars
Additionally, population-specific courses and clinical hours must be completed. For example, a DNP student specializing in pediatrics will have to take pediatric-specific classes as well as complete a defined number of supervised clinical hours.
The BSN to DNP track can take around three or four years to complete, depending on full or part-time status.
The University of Arkansas provides sample curriculums for BSN to DNP students based on full or part-time status. It involves spring, summer, and fall semester coursework. The sample curriculums are a great starting point for those considering the BSN to DNP option.
Related Education Paths
Helpful DNP Agencies and Organizations in Arkansas
List of Campus and Online DNP Programs in Arkansas
Fayetteville, AR
2 East Center Street
Fayetteville
,
AR
72701
(800) 952-1165
Little Rock, AR
4301 West Markham Street
Little Rock
,
AR
72205
(501) 686-7000
State University, AR
Are we missing your school's program or need to update information listed? Please contact us so we can make the necessary changes.
Find DNP Programs By City: