DNP Programs in Georgia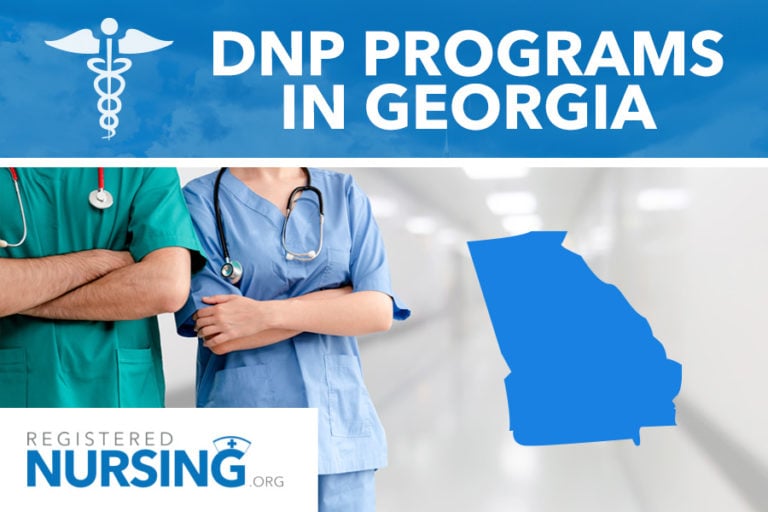 The Doctor of Nursing Practice (DNP) is the highest degree level nurses can achieve. It demonstrates the highest level of clinical expertise and leadership. While advanced-practice nurses and leaders usually begin with a master's degree, the American Association of Colleges of Nursing has advocated that all APRN programs transition from MSN to DNP as the minimum requirement.
DNP nurses can work as advanced-practice nurses such as nurse practitioners, nurse midwives, nurse anesthetists, and clinical nurse specialists. However, they can also work in more administrative roles such as nurse educators, nurse executives, nurse leaders, and in informatics.
Choosing a DNP Program
It is a momentous step when choosing to return to school. Some nurses have been out of academia for a while and may not know or remember where to begin. As a starting point, nurses should consider the following when choosing a program.
What to Consider When Choosing a DNP Program
Cost– The average cost of tuition in Georgia is around $700 per credit. This figure is only for the cost per tuition- university fees, supplies, and books are an added expense. Out-of-state residents may also need to pay a higher tuition rate.
Online Options– The majority of the DNP programs in Georgia are hybrid programs- so some face-to-face campus learning is required. However, there are online-only schools available as well. Some are 100% online, and some require campus visitation for orientation or interviewing.
Accreditation– Nursing programs must be accredited by one of two nationally recognized agencies- the Accreditation Commission for Education in Nursing (ACEN) or the Commission for Collegiate Nursing Education (CCNE). Georgia has seven DNP programs available which are accredited by the CCNE.
Residency Options– Nurses enrolled in DNP programs are required to either complete a set number of supervised clinical hours or complete a DNP project. Those enrolled in leadership or executive tracks, for example, may be required to complete a DNP project that demonstrates competency in research, project management, and leadership. APRN tracks (i.e., nurse practitioners, nurse midwives, nurse anesthetists, etc.) must complete between 1000 and 2500 clinical hours. Because many DNP programs are online, students must find mentors and clinical opportunity within their community.
Additionally, post-graduation residency programs are becoming more prevalent, allowing graduates to further their clinical experience. Georgia has one residency program available to NP graduates and it's held at Emory University.
Emory University's DNP program is available to both BSN and MSN students. BSN students may choose from the following tracks:
FNP
Adult/Gerontology NP (acute and primary care)
Emergency NP
Neonatal NP
Pediatric NP (acute and primary care)
Women's Health NP
Nurse Midwife
Additionally, the school offers a DNP in Nurse Anesthesia for BSN students. Depending on the specialty track (BSN-DNP or MSN-DNP), online learning may be available.
Admission & State Licensing or Certification Requirements
Admission
Admission requirements are variable. They are determined based on the school as well as the nurse's starting point (BSN or MSN), and the chosen specialty track. General admission requirements may include:
Valid Georgia RN license
MSN or BSN degree from an accredited university
GPA of 3.0 or higher (specific GPA requirements may vary between schools)
Completion of a statistics course
Letters of recommendation
Resume/CV
Submission of a portfolio which may include:

Research experience
Publications
Community service projects
Educational goal statement
Professional presentations

Faculty interview
Certification
DNP students in Georgia who do already possess specialty certification are eligible to apply upon graduation. Students may be certified in various NP specialties (Pediatric, Adult/ Gerontology, Psychiatric, Women's Health), midwifery, or emergency care. Students can also become certified as a CNS. Certification agencies should be nationally recognized, such as the following:
Licensing
Georgia is part of the enhanced Nurse Licensure Compact (NLC) which means nurses who are licensed in other compact states can apply for multi-state licensure. DNP students who are not yet licensed as an APRN or clinical nurse specialists must apply for advanced-practice licensure in Georgia. Requirements include:
Hold a current RN license
Ensure official transcripts are sent to the board
Have an MSN or DNP
Provide proof of graduation from an approved nursing education program within four years of application
Submit evidence of national specialty certification
Complete a paper application and get it notarized
Pay application fees
Consent to a background check
Georgia BSN to DNP Program Options
Although the DNP is considered the "terminal" degree for nurses, that doesn't necessarily mean that BSN nurses have a long, treacherous road ahead. In fact, almost all the DNP programs in Georgia have BSN to DNP options, and the program can be completed in three to four years (depending on full or part-time status).
Many BSN to DNP tracks offers APRN specialties, such as:
Adult/Gerontology NP
Pediatric NP
Women's Health NP
Neonatal NP
Family NP
Nurse Anesthetist
However, some schools in Georgia, such as Emory University, offer leadership tracks. For example:
Nurse executive
Nurse leader/clinical leadership
Informatics
Clinical nurse specialist
Related Education Paths
Helpful DNP Agencies and Organizations in Georgia
List of Campus and Online DNP Programs in Georgia
Atlanta, GA
Augusta, GA
Milledgeville,, GA
Statesboro, GA
Are we missing your school's program or need to update information listed? Please contact us so we can make the necessary changes.
Find DNP Programs By City: