DNP Programs in Kansas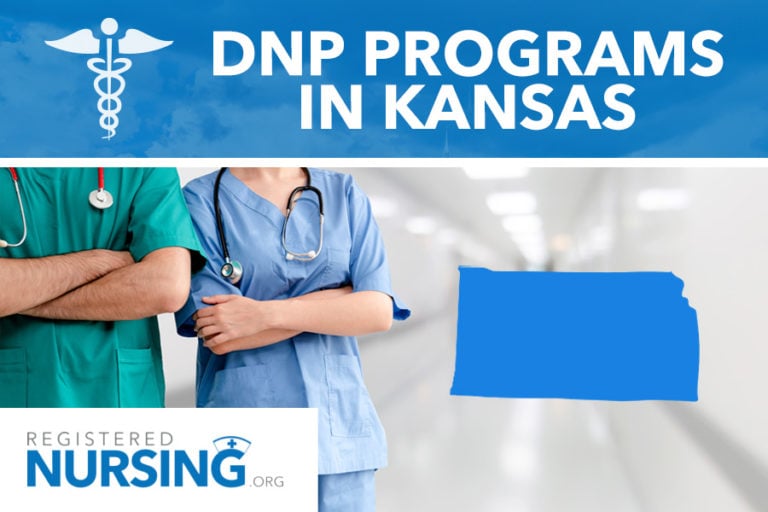 Within the field of nursing, the doctor of nursing practice (DNP) degree is a post-master's degree type. This means that the doctor of nursing practice degree is the highest level of education one can attain in the field of nursing. This degree type helps students prepare to work in either clinical or organizational/educational settings. Nurses who've earned DNPs are able to work in executive leadership roles like nursing or hospital administration, and as advanced practice nurses like certified nurse anesthetists (CRNAs), nurse practitioners, and as nurse midwives.
Depending on the DNP specialty area chosen, the state of Kansas expects students enrolled in the BSN to DNP pathway to successfully complete 70 to 80 credit hours along with a minimum of 1000 clock hours of direct patient care to be awarded the degree. On the other hand, Kansas MSN to DNP programs expect students to complete at minimum 32 unit hours, and will take full-time students about two years to complete the degree
Core areas of learning covered in DNP programs include, but aren't limited to:
Advanced physical assessment
Leadership
Advanced Pharmacology
Healthcare policy
Quantitative Research and Evidence Based Practice
Choosing a Doctor of Nursing Practice Program
Choosing to enroll in a DNP program can be a life changing decision and should not be taken lightly. There are many considerations that must be addressed. The state of Kansas has three DNP programs.
What to Consider When Choosing a DNP Program
Program Cost— DNP tuition prices in the state of Kansas are relatively uniform because there aren't many programs. Prices will vary depending on whether students are residents of Kansas or from out-of-state. Residents can expect to pay between $404 to $589 per unit hour. Conversely, students who aren't residents of Kansas can expect to pay between $598 to $947 per unit hour.
Online/Campus options—Two of Kansas's three DNP programs are delivered to students in an online or hybrid online-campus format
Accreditation— Like most DNP programs in the nation, DNPs in the state of Kansas are accredited by the Commission on Nursing Education (CCNE).
Residency— Residencies and fellowships are an important part of a DNP education. Students are encouraged to inquire with their school of choice about these hands-on clinical opportunities.
Admission & State Licensing or Certification Requirements
Admission
Requirements for admission into DNP programs in the state of Kansas deviate from program to program. Common requirements for entry into most DNP programs in Kansas include:
Complete an application
Provide academic transcripts
Provide curriculum vitae (CV) or resume
Possess a BSN or MSN from a nationally accredited program
Have maintained a 3.0 grade point average, based on a 4.0 system in either undergraduate or graduate degree programs
Posses an unrestricted RN license
Documentation of clinical hours performed in MSN program
GRE scores may be required
Personal statement of goals for doctoral education and subsequent career plans
Provide two letters of recommendation
Complete an in-person interview with university program faculty
Satisfactory criminal background check
Pass a drug test
Certification
Kansas DNP programs grant students the chance to sit for certification tests. Depending on the university program and tracks offered, students who successfully complete DNP programs in Kansas may become certified as Family Nurse Practitioners, Nurse Anesthetists, Psychiatric/Mental Health Nurse Practitioners, Adult/Gerontological Nurse Practitioners and Clinical Nurse Specialists, and others.
Licensing
DNP-APRNs are licensed via the Kansas State Board of Nursing. Requirements for licensure as an APRN in the state of Kansas include:
Completing an application
Successfully complete fingerprinting
Satisfactory criminal background check
Provide transcripts from all educational institutions
Submit verification of specialty certification
Documentation of clinical hours performed in MSN program
Kansas BSN to DNP Program Options
All three universities which have DNP programs in the state of Kansas, University of Kansas, Washburn University, Wichita State University offer BSN to MSN pathways
Related Education Paths
Helpful DNP Agencies and Organizations in Kansas
List of Campus and Online DNP Programs in Kansas
Hays, KS
Kansas City, KS
Lawrence, KS
Topeka, KS
Are we missing your school's program or need to update information listed? Please contact us so we can make the necessary changes.
Find DNP Programs By City: