DNP Programs in Maine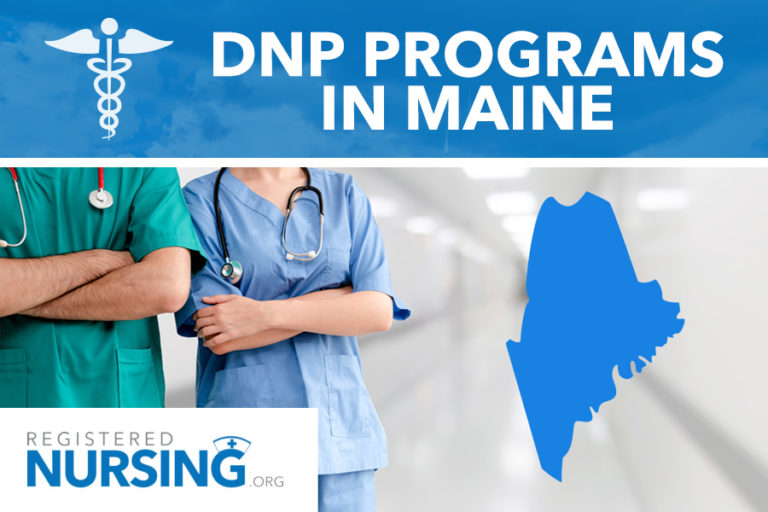 The Doctor of Nursing Practice (DNP) is the highest degree for clinical nursing practice. Nurses that graduate from a DNP program with an executive leadership track have a number of options ranging from clinical leadership to hospital administration. DNP-prepared nurses like advanced practice registered nurses often advance to a higher-paying positions. Some become entrepreneurs and start their own private practices or provide consulting services to other nurses.
There is only one post-master's DNP program in the state of Maine. That program is offered by the University of Southern Maine, Portland. A total of 36 credits are required for completion of the program; total credit hours may increase if additional credit hours are needed to complete the DNP project. The number of required residency hours in the doctoral program is a minimum of 500 hours. Residency hours are accrued while working on the DNP project. When added to the clinical hours obtained in the applicant's master's program, the total should be a minimum of 1,000 contact hours. 
Core competencies students are expected to master during this DNP program include:
Scientific underpinning for practice.
Organizational and systems leadership for quality improvement and systems thinking.
Clinical scholarship and analytical methods for evidence-based practice.
Information systems/technology and patient care technology for the improvement and transformation of health care.
Advanced nursing practice and assessment.
Advanced physiology and pathophysiology.
Advanced Pharmacology.
Health care policy for advocacy in health care.
Inter-professional collaboration for improving patient and population health outcomes.
Clinical prevention and population health for improving the nation's health.
Choosing a Doctor of Nursing Practice Program
Choosing a school for your DNP program can seem like a daunting task. There are a few key items to consider when comparing programs.
What to Consider When Choosing a DNP Program
Program Cost— Students can expect to pay the following rates for a DNP program in Maine:

For in-state students: $393
For out-state students: $1,063
New England Regional Student Program (RSP): $629.00
Canadian students: $629
Online Campus options— Currently, the state of Maine does not offer online DNP programs. However, there are programs offered in a 100% online format to students located anywhere in the US.
Accreditation— DNP programs in Maine are accredited by the Commission on Collegiate Nursing Education (CCNE) and approved by the Maine State Board of Nursing.
Clinical Residencies— Residencies and fellowships are important parts of the DNP education. The following is an example:
Admission & State Licensing or Certification Requirements
Admission
Because there's only one DNP program in the state of Maryland, each student's application for admission will be evaluated based on a composite of the following recommended standards:
A master's degree in nursing from a degree program accredited by the Commission on Collegiate Nursing Education or the National League for Nursing
A minimum graduate cumulative grade point average of 3.25 on a 4.0 scale
A graduate course in statistics taken within five years at time of application with a minimum grade of B or taken during the first year of matriculation into the DNP program
Submission of official TOEFL (Test of English as a Foreign Language) or IELTS scores in addition to GRE scores if English is not first language.
Applicants whose native language is not English must have earned a TOEFL score of at least 550 on the paper-based test, 79 or higher on the Internet-based test, or 213 on the computer-based test, or an IELTS score of 6.5 or higher.
The completed DNP application must include an essay describing the candidate's motivation for pursuing this degree and the vision he/she has for the role. The essay is an important part of the application because it demonstrates the applicant's ability to think, organize ideas, and express him/herself well in writing.
Discuss your specific career goals for pursuing the DNP
Identify prior experiences that have contributed to your decision to apply to a DNP program
Discuss how the goals, objectives, and curriculum of USM's program will enable you to meet your post-DNP career goals
Identify a specific clinical problem or issue that could be the focus of your capstone project
Current resume
A scheduled formal interview with graduate faculty from the School of Nursing will be required following a preliminary review of all required admission materials. Individual consideration will be given to each applicant based upon the total profile presented.
Certification
Completion of DNP programs in the state of Maine permit students to sit for certification exams in specialty areas including:
Nursing management or administration
Clinical nurse leader
Nurse practitioner
Clinical nurse specialist
Nurse midwife
Nurse anesthetist
Licensing
Individuals who have completed the BSN to DNP track will need to be licensed via Maine Board of Nursing. Requirements for licensure as an APRN include the following:
Completion of an application
Provide transcripts from all educational institutions
Submit verification of specialty certification
Pass a criminal background check
Complete fingerprinting
Maine BSN to DNP Program Options
Currently there is no BSN-DNP pathway offered to students. However, Maine's only university with a DNP program will offer a BSN to DNP pathway in the future.
University of Southern Maine, Portland—BSN–DNP program will become available in the future; Post-MSN program currently available
Related Education Paths
Helpful DNP Agencies and Organizations in Maine
List of Campus and Online DNP Programs in Maine
Are we missing your school's program or need to update information listed? Please contact us so we can make the necessary changes.
Find DNP Programs By City: