DNP Programs in Tennessee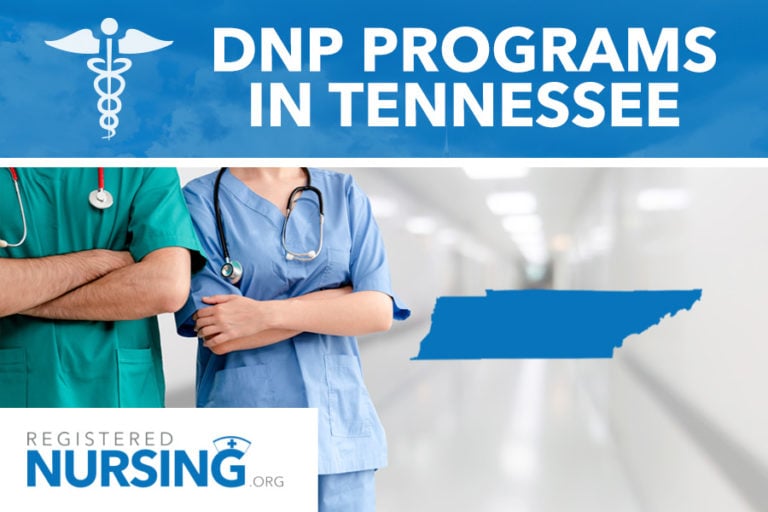 The Doctor of Nursing Practice (DNP) is a terminal degree type (i.e. the most superior form of advanced degree the nursing field). Depending on the pathway a nursing student chooses to take, DNPs can prepare them to work either in organizational/educational settings or in clinical settings.
In Tennessee, post-master's DNP programs typically range between 28 and 38 credit hours, depending on the specific track selected, while the BSN to DNP tracks requires the completion of 65 to 72-unit hours.
DNP program outcomes in state of Tennessee include:
Demonstrate advanced levels of clinical judgment/scholarship in nursing practice.
Critically analyze complex clinical situations and practice systems.
Evaluate and apply conceptual models, theories, and research in order to improve healthcare of diverse populations.
Systematically investigate a clinically focused area of nursing in order to advance healthcare.
Analyze the social, economic, political, and policy components of healthcare systems which affect care planning and delivery.
Assume leadership roles in the development of clinical practice models, health policy, and standards of care.
Integrate professional values and ethical decision-making in advanced nursing practice.
Choosing a DNP Program
There are a variety of schools in Tennessee that offer DNP programs. Choosing the right one for you will take some research. The following key elements should be considered before a DNP program is chosen.
What to Consider When Choosing a DNP Program
Admission & State Licensing or Certification Requirements
Admission
Admission to the DNP programs in Tennessee will differ from program to program; however, prospective nursing students who expect to be admitted should have the following:
Bachelor of Science in Nursing (BSN) degree from a nationally accredited baccalaureate-granting institution with a minimum 3.0 cumulative GPA from all undergraduate coursework
Official transcripts from all previous academic institutions attended
Proof of a current RN license from the student's state of residence and/or practice. A Tennessee RN license or a license from a state that is in the Nurse Licensure Compact (NLC) is required for clinical experiences in Tennessee
Graduate Record Examination taken within the last five years
Complete a basic health assessment and statistics course (for BSN applicants)
Interview with faculty
Submit a resume/CV submission
Personal essay
Certification
DNP programs at universities in Tennessee permit nursing students to sit for state board certification upon completion of programs. DNP tracks offered at universities in Tennessee prepare students to become certified in advanced practice nursing specialties including but not limited to:
Doctor of Nursing Practice – Acute Care Nurse Practitioner – Adult/Gerontology
Doctor of Nursing Practice – Lifestyle Therapeutics
Doctor of Nursing Practice – Acute Care Specialization
Psychiatric/Mental Health Nurse Practitioner
Executive Leadership
Licensing
In Tennessee, nursing students who have successfully finished DNP programs will need to be licensed by the Board of Nursing—Tennessee. Requirements for licensure include:
Completing an application
Provide transcripts from all educational institutions
Submit verification of specialty certification
Complete fingerprinting
Pass a background check
Tennessee BSN to DNP Program Options
Of the 8 universities offering DNP programs in the state of Tennessee, 7 programs deliver BSN to DNP pathways to students.
Belmont University
East Tennessee State University
Southern Adventist University
The University of Tennessee at Chattanooga
The University of Tennessee Health Science Center
The University of Tennessee
Union University
Vanderbilt University
Related Education Paths
Helpful DNP Agencies and Organizations in Tennessee
List of Campus and Online DNP Programs in Tennessee
Bristol, TN
Chattanooga, TN
Cookeville, TN
Harrogate, TN
Jackson, TN
Johnson City, TN
Knoxville, TN
Memphis, TN
Nashville, TN
Are we missing your school's program or need to update information listed? Please contact us so we can make the necessary changes.
Find DNP Programs By City: