Nurse Practitioner Schools in Tennessee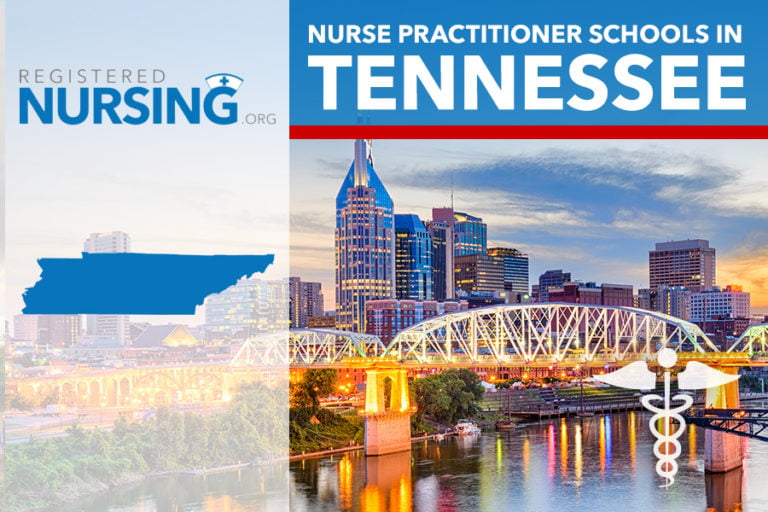 Registered nurses looking to expand their practice to advanced-degree nursing can earn a master's or doctoral degree and start working as a nurse practitioner. Nurse practitioners perform essential nursing functions as well as diagnose, treat, prescribe, order and interpret diagnostic tests, and manage acute and chronic health issues as well as promote preventive health.
In Tennessee, the employment opportunity for NPs is expected to increase 40.7% by 2024, with an average of 260 annual job openings per year. They can act as primary care providers but must establish a collaborative agreement with a physician to diagnose, treat, and prescribe.
Choosing a Nurse Practitioner Program
When selecting a nurse practitioner program, several components need to be taken into consideration. These include:
Accreditation- The graduate program needs to be accredited by a national accreditation agency for licensure in the state of practice. Examples of accreditation agencies include the Commission on Collegiate Nursing Education (CCNE) and the Accreditation Commission for Education in Nursing (ACEN). Tennessee has twelve accredited universities to choose from.
Program Cost- The cost to attend a graduate nursing program in Tennessee averages around $750 per credit, and ranges from $458 to $1454 The $750 average includes only the base tuition-university fees, supplies, and books are not included. Also, many nursing departments have additional required fees. It's important to note that most schools offer financial aid and payment plan options. Students are encouraged to visit the schools' websites to view current tuition/fee information.
Program Length-It can take three to four years to complete an advanced-degree program. MSN students can finish in around three years, DNP in about four. This time frame is if students already have a bachelor's degree. Otherwise, an additional year may be required.
Internship/Externship Opportunities- Nurse practitioner students are required to complete clinical practicum hours to gain valuable on-the-job experience to be able to practice independently, usually 500-600 hours.
Online/Campus Options- All the accredited Tennessee nurse practitioner programs offer distance learning. This option allows for flexibility in hours and allows for self-paced, self-directed learning. Some campus visitation is required, and students are encouraged to visit the school of interest's website to determine if the program is right for them.
Admission and Certification Requirements
Each school has certain admission requirements, and students should check each school for specific admission criteria. The requirements to enroll in a graduate nursing program may include:
Current RN/APRN license
BSN from an accredited nursing program
Minimum GPA of 3.0 (specific GPA requirements may vary)
Completion of the Graduate Record Examination (GRE)
Submission of a current resume and CV
Prior completion of a college-level statistics course
Submission of transcripts from BSN program
Provide a written goal statement/ statement of purpose
Interview with faculty
Previous clinical experience as an RN
Licensing/ Certification
Certification in a specialty area is required for APRN licensure in Tennessee. Specialties include:
Adult-Gerontology (acute and primary care)
Pediatrics (acute and primary care)
Psychiatric-Mental Health
Family Nurse Practitioner
Emergency Nurse Practitioner
Women's Health
Once the NP student graduates, he/she may take the certification exam that is specific to the population focus are. Examples of nationally-recognized certification agencies include:
The American Nurses Credentialing Center (ANCC)
The Pediatric Nursing Certification Board (PNCB)
National Certification Corporation (NCC)
In addition to specialty certification, the requirements for licensure include:
Current RN license
Applicant must have completed a course in pharmacology
Complete a practitioner profile questionnaire
Official transcripts must be sent from the school directly to the board
Submit notarized proof of citizenship
Complete a criminal background check
Tennessee Nurse Practitioner Agencies and Organizations
Schools That Offer Nurse Practitioner Programs in Tennessee
Choosing a career as an advanced-practice nurse is a wise decision, not only for financial stability but employment as well. Tennessee is rich in educational opportunity for registered nurses both in-state and out-of-state.
Bristol, TN
Chattanooga, TN
Clarksville, TN
Cookeville, TN
Harrogate, TN
Jackson, TN
Johnson City, TN
Knoxville, TN
Memphis, TN
Murfreesboro, TN
Nashville, TN
Are we missing your school's program or need to update information listed? Please contact us so we can make the necessary changes.