DNP Programs in Virginia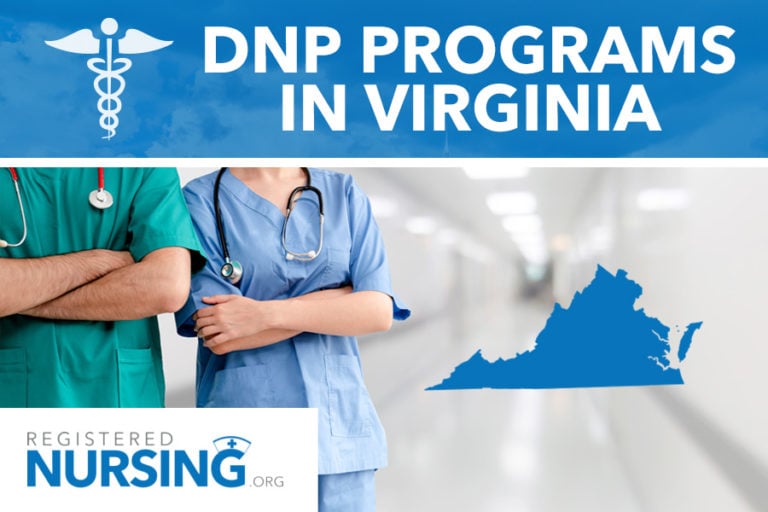 Earning a Doctor of Nursing Practice (DNP) demonstrates that nurses exemplify clinical expertise, leadership, and problem-solving. The DNP is the terminal degree for nurses, which means there is no higher degree. For some, this may seem daunting. However, DNP programs nation-wide make it as convenient as possible for both MSN and BSN nurses to earn a clinical doctorate.
The DNP program can take between two and six years to complete, depending on the nurse's starting point as well as if attending full or part-time. The chosen specialty track also determines the length of time spent in school. The program usually begins with core or foundation courses, followed by the specialty track. Clinical practicum hours, as well as a DNP project, is also required. BSN students, in many cases, earn an MSN along the way.
Choosing a DNP Program
When choosing to return to school, many nurses may not know where to start. Selecting a DNP program can be daunting, especially if nurses have been out of school for many years. However, there are basics that should be considered. Virginia has nine accredited DNP programs to choose from.
What to Consider When Choosing a DNP Program
Cost– The average cost of a DNP program in Virginia is around $720 per credit hour. This is for part-time status and does not include any additional university fees or cost for supplies. Many schools charge a lower tuition rate for students who take a specific number of credits at a time. For this reason, and to find the most up-to-date tuition costs, prospective students are encouraged to research each school's website.
Online Options– All DNP programs in Virginia offer online learning to variable degrees. Some programs and tracks are entirely online; some are hybrid. Many times, the MSN to DNP option is almost 100% online. When campus visitation is required, it is often designed to be as "intensives" over several days to reduce the necessary trips to campus.
Accreditation– Nursing programs in the United States need to be accredited by either The Commission on Collegiate Nursing Education (CCNE) or the Accreditation Commission for Education in Nursing (ACEN). This ensures that educational standards are met uniformly. All nine DNP programs in Virginia are accredited by the CCNE.
Residency Option– To earn a DNP, a total of at least 1,000 clinical hours must be completed. MSN to DNP students can often apply clinical hours from their MSN hours towards the DNP requirement, although students should check with the school before applying. Additional hours are required to complete a capstone project.
Another residency option is for new graduates of a DNP program. Those who graduate from a DNP program with an APRN degree can further their clinical experience by applying for a residency or fellowship program. Virginia has a few programs for NPs in areas such as Emergency Medicine, Urgent Care, Rural Health, and orthopedic surgery.
One DNP program in Virginia is at Marymount University. It offers part-time, online programs which makes it an excellent choice for busy working nurses. Only one on-campus visit a semester is required. For BSN applicants, between 72 and 74 credits are needed to graduate. Post-MSN students are required to complete between 30-32 credits. For more information students are encouraged to visit their website.
Admission, Licensing, and Certification Requirements
Admission
Admission criteria for the nine schools in Virginia may vary slightly. General admission requirements may include:
Current RN or APRN license
MSN or BSN degree from an accredited school
Submission of transcripts from all educational institutions
GPA of 3.0 or higher (variable between schools)
Submit a resume/CV
Provide a writing sample, such as a written statement of purpose or goal statement
Proof of prior clinical experience as an RN or APRN
Specialty certification (for APRNs)
Health clearance
Completion of a statistics course
Interview with faculty
Certification
Some schools require proof of specialty certification (for APRNs). This certification identifies the APRN's specialty area or population foci. For example, a nurse practitioner can be certified in Pediatrics, Women's Health, Adult-Gerontology, etc. For RN applicants, many BSN-DNP tracks prepare students for an APRN role, such as NP or CRNA. In this case, the graduate is eligible to sit for the certification exam.
There are several nationally-recognized certifying agencies, including:
There are other specialty certifications available for DNP graduates for nurses who are not going to take on a new role as a practitioner. Examples include:
Nurse Executive
Nurse Executive-Advanced
Nurse Informatics
Licensing
Different states have different requirements for licensure, and it depends on the role. DNP graduates who began as an RN must re-apply for state licensure in Virginia if they have transitioned to an APRN or CNS role. Licensure requirements in Virginia include:
Unencumbered RN license
Submit proof of specialty certification
Completion of an MSN or DNP program
Arrange for transcripts to be sent directly to the board (for new graduates)
Apply for prescriptive authority, if applicable
Complete online or paper application
Consent to a background check
Pay any required fees
Virginia BSN to DNP Options
Seven of the nine accredited DNP programs in Virginia offer BSN to DNP options. The number of credits to complete a BSN to DNP plan depends on the school as well as the specialty track, but usually, between 70 and 88 credits are required. An MSN degree is earned along the way.
The University of Virginia offers a BSN to DNP track for both full-time and part-time students. Between 76 and 88 credits are needed to graduate, depending on the track. Students may choose from the following career options:
Adult-Gerontology Acute Care CNS
Adult-Gerontology Acute Care NP
Adult-Gerontology Acute Care CNS and NP (dual track)
Family NP
Neonatal NP
Pediatric NP (Acute Care)
Pediatric NP (Primary Care)
Psychiatric-Mental Health NP
Clinical hours may be earned at the University of Virginia Medical Center or from other contracted facilities. For more information as well as specific admission requirements, students are encouraged to visit their website.
Related Education Paths
Helpful DNP Agencies and Organizations in Virginia
List of Campus and Online DNP Programs in Virginia
Arlington, VA
Charlottesville, VA
Lynchburg, VA
Norfolk, VA
Radford, VA
Richmond, VA
Winchester, VA
Are we missing your school's program or need to update information listed? Please contact us so we can make the necessary changes.
Find DNP Programs By City: