Nursing Programs in Virginia Beach, VA
With much-visited shorelines and rich history, Virginia Beach, Virginia is a vibrant community with lots to offer visitors and locals alike. Like many southern regions, Virginia Beach and its surrounding communities are experiencing a sharp nursing shortage even though RNs can earn a comfortable wage. According to the Virginia Nurses Association, by 2020 one in three patients may not get needed healthcare services due to lack of nurses. Area colleges are addressing this issue by offering more programs with open enrollment periods, online formats, and evening and weekend options.
To get started in nursing or to advance your nursing career, check out our accredited program listings sections below: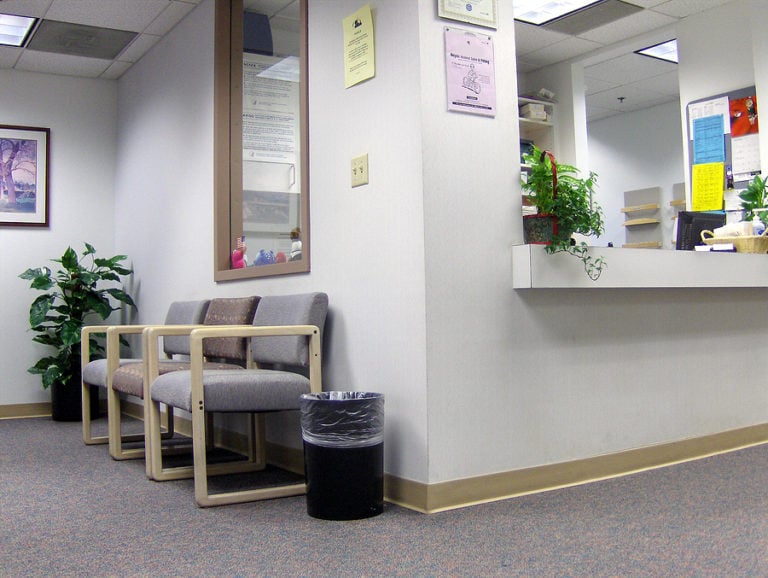 Entry-Level ADN & BSN Programs in Virginia Beach, VA
Public and private healthcare institutions are working with Virginia Beach-area colleges to create accessible nursing programs that encourage enrollment. Many LPN to RN, Associate Degree in Nursing and Bachelor of Science in Nursing options offer year-round admission, flexible scheduling, and online and on-ground courses to attract new students.
LPN to RN Programs
As part of their jobs, LPNs routinely interact with patients and healthcare providers and discover what more they could do if they had an RN. Tidewater Community College located outside of Virginia Beach, VA, has an accelerated path for Licensed Practical Nurses (LPNs) so they can earn their two-year degree in less time and be ready for the NCLEX. The competitive-entry program aims to make the most of LPNs schooling and first-hand experience.
ADN Programs
Becoming a Registered Nurse requires people skills as well as math, science, and technical competencies. Bryant & Stratton College in Virginia Beach uses traditional classroom instruction, laboratory, and clinical experiences to prepare students to become RNs through its Associate's Degree in Nursing program. Students also complete clinical simulations so they are ready from day one to work in modern healthcare facilities.
Direct-Entry BSN Programs
Nurses must manage many competing priorities and make smart decisions in sometimes chaotic settings. Gaining strong nursing fundamentals can help nurses successfully cope with varying challenges on the job. By earning a Bachelor of Science in Nursing, students can arm themselves with the complete arsenal of skills to perform their job well.
Find out more about Virginia Accelerated BSN Programs.
Virginia Beach RN Program NCLEX-RN Pass Rates
Top Ranked Accredited Nursing Programs in Virginia Beach
Listed below are the top nursing schools in Virginia Beach based on our RegisteredNursing.org RN program rankings for Virginia out of 67 other accredited programs offered in the state:
Hampton University - College of Virginia Beach - #6
Hampton University - Hampton - #10
Old Dominion University - #19
Sentara College of Health Sciences - #12
RN to BSN Programs in Virginia Beach, VA
Problems are better solved by working together, which is why Virginia Beach colleges and medical facilities are partnering up to solve the nursing shortage. Fast-track RN to BSN programs enable students to continue working while completing Bachelor's of Science in Nursing coursework both online and in evening and weekend hours.
RN to BSN Programs
Working registered nurses likely learn new skills every day on the job, and bridge programs allow RNs to leverage these learnings toward a Bachelor's of Science in Nursing Degree (BSN). Sentara College outside of Virginia Beach, VA, offers an RN to BSN online program so dedicated students can complete coursework at times that are convenient to them. RNs with a bachelor's degree are more sought after and better prepared to move into leadership positions.
Find out more about Virginia RN to BSN Programs.
APRN & Nurse Practitioner Programs in Virginia Beach, VA
In addition to commanding a high salary and making critical decisions on patient care, nurses with an MSN, post-grad certificate or doctorate degree can specialize in a field they are excited about. In Virginia Beach, RNs can go back to school part-time, online or via hybrid learning models, to enter a more rewarding career as a Nurse Educator, Nurse Practitioner or other APRN specialists.
MSN Programs
Though nurses of all levels and backgrounds are highly sought after, there's an acute demand for Advanced Practice Nurses. Hampton University offers a few MSN pathways with concentrations in Nursing Administration, Nursing Education, and multiple Nurse Practitioner specializations. Graduates are poised to become leaders within clinical and academic environments or can move on to the coveted doctoral degree nursing program.
Find out more about Virginia Nurse Practitioner Programs.
Post-Master's Certificate Programs
Designed for intensity and efficiency, training from a post-grad certificate can help you advance your career in less time. The prestigious and historical Old Dominion University, which is located outside of Virginia Beach, offers hyper-focused post-master's certificates for nurses who want to lead, educate, or mentor others. The certs make use of learnings from non-nursing sectors such as business, education, and healthcare technology.
Find out more about Virginia Post-Master's Certificate Programs.
DNP Programs
If working as a bedside nurse has made you wish you could do more for patients, becoming an Advanced Practice Nurse may be for you. By earning a Doctor of Nursing Practice, you can affect policy at the highest levels. Old Dominion University, an established research school, offers DNPs in Advanced Practice, Anesthesia, and Executive Nursing. They are offered in a blend of traditional and distance education platforms and prepare graduates to become expert clinicians and healthcare leaders.
Find out more about Virginia DNP Programs.