MSN Degree Programs in Alabama
Alabama has a wide range of opportunities in healthcare and a need for great nurses to fill those roles. Registered nurses in Alabama looking to advance to high-level nursing and specialize, and of course take advantage of higher pay opportunities, should pursue a Master's of Science in Nursing (MSN). This is a graduate degree designed to permit current RNs to advance to where they want to be.
Alabama has several pathways to study an MSN with both accelerated and direct-entry options, as well as the traditional RN/BSN to MSN route.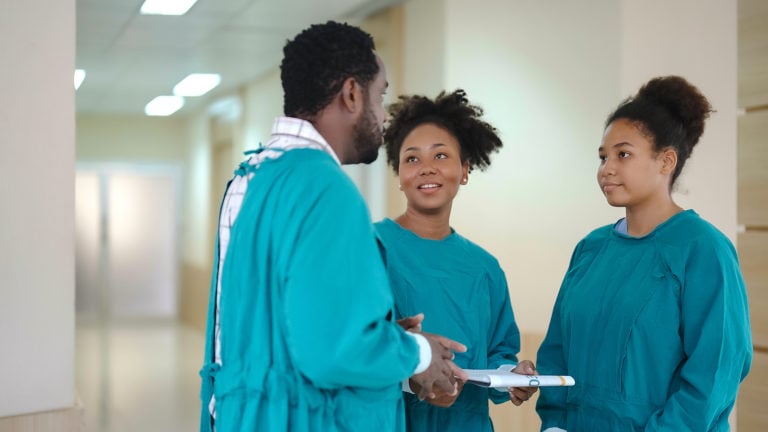 RN to MSN and BSN to MSN Programs
The typical route to an MSN is via ADN-educated RNs who wish to springboard to an MSN. These programs may be fully online (to work at your own pace), offline (traditional campus), while some offer hybrid programs which offer the best of both options. Sometimes, the same schools offer these flexible options. Both the RN to MSN and BSN to MSN have similar curriculums. Where they differ is that because the BSN has more of an academic approach and is a full degree, they tend to be shorter than RN (for ADN educated nurses) to MSN.
Typical Program Length:
Six semesters full-time for an RN to MSN program
Four full-time semesters for a BSN to MSN program of 50-56 credit hours
Typical Admission Requirements:
Valid RN license
ADN or BSN from an accredited college or university
Minimum GPA of 3.0 on all undergraduate work
Minimum three letters of recommendation and/or resume with clinical experience
Evidence of CPR certification
Completion of all prerequisite courses
Accelerated & Master's Entry Nursing Programs
MENPs – or to give them their full title, Master's Entry Nursing Program (sometimes known as MEPNs, Accelerated MSNs, or just Accelerated Master's Pathways) are a special type of graduate program for graduates with a bachelor's degree in something other than nursing. It works at an accelerated pace, essentially converting existing qualifications. The University of Alabama is one such institution offering this rigorous program which will make you eligible for an RN license and advanced nursing degree in any chosen specialty.
Typical Program Length:
University of Alabama's Accelerated Master's in Nursing can be completed in one to two years, which is typical for this type of program
Typical Admissions Requirements:
A baccalaureate degree (accredited)
A personal interview
GPA of 3.0 on a 4.0 scale and submit all transcripts
A GRE score of 297 in verbal and quantitative sections. Alternatively, score 410 on MAT, or 480 on GMAT. Tests must not be more than five years old
International students for whom English is not a first language must score 500 on TOEFL. Some others may be waived under some circumstances
Complete pre-requisite courses as listed on their website with a 3.0 GPA
2023 List of MSN Programs in Alabama
With a BSN in hand, many Alabama nurses find that it's beneficial to continue investing in their education by pursuing an MSN degree. To this end, there are more than 5 colleges and universities throughout the state that offer MSN degree programs for those nurses looking to obtain their degree either full-time or through blended learning while balancing their ongoing professional responsibilities.
MSN Programs By City:
Birmingham, AL
Florence, AL
Huntsville, AL
Jacksonville, AL
Mobile, AL
Montgomery, AL
Troy, AL
Tuscaloosa, AL
Are we missing your school's program or need to update information listed? Please contact us so we can make the necessary changes.