Dual MSN/MPH Degree Programs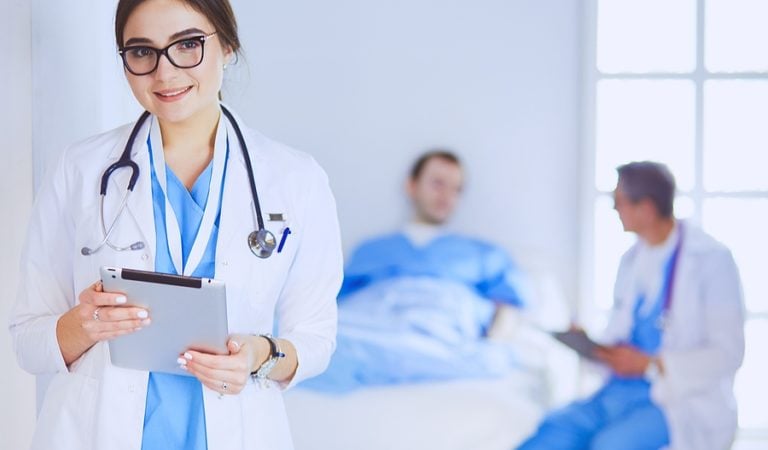 For nurses who are interested in expanding their knowledge of nursing and increasing skills in community and public health, pursuing a dual degree program that combines a Master of Science in Nursing (MSN) and a Master's in Public Health (MPH) degree may be a valuable next step. A combined MSN/MPH program includes coursework in advanced practice nursing, as well as a curriculum on epidemiology, public health, program management, and healthcare policy and politics. This specialized training provides nurses with a focused knowledge of public health nursing, preparing them for careers in public health education, nursing, program development, and research. Upon graduation, these nurses are prepared to pursue careers such as:
Public Health Analyst or Specialist
Healthcare Policy Advocate
Director of Public Health Agency
Epidemiologist
These dual master's programs are academically rigorous, providing nurses with two advanced degrees in generally between 18 months and 3 years of study. Whether taken on a full- or part-time basis, MSN/MPH programs are also more cost-effective than taking two separate master's programs.
Which MSN/MPH Program is Right for Me?
So you're interested in a dual MSN/MPH program but don't know where to start? See below for a full listing of schools that offer this joint degree to get you started. While researching schools, keep these questions in mind to help you choose the right program to fit your needs:
Is the Program Accredited?: A crucial first step in considering a school should be determining if its program is accredited by a reputable third-party accrediting association. If a school has been accredited by the Commission on Collegiate Nursing Education (CCNE), Accreditation Commission for Education in Nursing (ACEN), or Council on Public Health Education (CPHE) it has passed a thorough evaluation of program quality and you can be assured the investment in your education will be a valuable one.
Can I Take Classes Online?: While many MSN/MPH programs are offered in a traditional classroom format, some schools offer online courses that allow students to complete assignments whenever or wherever it is convenient. This flexibility is particularly attractive for students who plan to continue working while earning their degrees. Online courses can also be more cost-effective than the on-campus equivalent, and save students the cost of commuting to campus.
What Courses Will I Take?: Program curriculum can vary from school to school, so make sure to review the required courses for each school you are considering to make sure it covers the topics you are looking for.
How Much Will it Cost?: The cost of an MSN/MPH program varies between schools and can be influenced by the geographic location, school's reputation, a student's residency status, and whether the courses are taken on a full- or part-time basis. When researching a school, make sure to include the cost of mandatory university fees, supplies, and campus housing and/or commuting costs into your overall budget. Also, be sure to check with the school's financial aid office for information about financial assistance you may qualify for.
You may consider an MSN in Public Health degree program.
MSN/MPH Program Curriculum
The curriculum for a dual MSN/MPH program generally includes advanced practice nursing coursework, on topics such as advanced health assessment, research methods, and community health nursing, as well as public health coursework on epidemiology, public health policy, and social and behavioral science. In addition, MSN/MPH programs include a clinical internship component in which students can put their public health nursing coursework into practice.
One example of the MSN/MPH curriculum is the required course listing for the dual Master of Science Family Nurse Practitioner / Master of Public Health program at the University of Southern Florida. USF's program includes the following courses:
Theory & Practice Across the Lifespan
Advanced Physiology and Pathophysiology
Research and Evidence-Based Practice
Pharmacology for Advanced Practice
Advanced Health Assessment
Environmental and Occupational Health
Epidemiology
Biostatistics
Principles of Health Policy Management
Public Health Capstone
How Much Does an MSN/MPH Program Cost?
The cost of an MSN/MPH program varies from school to school and can be influenced by a number of factors including geographic location, a school's reputation, and a student's residency status. As mentioned above, when you're researching a program's cost, make sure to factor in all the associated costs. In addition to the cost of tuition, students can expect to pay mandatory university and course fees, supplies fees, non-residency fees, and the cost of campus housing or commuting. For courses that are available online, students may also need to consider the cost of a laptop, webcam, and/or software, but those costs are generally offset by the savings in commuting to campus and/or lower tuition costs.
What Are the Career Options for a Nurse with an MSN/MPH Degree?
Graduates of MSN/MPH programs pursue a variety of careers in public healthcare, serving various patient populations and providing education services about health, disease, and injury prevention and treatment options in their roles as public health nurses, managers, or directors at public health organizations or as researchers of epidemiology. Some of the career paths available to these nurses include:
Public Health Nurse: Public health nurses serve a specific population of people, and in many cases underserved communities and groups. Public health nurses provide patient care and health assessments, as well as education about a variety of important health topics. As opposed to working in hospitals, many public health nurses work for city or county health services, mobile units providing healthcare services, federally-funded public health organizations, and private community health agencies.
Epidemiologist: Nurses specializing in epidemiology research investigate the spread of communicable diseases, including data collection and analysis of diseases. Working with public health organizations and government entities, epidemiologists may help design research studies, prepare prevention guidelines and oversee public health programs.
Public Health Director: A director at a public health entity is a management position in which the director is in charge of planning, overseeing, and evaluating public health programs. Typical duties would include hiring and supervising staff, developing budgets and program plans, and delivering reports to a board of supervisors.
Public Health Specialist or Educator: Public health specialists focus on providing health education programs for individuals and communities to help them maintain healthy lifestyles. These nurses may work under the direction of a public health director or independently as a consultant to develop educational materials, deliver public health programs, and/or supervise other public health staff.
Organizations & Helpful Resources
Other Degree Programs
List of Dual MSN/MPH Programs
Dual degree programs are growing, and students interested in doubling down on their education are reaping the benefits. Below are some schools that offer the rewarding MSN/MPH joint program pathway.
Are we missing your school's program or need to update information listed? Please contact us so we can make the necessary changes.