Dual MSN/MHA Degree Programs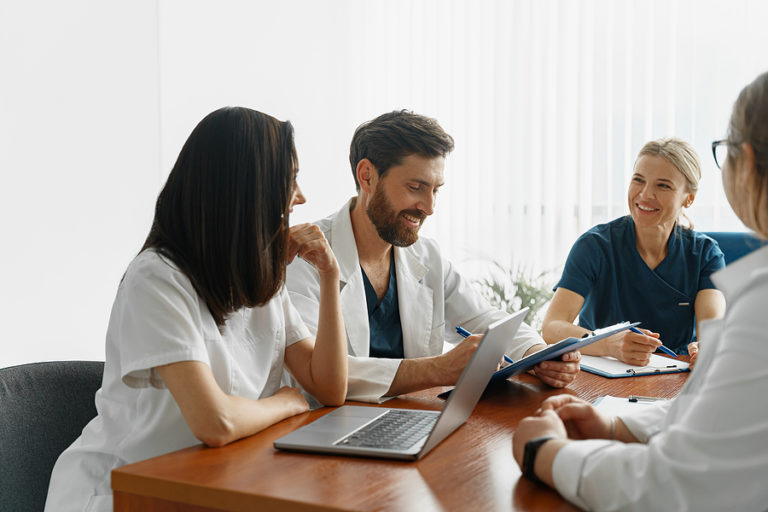 Registered nurses who wish to advance their careers and move into leadership positions in hospitals or other healthcare organizations may be interested in pursuing a dual MSN/MHA degree program. The MSN/MHA program combines the advanced practice nursing education of a traditional Master's of Science in Nursing (MSN) degree with the Master's in Healthcare Administration (MHA) courses that prepare nurses for leadership positions in hospital administration, nurse education and department management. Sample career pathways for nurses who have completed an MSN/MHA degree might include:
Hospital or Nurse Administrator
Nurse Manager
Director of Nursing
Nurse Educator
Healthcare Consultant
Which MSN/MHA Program is Right for Me?
When a nurse had decided to embark on a dual MSN/MHA degree program, there are a number of program considerations to help him or her choose the right school. When researching MSN/MHA programs, be sure to ask yourself the following questions:
Is The Program Accredited?: The first step in researching a school should be finding out if the program has been accredited by a third party organization such as the Commission on Collegiate Nursing Education (CCNE) or the Accreditation Commission for Education in Nursing (ACEN). An accredited program has been evaluated according to strict quality standards, so you can be assured it will provide a high quality nursing education and prepare you for the next step in your career.
What Is the Program Format?: MSN/MHA programs may be offered in traditional classroom formats as well as in online or "distance learning" formats which allow students to complete their studies remotely from wherever they live. In addition, some schools may offer hybrid formats that combine classroom study with online assignments. If you are one of many nurses who will continue to work full- or part-time while taking classes, an online or hybrid format may provide the flexibility you need to earn your degree.
What Courses Will I Take?: Review the program curriculum for each school you are considering to make sure it covers the topics you are looking for. Most MSN/MHA programs include courses on advanced pathophysiology, pharmacology and health assessment, in addition to financial management, leadership topics, legal issues and healthcare policy.
How Much Will It Cost?: The total price tag of a program will vary depending on the geographic location of the school, program format, the school's reputation and a student's residency status. When researching schools, make sure you calculate the cost of supplies, university and course fees, housing and/or commuting costs in addition to the tuition price.
Online Program Advantages
Many RNs who are considering an advanced degree will need to continue working while they take classes. For these nurses, an online MSN/MHA program will provide maximum flexibility and convenience and make it easier to earn their degrees while not disrupting their work schedules. Online MSN/MHA programs provide students with the following benefits:
Flexible Schedule: Online learning programs provide students with the flexibility to complete coursework from anywhere, and on their own schedules. This is particularly attractive to working nurses who need to fit in classwork around a busy work schedule that might include nights, weekends and holidays.
Affordability: Compared with traditional classroom programs, online programs may provide a more cost-effective option. Tuition rates may vary but in many cases, online programs have a lower overall price than a comparable school's on-campus program. In addition, online students do not have to factor in commuting costs, parking or campus housing into their overall budgets. Be sure to check with your school of choice for the most up-to-date tuition and fees, and ask whether they provide financial aid to students requiring assistance (many do!).
Program Length: Online programs can often be completed in less time than traditional on-campus programs. Many schools offer self-paced learning that allows students to complete coursework at a quicker pace than classroom programs, which means they can complete their degrees and begin working in less time.
Accessibility: Distance learning makes an MSN/MHA degree accessible to students who cannot commute a long distance to school or who can't afford the cost of campus housing and/or commuting. For students living in rural or remote locations, online courses open the door to a wider range of school options.
MSN/MHA Program Curriculum
The curriculum for a dual MSN/MHA program combines advanced practice nursing courses, such as advanced pathophysiology, health assessment and pharmacology, with healthcare leadership and administrative topics including accounting and financial management, human resources and legal issues. Depending on the format of the program (classroom, online or hybrid), students may complete their coursework on a full- or part-time basis. Clinical practice hours are also required as part of an MSN/MHA program.
As an example of MSN/MHA coursework, the following is a list of classes included in St. Joseph College's online MSN/MHA program:
Nursing Informatics
Nursing Research Methods
Policy, Quality & Safety
Organizational & Systems Leadership
Advanced Health Assessment
Advanced Pharmacology
Advanced Pathophysiology
Practicum in Nursing Administration
Leadership in Healthcare Administration
Quality Management and Performance Improvement
Healthcare Financial Management
Strategic Human Resources Management
Health Policy & Politics
Ethical and Legal Perspectives
Health Services Administration
Strategic Planning & Management
How Much Does an MSN/MHA Program Cost?
The cost of an MSN/MHA program can vary based on a number of factors, including geographic location, school reputation, program format and a student's residency status. When choosing a school, make sure to factor in all costs associated with a program, which may include tuition, university and course fees, materials and books, graduation fees, non-residency fees and housing costs as well as transportation and/or parking. Online students may not need to factor in the cost of commuting to a campus, but may need to consider the cost of technological requirements for their courses such as a computer, webcam and/or software licenses. As an example of program costs, tuition is $540 per credit hour for the online MSN/MHA program at the University of Phoenix.
What Are the Career Options for a Nurse with an MSN/MHA Degree?
A graduate of an MSN/MHA degree program may pursue many career paths after graduation, particularly in healthcare administration and nurse leadership roles. Typical job titles for these nurses may include:
Nurse or Healthcare Manager: A nurse manager or healthcare manager oversees a specific department in a healthcare facility, including directing and supervising nursing staff, managing and reporting budgets and finances and ensuring patient care runs smoothly and efficiently.
Healthcare Administrator: A non-patient facing role, healthcare administrators and nurse administrators most often work in hospitals and other large healthcare facilities and manage staff, develop training and personnel procedures, complete performance evaluations and develop budgets and financial reports.
Director of Nursing: A senior leadership position, nurse managers often report to directors of nursing. Directors develop, implement and evaluate evidence-based policies and procedures.
Nurse Educator: Nurse educators develop curriculum and teach future nurses in both nursing schools and teaching hospitals.
Healthcare Consultant: Healthcare consultants work for a variety of healthcare entities and may provide assistance regarding compliance issues, insurance claims, healthcare reform and legal issues.
Organizations & Helpful Resources
Other Nursing Degree Programs
List of Dual MSN/MHA Programs
Joint MSN/MHA programs can be found at schools across the country. Check out the state-by-state list below to find the program closest to you.
Jump to Your State Listings
Arizona
4025 S. Riverpoint Parkway
Phoenix
,
AZ
85040
(844) 937-8679
Indiana
Virginia
1971 University Blvd.
Lynchburg
,
VA
24515
(800) 424-9595
Are we missing your school's program or need to update information listed? Please contact us so we can make the necessary changes.