MSN Degree Programs in Arizona
The southwest state of Arizona has plenty of opportunities in a range of locations for healthcare professionals. Arizona-based Registered Nurses have many opportunities to improve their skills and add more qualifications to their resume. Typically, this is usually in the form of a Master of Science in Nursing (MSN). Graduate degrees like MSNs open many more doors than a BSN, allowing you to specialize, and enjoy higher pay and greater job security among other benefits.
Universities and nursing schools in Arizona have plenty of MSN choices; whether you're looking for campus or online, standard pace or accelerated, we have some options here. Also, there are plenty of RN/BSN to MSN programs too.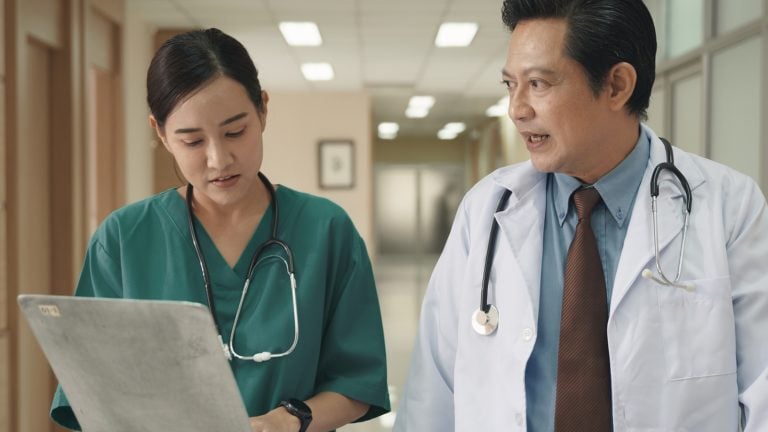 RN to MSN and BSN to MSN Programs
There are two pathways to a Master of Science in Nursing. The first route is a vocational path through an ADN and working as an RN. The second, more academic route, is studying a BSN and working up to the MSN. Education establishments in Arizona offer online (work from home), offline (traditional campus), and hybrid which mix the best elements of both. Both the RN to MSN and the BSN to MSN will study similar subjects. However, the RN to MSN will need to cover more subjects as the student has more to learn without the BSN qualification. It will also take slightly longer.
Typical Program Length
Four semesters for BSN to MSN
Six semesters for RN/ADN to MSN
Typical Admission Requirements
Current RN license (in date and in good standing)
Accredited ADN or BSN
3.0 GPA on the 4.0 scale
Resume with clinical experience. Alternatively, three recommendation letters from clinical references
Current CPR certification
Prerequisite courses complete with the minimum pass grade
Accelerated & Master's Entry Nursing Programs
Accelerated Nursing, which may also go by Master's Entry Nursing Program, MENPs, and other variations on these names, programs designed for graduates with bachelor's in other (yet relevant) subjects. They tend to be faster ways to get into nursing, an intense course of study to help you convert your qualification. The University of Arizona College of Nursing has such an MENP. Through it, you can work towards becoming an RN even without a background in nursing – subject to certain criteria. You may also study further specialization masters.
Typical Program Length:
You will complete the University of Arizona's Accelerated Masters program in 15 months when studying full-time. Part-time, this can take around two years.
Typical Admissions Requirements:
Grade C or better on all prerequisite courses – must be complete by the application deadline
A GPA of 3.0 on the 4.0 scale
All relevant academic transcripts
HESI Admission Exam with a minimum score of 75
Attend an interview – this will be scored as a Behavioral Interview. Minimum score of 70%
A non-nursing bachelor's degree – however, you may apply while your degree is in progress
2023 List of MSN Programs in Arizona
Options for moving from RN to MSN in Arizona can be found throughout several colleges within the state, programs being offered as traditional on campus courses, as well as online delivery methods or a combination. Courses being offered in most schools have the ability to be as flexible as the candidate needs to work around busy schedules and professional responsibilities. Taking the time out to earn your degree can also allow for you to obtain more specialized qualifications, but can also allow for you to earn more annually.
MSN Programs By City:
Flagstaff, AZ
202 E Pine Knoll Dr- PO Box: 15035
Flagstaff
,
AZ
86011
(928) 523-2671
Phoenix, AZ
550 N 3rd St
Phoenix
,
AZ
85004
(602) 496-2644
2445 W Dunlap Ave #100
Phoenix
,
AZ
85021
(602) 242-6265
College of Nursing and Health Care Professions
3300 West Camelback Road
Phoenix
,
AZ
85017
(855) 428-5623
Tempe, AZ
1625 W. Fountainhead Pkwy
Tempe
,
AZ
85282
(866) 484-1831
Are we missing your school's program or need to update information listed? Please contact us so we can make the necessary changes.