Nurse Practitioner Schools in Connecticut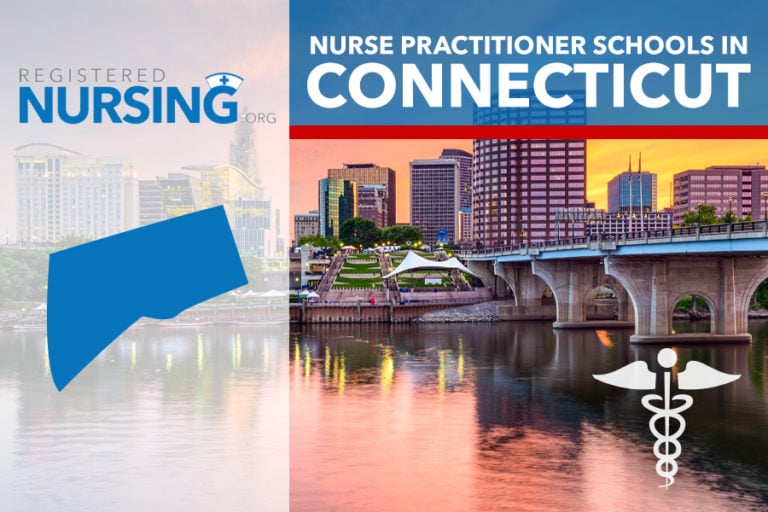 Nurses in Connecticut looking to advance to the role of nurse practitioner (NP) can opt for one of the state's Master's of Science in Nursing (MSN) or Doctor of Nursing Practice (DNP) program pathways. These degrees allow nurses to enter the coveted world of advanced practice nursing, and many programs allow students the option to choose between a variety of NP specialties, including family nurse practitioner, clinical nurse specialist, and more. With online and campus-based program options, becoming a nurse practitioner has never been easier.
Choosing a Nurse Practitioner Program
Choosing the right nurse practitioner program is an important task. Prospective students should take the following considerations under advisement before deciding on a school:
Accreditation- Proper accreditations come from well-respected organizations such as the Accreditation Commission for Education in Nursing (ACEN) and the Commission on Collegiate Nursing Education (CCNE). These accreditations show that a program is up to standard on its academics and offerings.
Program Cost- Connecticut NP program tuition ranges from around $650 all the way up to $1,000 per credit hour, depending on school, location, and degree level chosen. Overall, DNP level programs tend to be more expensive than MSN programs, as the DNP pathway requires more credits. Tuition fees typically don't include mandatory expenses such as course materials, lab fees, and other program fees.
Program Length- Generally, MSN programs require around 40-50 credits and can take roughly 3-4 years to complete. DNP programs require up to 90 credits and can take 3-4 years from start to finish. Part-time or full-time study can affect the total length of both types of programs.
Internship/Externship Opportunities- Clinical hours are a requirement for both master's and doctoral NP programs. Most schools have relationships with area hospitals and medical centers where students can complete their hands-on training, and are happy to help students arrange these internship/externship opportunities.
Online/Campus Options- While campus-based programs are still widely available, online programs are being offered much more frequently due to their convenience and flexibility. Hybrid programs are also starting to pop up; these programs allow students to take some courses online and some in a traditional classroom.
Admission and Certification Requirements
Students will typically find the following admissions requirements in Connecticut:
BSN or higher from accredited university
Official transcripts from all colleges/universities attended
Professional resume
Copy of current Connecticut RN license
Two letters or recommendation
Personal statement/essay
Completed application
Licensing/Certification
Certification for most of the nurse practitioner specialty areas can be obtained through the American Nurses Credentialing Center (ANCC). Generally, applicants must hold an active RN license and have completed a graduate-level nursing program in an applicable specialty.
To become licensed as an advanced practice registered nurse, students must apply through the Connecticut Department of Public Health. Eligibility requirements include:
Hold a current Connecticut RN license
Hold and maintain current certification as a nurse practitioner, clinical nurse specialist, or nurse anesthetist from an approved national organization
Have successfully completed 30 hours of education in pharmacology for advanced nursing practice
Hold a graduate degree in nursing in an applicable advanced nursing specialty
Connecticut Nurse Practitioner Agencies and Organizations
Schools That Offer Nurse Practitioner Programs in Connecticut
Becoming a nurse practitioner is an excellent way to earn more money and help to bridge the gap of the nursing shortage. The profession is slated to grow by 31% through 2024, making the job outlook excellent for the foreseeable future. Connecticut is home to world-class nurse practitioner programs in a variety of sub-specialties.
Fairfield, CT
New Haven, CT
Orange, CT
Storrs, CT
West Hartford, CT
Are we missing your school's program or need to update information listed? Please contact us so we can make the necessary changes.