Nurse Practitioner Schools in Florida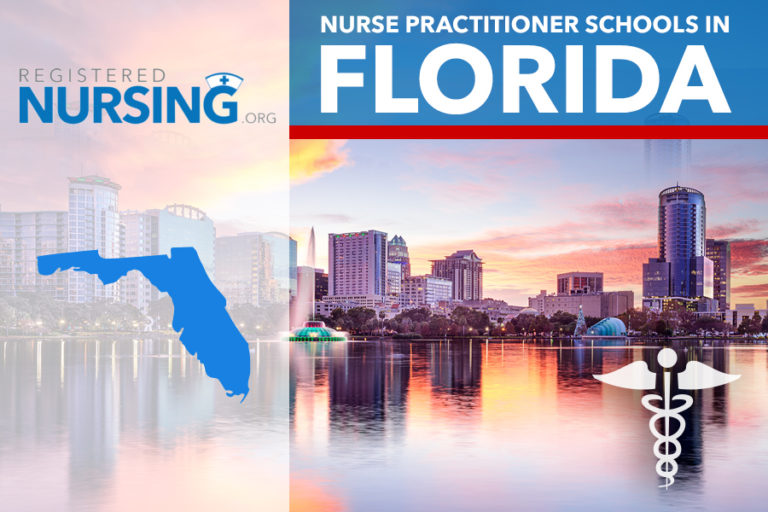 Registered nurses looking to further their careers to advanced-practice nursing can earn either a master's degree in nursing (MSN) or doctoral degree in nursing (DNP) and obtain certification as a nurse practitioner. Advanced nursing degrees indicate a strong dedication to the field, and demonstrates an elevated level of clinical competency in the chosen specialty.
Nurse Practitioners can work in a variety of areas including:
Adult-Gerontology (acute and primary care)
Pediatrics (acute and primary care
Women's Health
Family Practice
Additionally, nurse practitioners can practice in more focused areas such as neurology, nephrology, oncology, etc.
Choosing a Nurse Practitioner Program
There are several facets of graduate programs that must be taken into consideration when selecting a school, including:
Accreditation—While the Florida Board of Registered Nursing does not have a list of accredited programs, it's important to find a school that is accredited by the Commission on Collegiate Nursing Education (CCNE). The CCNE is recognized by the U.S Secretary of Education as a national accreditation agency. From their website, one can view a list of accredited MSN/DNP programs in Florida.
Program Cost—MSN programs usually require students to complete an average of 45 credits (may range from 30-55 credits). The average cost per credit is around $400 for in-state residents and an average of $700 for out-of- state residents. Online or distance-learning programs range from $400-$800 per credit. These figures are just the cost of tuition- books, supplies, and living expenses should also be considered.
Program Length– The minimum degree requirement for an MSN or DNP program is a bachelor of science degree in nursing (BSN). BSN to MSN can take about two years to complete, and BSN to DNP can take three to four years if attending full time.
Internship/Externship opportunities—Also known as "residency" programs, nurse practitioner internship/externships allow advanced-practice nurses to obtain critical, on-the-job experience that will help prepare them for independent practice. Florida has two residency programs:

University of Miami Miller School of Medicine (oncology fellowship program for NPs)
Jackson Medical Center Residency and Fellowship Programs (adult acute care NP residency programs)

Online/Campus options—Florida has many universities that offer online MSN and DNP programs. However, although the programs are "online," there are campus visitations that may be required depending on instructors. The American Association of Nurse Practitioners (AANP) provides a list of Florida schools that offer online/distance learning, as well as how frequent campus visits are required.
Admission and Certification Requirements
To qualify for entry into an MSN program in Florida, the following requirements may be required:
Minimum of a BSN
Current RN license
Minimum GPA of 3.0
CV and letters of recommendation
Graduate Record Examination (GRE)
In addition to the above, potential DNP students may be required to:
Provide transcripts from all educational institutions
Hold a current APRN license
Provide documentation of a GPA in master's level courses (individual GPA requirements may vary between schools)
Submit a written personal statement of purpose
Provide documentation of nursing practicum hours during the master's/post-master's certificate program
Complete interviews
Potential students should research each school for individual requirements. Additionally, depending on the nurse practitioner "track," prior clinical experience in a specialty area may be required (i.e., pediatrics, acute care, psychiatry/mental health, etc.). Some programs allow for concurrent clinical exposure; MSN/DNP students are encouraged to check requirements before enrollment.
Licensing/Certification
Nurse Practitioners can obtain certification in their specialty during the graduate program, or become certified via the American Nurses Credentialing Center (ANCC). The ANCC offers certification in:
Adult-Gerontology Acute Care
Adult-Gerontology Primary Care
Family NP
Pediatric Primary Care
Psychiatric-Mental Health
Emergency
Informatics Nursing
Public Health
Nurse Executive
Additional certifications offered for specialties include:
Women's Health, to include sub-specialties in Women's Health- National Certification Corporation (NCC)
Nurse Midwife-American Midwifery Certification Board (AMCB)
Additional certification is not needed for DNPs unless obtaining dual certification, or if the nurse is on a BSN-DNP pathway.
After graduating and becoming certified in the specialty area, the graduate must apply for licensure. In Florida, requirements include:
Hold a valid RN/ARNP license
Submit verification of successful completion of a graduate program, to include specific coursework requirements. Must be signed by the school's director
Provide proof of national advanced-practice certification*
Completion of a two-hour course on the Prevention of Medical Errors. Must be by an approved Florida Board of Nursing provider
Submit evidence of liability insurance
Agree to a background check
Submit fingerprints via Livescan
*Nurse Anesthetists and Nurse Midwives are the only specialties that qualify for provisional licensure; the full ARNP license will be issued once proof of national certification is received
Florida Nurse Practitioner Agencies and Organizations
Nurse Practitioner Programs
Florida has many options for MSN/DNP programs—about fifteen accredited schools throughout the state. Many schools offer online/ distance learning as well. Additionally, some Florida schools offer BSN to DNP tracks for nurses who wish to advance to a terminal degree in nursing in one program.
Boca Raton, FL
Coral Gables, FL
Jacksonville, FL
Lake Mary, FL
Lakeland, FL
Miami, FL
Miami Shores, FL
Miami Springs, FL
Miramar, FL
Orlando, FL
Tallahassee, FL
Tampa, FL
West Palm Beach, FL
Are we missing your school's program or need to update information listed? Please contact us so we can make the necessary changes.