Nursing Programs in Tampa, FL
Along the northern East Coast, many seniors over age 65 settle down in Florida to enjoy their retirement years. The Tampa Bay region has a high demand for registered nurses to care for this large aging population. Despite its sizable number of elderly residents and need for healthcare professionals, nurses in Tampa and its surrounding cities make about $60,000 per year, about 15% less than the national average according to Glassdoor.com. Advanced practice nurses can earn more – and take on additional roles in caring for patients – when they earn higher-level degrees and certifications.
To get started in nursing or to advance your nursing career, check out our accredited program listings sections below: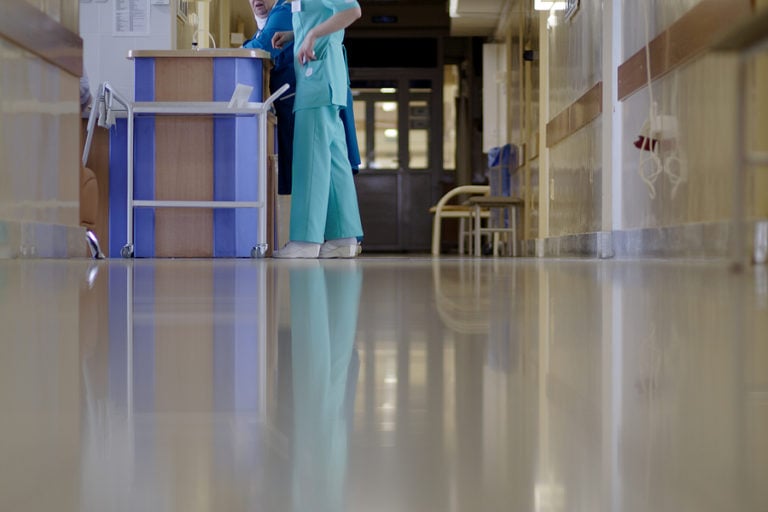 Entry-Level ADN & BSN Programs in Tampa, FL
The vocation of nursing allows its professionals to enter the field from a number of avenues, depending on their current station in life and where they see themselves five or ten years down the road. Whether you are a current LPN looking to take on greater responsibilities or a non-nursing professional seeking to enter this stable and growing healthcare field, you can become a nurse via a range of LPN to RN, ADN, and BSN education programs in Tampa, Florida.
LPN to RN Programs
Checking patients' vital signs, gathering information, and putting them at ease are just a few key responsibilities of Licensed Practical Nurses. To command a greater salary and provide a higher level of care for patients, LPNs to can transition to RNs via the bridge program at Jersey College located in Tampa, Florida. With industry-standard labs, clinical and theoretical instruction, the LPN to RN bridge offering can be completed in less than 18 months and grants students their Associate Degree in Nursing. They are also prepared to sit for their NCLEX.
ADN Programs
The healthcare workers who spend the most time with patients are nurses. From gathering information to administering medication and checking vital signs, nurses do so much to assist those under their care. The Associate of Science degree in Nursing at Keiser University in Tampa, FL permits dedicated students to enter the field of healthcare and learn the hands-on skills and theoretical knowledge to become a working nurse. Program graduates are NCLEX-ready; it has a pass rate of approximately 75%.
Direct-Entry BSN Programs
Launch your nursing career with a four-year degree and you can gain more patient responsibility – and command a higher salary – from the start. It's probable that the BSN degree will soon become the standard for all RNs. By beginning your career with this degree, you can get a head start. Rasmussen College outside of Tampa, Florida, has on-campus and distance education BSN options so you can finish your degree on a timeline that's suitable for your schedule. The career college is focused on training students to enter the nursing profession as soon as possible upon graduation.
Find out more about Florida Accelerated BSN Programs.
Tampa RN Program NCLEX-RN Pass Rates
Top Ranked Accredited Nursing Programs in Tampa
Listed below are the top nursing schools in Tampa based on our RegisteredNursing.org RN program rankings for Florida out of 149 other accredited programs offered in the state:
Jersey College - Tampa - #17
University of South Florida - #12
University of Tampa - #5
RN to BSN Programs in Tampa, FL
In the future, it is likely that Registered Nurses will be required to possess a bachelor's degree. At the very least, medical centers will have a very strong preference to hire those with BSNs in order to earn the sought-after Magnet status designation. Online or blended bridge programs in Tampa allow working RNs to complete their BSN degrees so that they can bolster their careers within their timeframes.
RN to BSN Programs
Many healthcare experts predict that all Registered Nurses will be required to hold bachelor's degrees. Top hospitals in Florida already require this as it has proven to reduce error rates and improve the quality of care.
Find out more about Florida RN to BSN Programs.
APRN & Nurse Practitioner Programs in Tampa, FL
In the state of Florida, advanced practice nurses can provide primary care to patients, allowing physicians to focus on more specialized areas of medicine. By earning a master's degree in nursing, you can gain significant independence in treating patients and being responsible for their care. APRNs are compensated at competitive rates and are sought after by most medical centers.
MSN Programs
Nurses who desire to play a more impactful role in the care patients receive can earn their Master of Science in Nursing. The University of Tampa in Florida offers an MSN with concentrations in Adult/Gerontology Nurse Practitioner and Family Nurse Practitioner. Both options are offered at a part-time pace so that nurses can continue to perform their jobs as they obtain their degrees. The University has affiliations with area hospitals so students can gain diverse clinical experiences. Program graduates can enter clinical leadership positions and serve as primary care healthcare providers for patients.
Find out more about Florida Nurse Practitioner Programs.
Post-Master's Certificate Programs
Ready and train the next generation of nurses by earning your post-grad certificate in Nursing Education at the University of South Florida. Designed for veteran nurses wanting to share their expertise with others, the cert is offered primarily online with in-person clinicals. Graduates of the program can teach nursing as a faculty members or as an in-hospital instructor.
Find out more about Florida Post-Master's Certificate Programs.
DNP Programs
Clinical leaders and experts in nursing set the stage for others to follow. Committed advanced practice nurses who are up to the challenge can go after their Doctor of Nursing Practice (DNP) at the University of South Florida in Tampa. The rigorous curriculum is focused on using evidence-based care to improve patient healthcare outcomes. The terminal degree represents the culmination of a nurse's educational pursuits.
Find out more about Florida DNP Programs.