Nurse Practitioner Schools in New York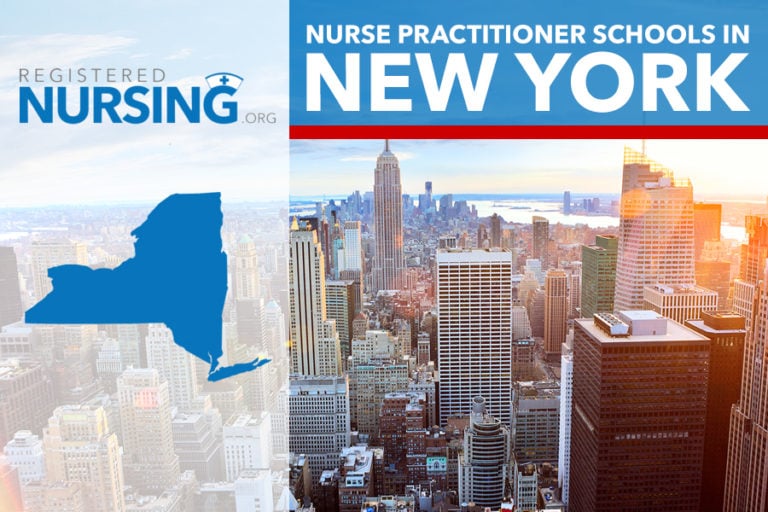 Nurse practitioners are in high demand in the United States. According to the Bureau of Labor Statistics, advanced practice nurses are expected to experience a job growth of 31% until 2024. Registered nurses looking to expand their practice to include diagnosing, treating, and prescribing medications can earn a master's degree (MSN) or doctoral degree (DNP) in nursing and become nurse practitioners.
In New York, nurse practitioners can act as primary care providers and prescribe medications but are required to establish a collaborative agreement with a physician before diagnosing and treating patients.
Choosing a Nurse Practitioner Program
After deciding to pursue a graduate degree in nursing and become a nurse practitioner, students should consider the following when choosing an MSN/ DNP program:
Accreditation- The graduate program should be accredited by either the Commission on Collegiate Nursing Education (CCNE) or the Accreditation Commission for Education in Nursing (ACEN). Accreditation by these agencies ensures the graduate program has met or exceeded educational standards for advanced-practice nursing. New York has over 30 accredited schools offering graduate studies in nursing- making New York a thriving state for nurses hoping to advance their degrees.
Program Cost-Tuition for graduate school is an important consideration for many students. In New York, students can expect to spend (on average) $1200 per credit in a graduate program. This figure does not include additional fees and costs (books, supplies, living expenses, etc.). Also, students need to complete between 35-50 credits to earn an MSN or DNP.
Program Length- BSN to MSN can take around two to three years to complete, while BSN-DNP can take three to four years to complete. Many schools require a BSN before enrollment- those with an ADN can expect an additional year or two to earn an MSN or DNP. These timelines are based on full-time students-part time students can expect a longer period to complete a graduate degree.
Internship/Externship Opportunities-All advanced-degree programs require a minimum number of clinical practicum hours for the student to gain critical on-the-job experience to practice independently. A new model of nurse practitioner residency programs has recently taken root in many states. These programs allow for nurse practitioners to extend their clinical training to obtain even more experience.
Online/Campus Options- Online learning not only helps students learn at their own pace and with their learning styles, but it can allow for more flexibility regarding attending classes around work and family obligations. New York has several schools with distance-learning options ranging from 25% to 99% online learning. Students are encouraged to research schools of interest to determine campus visitation requirements.
Admission and Certification Requirements
Graduate nursing admission requirements may vary between schools, but some requirements may include:
Holding a BSN degree from an accredited school of nursing
Current RN license
Provide official transcripts from all colleges/ universities attended
Submit a resume/ CV
Submission of a written essay outlining goals for graduate studies
Provide letters of recommendation
Cumulative GPA of 3.0 or higher (specific GPAs may vary between schools)
Completion of a year or two (varies between schools) of full-time nursing experience
Completion of a statistics course
Completion of the GRE
Provide proof of liability insurance
Licensing/Certification
Specialty certification requirements are listed in detail on the New York Board of Nursing's website. Certification must be obtained through the graduate program or a national certifying agency that is approved by the New York State Education Department (a list of approved agencies is listed on the website).
In addition to specialty certification, requirements for licensure include:
Completion of a pharmacology course
Establish a collaborative agreement with a physician and complete an attestation form
Complete a separate application and tasks to be able to prescribe medications
Transcripts from the graduate program must be sent directly from the school to the board
Completion of application and applicable fees paid
New York Nurse Practitioner Agencies and Organizations
Schools That Offer Nurse Practitioner Programs in New York
New York has an abundance of graduate programs available for registered nurses to advance their degree. Not only is there educational opportunity, but there is also employment opportunity-New York currently has the highest employment level for nurse practitioners.
Amherst, NY
Binghamton, NY
Brooklyn, NY
Brookville, NY
Buffalo, NY
Garden City, NY
Keuka Park, NY
NY, NY
New York, NY
Newburgh, NY
Orangeburg, NY
Riverdale, NY
Rochester, NY
Staten Island, NY
Stony Brook, NY
Syracuse, NY
Utica, NY
Are we missing your school's program or need to update information listed? Please contact us so we can make the necessary changes.