Nurse Practitioner Schools in Vermont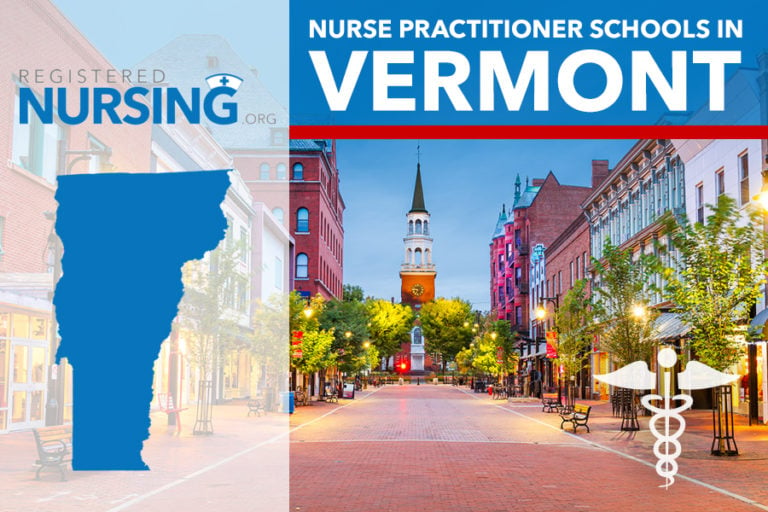 Advanced-practice nurses, including nurse practitioners, enjoy a rewarding career with independent practice and ample job opportunity. According to the Bureau of Labor Statistics, employment is projected to rise 31% by 2024, with Vermont having one of the highest concentrations of jobs available for advanced-practice nurses.
Vermont nurse practitioners also enjoy independent practice- they can diagnose, treat, and prescribe without physician involvement (once they have had over 2,400 hours of licensed active APRN nursing), and can act as a primary care provider.
Choosing a Nurse Practitioner Program
Registered nurses looking to expand their practice and become nurse practitioners must earn either a master's degree (MSN) or doctoral degree (DNP). When choosing a graduate program, the following should be taken into consideration:
Accreditation- Graduate nursing programs should be accredited by the Accreditation Commission for Education in Nursing (ACEN) or the Commission on Collegiate Nursing Education (CCNE) to fulfill the requirements set by the state board of nursing, as well as to ensure strict educational requirements are met or exceeded. There are two accredited graduate nursing programs based in Vermont.
Program Cost- The average cost of a nurse practitioner program in Vermont is $650 per credit. This figure does not include additional university fees, books, supplies, or living expenses. Many schools offer financial aid, scholarships, and payment plans, which helps students offset the cost. It's important to note that out-of-state tuition is higher than in-state.
Program length- It can take three to five years to earn an advanced degree. BSN-DNP is the longer educational path. If the student does not yet have a bachelor's degree, an additional year may be required.
Internship/Externship Opportunities-Nurse practitioner students must complete a minimum of 500-600 hours of supervised clinical hours to learn real-world skills needed to practice independently. Although not required, some choose to participate in nurse residency program to further build upon their skills. Vermont has one nurse residency program available for nurse practitioners, and neighboring New York and Massachusetts also has a few.
Online/Campus Options- Online, or distance learning, is incredibly helpful for some students. Many students need to work while attending school, and online programs offer flexibility and self-paced, self-directed learning. The University of Vermont offers up to 99% online learning for the NP program. Students are encouraged to visit the website for specific campus visitation requirements.
Admission and Certification Requirements
Admission to graduate nursing programs may require the applicant to:
Have an RN license
Have a BSN degree from an accredited program
Have maintained a GPA of 3.0 or higher
Have taken a college-level statistics or research course
Have prior clinical experience as an RN
Complete an English proficiency exam
Interview with faculty
Students are encouraged to check the individual school's website to determine specific admission requirements.
Licensing/ Certification
Specialty certification in a specific population focus is required for licensure. Examples include:
Adult-Gerontology (primary and acute care)
Pediatrics (primary and acute care)
Women's Health/ OBGYN
Psychiatric-Mental Health
Family Practice
Once the NP student graduates, he/she is prepared to take the certification exam in their specialty area of focus. Exams are administered via nationally recognized credentialing agencies such as:
The American Nurses Credentialing Center (ANCC)
The Pediatric Nursing Certification Board (PNCB)
The National Certification Corporation (NCC)
In addition to national certification, the following requirements are needed for licensure in Vermont:
Current, unrestricted RN license
Completion of an accredited MSN/DNP program
Official transcripts must be sent directly to the board from the educational institution and include proof of completion of:

Advanced Pathophysiology
Advanced Assessment
Pharmacotherapeutics

A collaborative agreement with a physician is needed for new graduates (template can be found here)
Complete a criminal background check/ fingerprinting
Pay applicable fees
Vermont Nurse Practitioner Agencies and Organizations
Nurse Practitioner Programs
Nurse practitioners have a very challenging yet rewarding career. With an expected 21% growth projected in the state of Vermont until 2024, registered nurses choosing to advance their practice can expect a stable, in-demand career.
Burlington, VT
Graduate Certificate Programs
The University of Vermont
Burlington
,
VT
05405
(802) 656-3131
Are we missing your school's program or need to update information listed? Please contact us so we can make the necessary changes.