Arizona RN to BSN Programs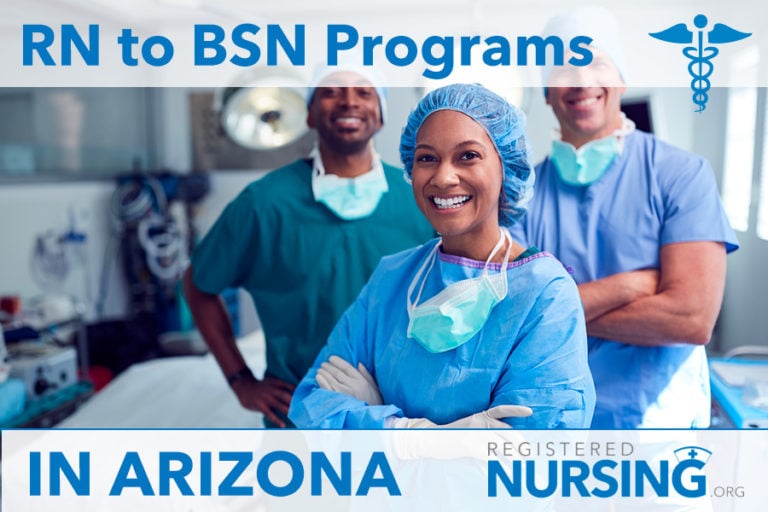 The sunny state of Arizona is rising to meet the growing trend of higher education for registered nurses. Current registered nurses (RNs) in the state have the opportunity to complete a Bachelor of Science in Nursing degree, via one of the state's many RN to BSN programs.
2023 List of RN to BSN Programs in Arizona
Health care within Arizona is believed to be one of the best quality and standards offered to patients. The standard of care is attributed to more advanced qualifications from their nursing staff. In any profession when a candidate holds more credentials in the field there are more job opportunities readily available and higher pay scales to be sought after. Five Arizona colleges are offering candidates the opportunity to gain access to these higher paying, more advanced jobs by offering courses to obtain a Bachelor's of Science in Nursing (BSN). Becoming one of the nurses to upgrade to a BSN could potentially earn an individual an extra $20,000 or more per year, depending on location, and professional position.
Find RN to BSN Programs By City:
Are we missing your school's program or need to update information listed? Please contact us so we can make the necessary changes.
Admissions Requirements for Arizona RN to BSN Programs
The first thing you'll need to do when researching programs is to ensure programs are approved by the Arizona State Board of Nursing. Beyond that, you'll need to meet your school of choice's admission requirements. The following is a sample of the requirements found at some Arizona schools:
Cumulative GPA of 2.75
Completion of all prerequisite courses
Have graduated from a nationally accredited nurse program
Maintain a current RN license
Submit unofficial transcripts from all colleges attended
RN to BSN Classes & Courses
After completing all prerequisite and/or general education courses, RN to BSN students can expect to take nursing-specific courses for BSN completion. As part of their RN to BSN program, Arizona State University offers some of the following degree courses:
Writing for Healthcare Management
Professional Nursing Theory
Health Promotion Across the Lifespan
Nursing Research and Application to Practice
Online RN to BSN Programs in Arizona
Online RN to BSN courses can be a lifesaver for busy working registered nurses, as they typically offer flexible schedules. Arizona schools offer a variety of online programs for RNs to complete their BSN degrees.
Admissions and Program Length
Generally, an RN to BSN program consists of required general education courses combined with degree-specific nursing courses. Students can typically transfer certain pre-professional academic credits from regionally accredited schools, which will make the length of the program much shorter. Roughly 30-40 of upper-division professional nursing units are required. Most students are able to start the program at the beginning of any semester and tend to complete it in 15-18 months.
Tuition and Cost of Attendance
Paying for a BSN continuation program can seem like a roadblock for many RNs. Luckily, the increased earning potential of this advanced degree can more than make up for it. Arizona State University's RN to BSN program will cost you $435 per credit, inclusive of program fees. Other required university fees and textbook expenses are not included in this cost.
Does an RN to BSN Increase My Salary?
Current registered nurses wanting to enter emergency medicine, perianesthesia, and other areas will benefit from a BSN degree. The good news is that these jobs tend to come with a higher paycheck, along with many more advancement opportunities. A BSN will also prime you for a master's degree, should you decide to pursue an even more advanced nursing career.
RN to BSN Salary Comparison in Arizona
Registered nurses with a BSN degree can expect to earn an annual salary toward the higher end of the pay scale. A report by the Bureau of Labor Services stated that the average hourly wage for an RN in the state of Arizona is $37.02 per hour. An entry-level registered nurse's average hourly wage in Tucson, AZ is approximately $26.43 per hour, according to Payscale. Higher education and experience are the catalysts that tip RNs in the state over to the higher wage spectrum.