Nursing Programs in Austin, TX
Looking to become a nurse in Austin, TX? With a variety of nursing programs available, both new and experienced RNs can find the right pathway to achieve a rewarding career.
To get started in nursing or to advance your nursing career, check out our accredited program listings sections below: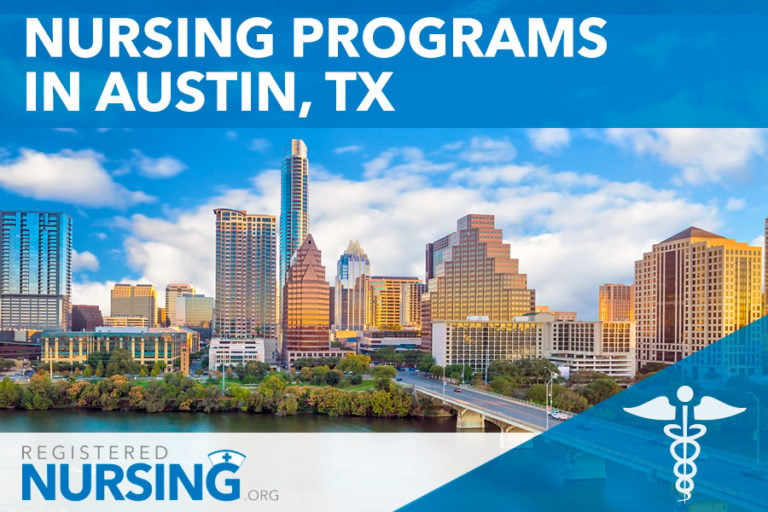 Entry Level ADN, BSN, & MSN Programs in Austin, TX
Entry-level nursing programs, meaning those that do not require a prior nursing degree or nursing license, are options for those in and around Austin. Direct-entry pathways can be found for Associate's Degree in Nursing (ADN), Bachelor's of Science in Nursing (BSN), and even some Master's of Science in Nursing (MSN) programs.
ADN Programs
The quickest and most basic RN program is the Associate's Degree in Nursing. These 2-year programs are usually offered through community colleges and technical schools. Students take courses in foundations of nursing, adult health, and more. Austin Community College, for example, offers an ADN with an estimated total cost of $6,868 for in-district students.
Direct-Entry BSN Programs
With many employers requiring BSN degrees for nurses, many students are opting for this pathway. This traditional 4-year degree is offered at many universities in Austin. Texas State University offers a BSN degree with courses in research and ethics, community-based nursing, pediatric nursing, and more.
Find out more about Texas Accelerated BSN Programs
Direct-Entry MSN Programs
Though not a traditional option, some schools in Austin have begun offering direct-entry MSN programs for those who have earned a bachelor's degree or higher in a non-nursing discipline. The University of Texas at Austin offers such a degree, which they call the Alternate-Entry Master of Science in Nursing. The program offers specialization tracks such as Psych/Mental Health Nurse Practitioner, Adult-Gerontology Clinical Nurse Specialist, and Leadership in Diverse Settings.
Find out more about Texas Accelerated MSN Programs
Austin RN Program NCLEX-RN Pass Rates
Top Ranked Accredited Nursing Programs in Austin
Listed below are the top nursing schools in Austin based on our RegisteredNursing.org RN program rankings for Texas out of 121 other accredited programs offered in the state:
Texas State University - #4
RN to BSN/MSN Programs in Austin, TX
RN to BSN and RN to MSN programs often referred to as "bridge programs" are available in Austin for those who already hold a nursing diploma or ADN degree. These programs take into consideration the RN's previous education and knowledge, making them shorter than traditional pathways.
RN to BSN
Sometimes called "ADN to BSN" programs, this pathway helps a nurse achieve the highly desired bachelor's degree in nursing. The program is comprised of a mix of didactic learning and clinical experiences. The University of Texas at Austin offers an ADN to BSN program that requires just 12 units of upper-division nursing courses (once prerequisites are satisfied). Full and part-time schedules are offered, and some courses are available online as well.
Find out more about Texas RN to BSN Programs
APRN & Nurse Practitioner Programs in Austin, TX
Advanced nursing programs in Austin include MSN degrees, post-master's certificate programs, and DNP degrees. These programs generally allow students to choose from a variety of nurse practitioner specialties, which makes it a great pathway for those who wish to practice in a niche area of nursing.
MSN Programs
Those looking for a traditional, 2-year MSN degree program, the Austin area has a number of contenders. A variety of specialized pathways may be available, from adult-gerontology to pediatric to psychiatric-mental health.
Find out more about Texas Nurse Practitioner Programs
Post-Master's Certificate Programs
These programs are designed especially for MSN-educated nurses who wish to pursue a new specialty (for example, an FNP who wants to specialize as a Pediatric NP). These programs are generally shorter and less costly than a traditional 4-year degree program, saving time and money for these advanced nurses. The University of Texas at Austin offers a plethora of post-graduate certificates in many different popular APRN specialties.
Find out more about Texas Post-Master's Certificate Programs
DNP & Ph.D. Programs
The Doctor of Nursing Practice (DNP) and Ph.D. in Nursing degrees are the highest degree types a nurse can achieve. In roughly 5 semesters (depending on degree and specialty type), the doctoral RN candidate will graduate with the ability to be hired into the most prestigious nursing positions. The University of Texas at Austin offers a DNP degree with a 45-hour curriculum consisting of essential nursing courses, specialization courses, and clinical practice hours.
Find out more about Texas DNP Programs