DNP Programs in Texas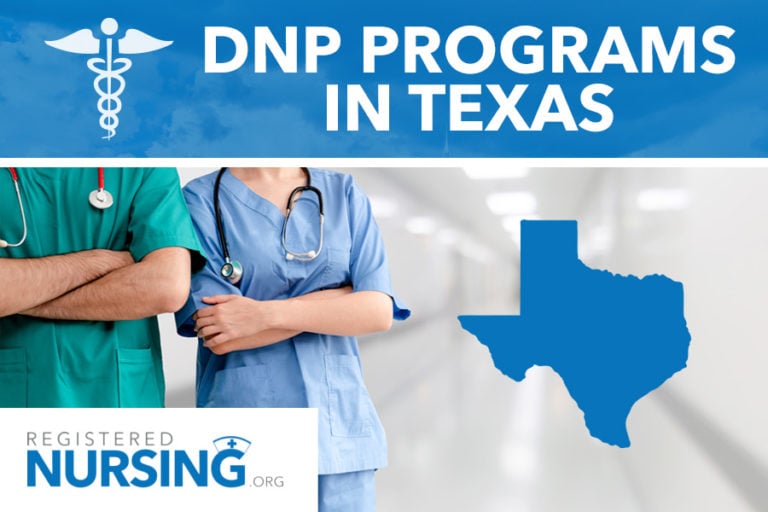 The highest degree type for clinical nursing practice is represented by the Doctor of Nursing Practice (DNP) degree. Nurses who hold a DNP can work as nurse practitioners, and are also able to work in executive roles, such as nursing administration, leadership, and as directors.
In Texas, MSN to DNP programs generally require the completion of 28 to 38 credit hours. BSN to DNP students are expected to complete between 65 and 72 credit hours.
DNP graduates will have mastered these core competencies upon successful completion of the program:
Integrate nursing science with knowledge from ethics, biophysical, psychosocial, analytical, and organizational sciences to advance health and health care delivery systems
Develop and operationalize effective, culturally relevant, and evidence-based care delivery approaches that meet current and future needs of patient populations
Design and implement scholarly evidence-based processes to analyze and improve outcomes of care at the practice, health care organization, or population levels
Select, use, and evaluate health care information systems and patient care technology to advance quality, patient safety and organizational effectiveness
Exercise leadership to analyze, develop, influence and implement health policies that advocate social justice, equity, and ethics within all health care arenas
Employ interprofessional team building and collaborative leadership skills to create positive change and improve outcomes in complex healthcare systems
Analyze epidemiological, biostatistical, environmental, and other appropriate scientific data to develop culturally relevant and scientifically based health promotion and disease prevention initiatives
Choosing a DNP Program
Selecting the perfect DNP program may seem daunting, but researching schools with a few crucial elements in mind will make the process much smoother.
What to Consider When Choosing a DNP Program
Program Cost— Tuition for DNP programs in Texas will vary depending on what program you choose. If you're a resident of Texas and plan on attending a public university, you can expect to pay between $401 and $667 per unit hour. If you don't happen to be a resident, but still wish to attend a public university, expect to pay between $680 to $870. If you plan on enrolling in a private university program, expect to pay between $1,583 and $1,630 per unit hour.
Online Options— Of the 13 universities offering DNP programs in Texas, 10 of them deliver the program to students in an online or hybrid online/in-class format. A few examples include:

Baylor University— Offers many DNP specialties online, including Executive Nurse Leadership, Family Nurse Practitioner, Neonatal Nurse Practitioner, Nurse-Midwifery, and Pediatric Nurse Practitioner
Prairie View A&M University— Offers a post-master's program designed for family nurse practitioners where courses are delivered in a hybrid online format, with only a few required face-to-face meetings each semester
Texas Christian University— DNP program is delivered in an online format and can be completed in two years, if pursued on a full-time basis

Accreditation— DNP programs in the state of Texas are accredited by the Commission on Collegiate Nursing Education (CCNE).
Clinical Residencies— Hands-on experience is crucial to the DNP education. Most schools are able to help arrange residencies or fellowships with local hospitals and health clinics. Students are encouraged to inquire with their school of choice to see what options are available.
Admission & State Licensing or Certification Requirements
Admission
Admission to the DNP programs in Texas will inevitably vary between schools, but students may be required to:
Hold a current BSN or MSN degree from a CCNE or ACEN-accredited school of nursing
A GPA of at least 3.0 (on a 4.0 scale) or comparable GPA in upper-division work (junior- and senior-level courses) and in any graduate work already completed
At least 18 months of professional RN work experience
Current Texas RN licensure or a license from a "Nurse Licensure Compact" state
Completion of the Graduate Record Exam (GRE) within the past five years may be required
Certification
DNP programs in Texas permit successful students to sit for certification testing. Depending on the school and tracks offered, students may become certified specialties including but not limited to:
Licensing
In Texas, DNP students who've completed their program must be licensed by the Texas Board of Nursing. Requirements for licensure may include:
Completing an application
Pass a criminal background check
Provide transcripts from all educational institutions
Submit verification of specialty certification
Complete fingerprinting
Texas BSN to DNP Program Options
Of the 13 universities offering DNP programs in Texas, 7 deliver the program to students in an online or hybrid online/in-class format, including:
Texas Christian University— Offers both BSN to DNP and post-master's DNP programs
The University of Texas Health Science Center at Houston— Offers a BSN to DNP program
University of the Incarnate Word— Offers a BSN to DNP program
Related Education Paths
Helpful DNP Agencies and Organizations in Texas
List of Campus and Online DNP Programs in Texas
Austin, TX
Commerce, TX
Dallas, TX
Denton, TX
El Paso, TX
Fort Worth, TX
Galveston, TX
Houston, TX
Lubbock, TX
Prairie View, TX
San Antonio, TX
Waco, TX
Are we missing your school's program or need to update information listed? Please contact us so we can make the necessary changes.
Find DNP Programs By City: