Nurse Practitioner Schools in Texas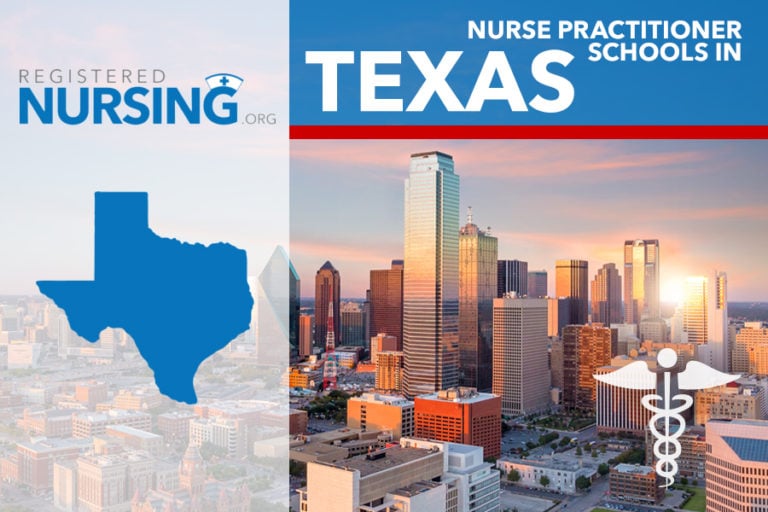 Nurse practitioners are advanced-practice nurses who hold either a master's degree in nursing (MSN) or doctoral degree in nursing (DNP). Not only do they utilize the nursing process to care for patients, but they also diagnose and treat chronic and acute illnesses, and are responsible for maintaining patients' overall health.
In Texas, nurse practitioners can act as a primary care provider to manage chronic conditions and maintain preventive health, but they need to establish a collaborative agreement with a physician to prescribe medications, and their practice must be supervised by a physician.
Choosing a Nurse Practitioner Program
Registered nurses looking to advance their degree should consider the following when selecting a program:
Accreditation- Schools should be accredited by the Accreditation Commission for Education in Nursing (ACEN) or the Commission on Collegiate Nursing Education (CCNE) to ensure rigid educational standards are met for safe practice. Texas has thirty accredited advanced-degree programs available for nurses.
Program Cost-Cost can be a deciding factor when choosing a graduate program. The average cost for an MSN program in Texas is around $700 per credit, not including books, supplies, and additional university fees. Out-of-state tuition results in a higher cost. However, many schools have payment plan options, scholarships, and financial aid available.
Program Length- If the NP student attends full-time, an MSN can be earned in around three years, DNP in about four to five years. If a bachelor's degree is needed, students can spend an additional year in school, although some schools offer bridge programs or accelerated BSN programs.
Internship/Externship Opportunities- Nurse practitioner students must complete a set number of clinical hours to ensure they can practice safely after graduating and becoming licensed. Depending on the degree, the clinical practicum time required can be up to 1,000 hours. Although clinical practicum hours are sufficient for NPs to practice, there are nurse practitioner residency programs available that allow NPs to further build on their knowledge base or focus on a more specialized population group. Texas has several nurse residency programs available for NPs in the areas of Neuroscience, Oncology, and Behavioral Pediatrics.
Online/Campus Options- Online or distance learning is ideal for nurse practitioner students who must continue to work during school. It also helps students who live in more remote or rural areas complete an advanced-level degree. Around half of the nurse practitioner schools have up to 99-100% distance learning, which provides ample opportunity for Texas nurses to obtain a higher degree.
Admission and Certification Requirements
Admission to a nurse practitioner program in Texas may vary slightly among the thirty schools, but applicants may be required to:
Hold a BSN from an accredited school
Have a current, unrestricted RN license
Provide transcripts from all prior collegiate coursework
Complete the Graduate Record Exam (GRE)
Complete a college-level statistics course
Maintain a GPA of 3.0 or higher (individual GPA requirements may vary)
Provide letters of professional reference
Submit a current resume/ CV
Provide a written statement of purpose of goal statement
Provide proof of clinical practicum hours (MSN to DNP students)
Since the admission requirements vary, students are encouraged to thoroughly research each school to determine the necessary criteria before applying.
Licensing/ Certification
Graduating from an accredited nurse practitioner program allows the NP to test for national specialty certification. Certification may include:
Adult-Gerontology-Acute Care
Adult-Gerontology-Primary Care
Family Nurse Practitioner (health across the life span)
Pediatrics- Acute Care
Pediatrics-Primary Care
Psychiatric-Mental Health
Women's Health
The Texas Board of Nursing lists the recognized national certification agencies on their website.
Along with national certification, the Texas Board of Nursing requires the following for licensure:
Current, valid RN license
Completion of an accredited advanced-practice registered nurse (APRN) program
Have completed a minimum of 500 hours of clinical hours in the APRN program, specific to the population focus area
Demonstrate the APRN program included courses in

Advanced Physical Assessment
Pathophysiology
Pharmacotherapeutics
APRN role preparation
Complete the required, supervised clinical practicum hours

Complete a criminal background check
Pay applicable fees
Additional information/ FAQs are also included on the Board's website, including information on prescriptive authority and physician supervision.
Texas Nurse Practitioner Agencies and Organizations
Schools That Offer Nurse Practitioner Programs in Texas
Current data shows there is an average of 580 job openings for NPs annually in Texas. This projected increase, along with Texas's plentiful APRN programs throughout the state makes advanced-practice nursing a wise choice for nurses.
Abilene, TX
Arlington, TX
Austin, TX
Canyon, TX
College Station, TX
Commerce, TX
Corpus Christi, TX
Dallas, TX
Denton, TX
Edinburg, TX
El Paso, TX
Fort Worth, TX
Galveston, TX
Houston, TX
Lubbock, TX
Prairie View, TX
Round Rock, TX
San Angelo, TX
San Antonio, TX
Tyler, TX
Waco, TX
Wichita Falls, TX
Are we missing your school's program or need to update information listed? Please contact us so we can make the necessary changes.