Nursing Programs in Buffalo, NY
New York State's largest upstate city, Buffalo, has a come-as-you-are appeal with friendly neighborhoods that belie its cold, snow-filled winters. Across the river from Canada and close to Niagara Falls, this western NY city offers opportunity for healthcare professionals including nurses. Entry-level RNs in Buffalo earn approximately $26 an hour according to Payscale.com. Though this is lower than the national average, it aligns with the low cost of living in Buffalo. RNs can earn more – and do more for patients – by gaining additional experience, and also by obtaining a bachelor's or advanced degree.
To get started in nursing or to advance your nursing career, check out our accredited program listings sections below: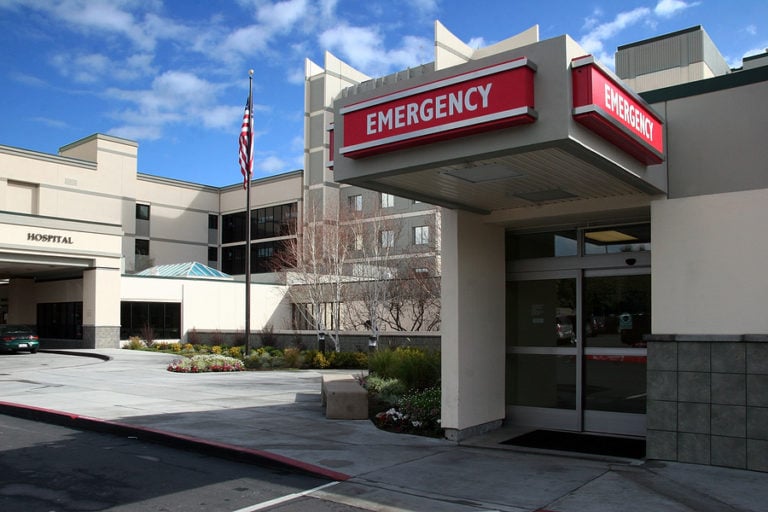 Entry-Level ADN & BSN Programs in Buffalo, NY
Whether you want to commit for the long term with a Bachelor's of Science in Nursing, jump into nursing with an ADN, or transition from an LPN job, nursing has a range of gateways suitable to most situations. Buffalo-area colleges and universities offer the full assortment of programs for those looking to enter or advance in this stable field.
LPN to RN Programs
LPNs take pulses and vital signs as well as monitor wound dressings and bandages for indications of infection. Yet Licensed Practical Nurses who would like to help their patients more can do so by completing an LPN to RN option. Genesee Community College, located about 50 minutes east of Buffalo, offers a competitive-entry LPN to RN bridge program for nurses who wish to develop their careers. The nursing program is recognized in the greater Western New York area because its graduates have NCLEX pass rates that exceed both NY state and national averages.
ADN Programs
Nursing offers career stability and longevity and has few barriers to entry.  The most efficient way to enter the profession is via a two-year, career-focused Associate of Science in Nursing program. Trocaire College in Buffalo offers a clinical-heavy nursing option that transitions the student to real-world healthcare in about three semesters. The comprehensive program covers Anatomy and Physiology to Pediatric Nursing and Mental Health. Its NCLEX-RN pass-rate for first-time program graduates is 80%.
Direct-Entry BSN Programs
Begin your career in the middle as a Registered Nurse with a Bachelor's of Science in Nursing degree. Hospitals and medical centers strongly prefer to hire nurses with BSN degrees. In fact, many hospitals today require their nurses to earn the degree within a certain number of years. Niagara University, situated north of Buffalo, NY, offers both accelerated and traditional BSN tracks.  They focus on nursing fundamentals and include clinical intensives with area hospitals. Coursework such as critical analysis and problem-solving for nurses is covered, as is complex disease management and health assessments.
Find out more about New York Accelerated BSN Programs
Buffalo RN Program NCLEX-RN Pass Rates
Top Ranked Accredited Nursing Programs in Buffalo
Listed below are the top nursing schools in Buffalo based on our RegisteredNursing.org RN program rankings for New York out of 103 other accredited programs offered in the state:
SUNY Erie Community College - City Campus - #2
SUNY Erie Community College - North Campus - #6
University at Buffalo - #4
RN to BSN/MSN Programs in Buffalo, NY
Efficiency-focused bridge RN to BSN and RN to MSN programs make it possible for RNs who work to achieve their education and career goals. Most bridge pathways in Buffalo, New York are offered either entirely or partially online and allow you to complete coursework and projects at a pace that suits your busy life. Because they focus only on essential nursing courses with no extras, bridge RN to BSN and RN to MSN programs tend to cost less, too.
RN to BSN Programs
RNs can quickly leverage their valid license, along with their associate degree and bedside experience, to obtain a Bachelor of Science in Nursing. Recognized for its quality, Daemen College, which is located north-east of Buffalo, offers a hybrid online and on-campus bridge program for professional nurses who wish to pursue a degree at their own pace. Created for expediency, the rigorous, competitive entry program prides itself on its nursing core competencies.
Find out more about New York RN to BSN Programs
RN to MSN Programs
Nurses who know they want to become Nurse Practitioners or hold other advanced roles may wish to enroll in an RN to MSN program. While a bit more intensive than RN to BSN programs, this bridge program prepares nurses for higher-level, more specialized nursing positions. Daemen College offers multiple RN to MSN pathways, including one that prepares nurses for Adult-Gerontology Nurse Practitioner roles, as well as one designed for RNs who hold a non-nursing baccalaureate degree.
Find out more about New York RN to MSN Programs
APRN & Nurse Practitioner Programs in Buffalo, NY
Nursing has become a more progressive line of work as advanced practice nurses are taking on greater patient care functions. They are moving into leadership positions and gaining more autonomy and authority in diagnosing and treating patients.  To step into these positions, RNs in Buffalo must pursue advanced academic programs such as master's degrees, post-master's certs and doctor's degrees in nursing.
MSN Programs
Today's patients are as likely to be seen by a Nurse Practitioner for routine exams and wellness checks as they are to be seen by a physician. The demand for Advanced Practice Registered Nurses (APRNs) to perform these general practice roles at hospitals and outpatient centers is high. D'Youville College in Buffalo, New York, offers practitioner and leadership-focused Master's of Science in Nursing programs for nurses looking to take the plunge. Most programs require a two-year commitment and have at least some online coursework.
Find out more about New York Nurse Practitioner Programs
Post-Master's Certificate Programs
For nurses with an existing Master's of Science in Nursing, certificates can be a way to specialize without having to commit to a long-term academic program. The University at Buffalo, a State University of New York (SUNY) school, offers a range of certs including Family Nurse Practitioner, Mental Health Nursing and Leadership. Though the length of each cert varies, most can be completed in a blend of face to face and distance learning formats. Designed for working nurses, certs are offered on a part-time schedule.
Find out more about New York Post-Master's Certificate Programs
DNP Programs
Nurses are said to be the lifeblood of the healthcare profession and the center of patient care. Advanced practice nurses today are playing a more impactful role in diagnosing, assessing and treating patients than ever before. D'Youville College, a private Catholic-traditioned school in Buffalo, NY, offers two clinically intensive Doctor of Nursing Practice options, the Family Nurse Practitioner and Mental Health. Program length may vary as each applicant completes a skills gap assessment to determine the coursework required for graduation.
Find out more about New York DNP Programs