DNP Programs in New York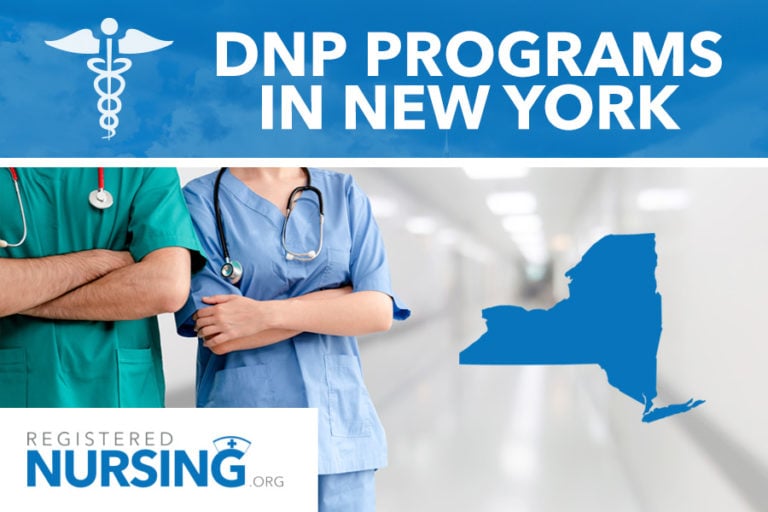 For those wanting to take nursing to new heights, the Doctor of Nursing Practice (DNP) is the highest degree for clinical nursing practice. In the state of New York, most of the post masters DNP program range between 28 and 38 credit hours, depending on the track selected. BSN to DNP students are expected to complete 65 to 72 unit hours mixed with a number of clinical hours and experiences.
The competencies that DNP students will have mastered include the following:
Clinical scholarship and analytical methods for evidence-based practice.
Information systems/technology and patient care technology
Health care policy for advocacy in health care.
Clinical prevention and population health for improving the nation's health
Advanced health and physical assessment
Organizational and systems leadership for quality improvement and systems thinking
Population-specific studies
Advanced physiology and pathophysiology
Critique and selectively translate science to guide clinical decision-making and program development
Appraise and utilize current technologies to advance the quality and accessibility of care
Integrate advanced knowledge of nursing theories, related sciences and humanities, and methods of inquiry
Choosing a DNP Program
All prospective students are encouraged to weigh their program options carefully. Keeping the following in mind will help to narrow down the schools from which you may want to receive your DNP education.
What to Consider When Choosing a DNP Program
Program Cost—Tuition for DNP programs in the state of New York is determined by which school is chosen. If you are a resident of the state and plan on attending a public institution, expect to pay somewhere around $580 per unit hour. If you're a non-resident, depending on whether you decide on attending a public or private university, you will probably pay between $1,015 and $1,340 per unit hour.
Online Options— Of the 13 DNP programs in the state of New York, 3 of the programs are delivered to students in an online format

Pace University, New York— The DNP program is offered in an executive blended-learning format, requiring students to come to campus only five times per semester.
New York University— Delivered in a hybrid format. Students are only required to attend two on-site classes each semester.
Upstate Medical University— The program is delivered in a hybrid format and online courses are asynchronous. However, online students may sometimes need to log in within a certain time window in order to participate in required course activities.
Accreditation— DNP programs in the state of New York are accredited by the Commission on Nursing Education (CCNE).
Clinical Residencies— Some examples include:
Admission & State Licensing or Certification Requirements
Admission
A BSN/MSN from an ACEN or CCNE-accredited program
GPA of 3.0 or better
Résumé or curriculum vitae
Graduate record examination (GRE) or Miller Analogies Test (MAT) scores
A current, unencumbered license to practice as a registered professional nurse in the U.S. and the state of New York
All applicants are required to have taken and passed the NCLEX-RN examination prior to the start of clinical courses and/or by a specified date set by the director of graduate nursing programs
Three letters of recommendation
Successful completion of a descriptive statistics course
Submission of a 500–1,000 word essay on how the DNP will enhance your career
One year of full-time RN employment as a professional registered nurse is strongly recommended prior to application for admission, but is not required; the director of graduate programs may allow students to begin the program on a part-time basis to allow them time to gain confidence in their nursing skills while working in a hospital setting as an RN
Interview with program director or member of the DNP admissions committee
Certification
Accredited DNP programs in New York allow for successful students to sit for state board certification. DNP tracks offered at universities in New York allow students to become certified in the vast majority, if not all advanced practice nursing specialty disciplines.
Licensing
For the state of New York, nursing students who've completed the DNP track, they will need to be licensed by the New York State Board of Nursing. Requirements for licensure include:
Completing an application
Background checks
Provide transcripts from all educational institutions
Submit verification of specialty certification
Complete fingerprinting
New York BSN to DNP Program Options
Of the 13 DNP programs in the state of New York, 6 offer students BSN to DNP pathways:
Columbia University
CUNY Hunter College
New York University
Saint John Fisher College
SUNY at Binghamton
University of Buffalo
Related Education Paths
Helpful DNP Agencies and Organizations in New York
List of Campus and Online DNP Programs in New York
Buffalo, NY
NY, NY
New York, NY
Rochester, NY
Staten Island, NY
Stony Brook, NY
Are we missing your school's program or need to update information listed? Please contact us so we can make the necessary changes.
Find DNP Programs By City: