Nursing Programs in Cleveland, OH
Cleveland offers aspiring nurses a number of training programs ranging from entry-level programs for those new to the profession to advanced practice training programs that prepare nurses for leadership roles. With accredited full-time and part-time options and on-campus, online, and hybrid formats to choose from, there is sure to be a program to turn your career goals into a reality.
To get started in nursing or to advance your nursing career, check out our accredited program listings sections below: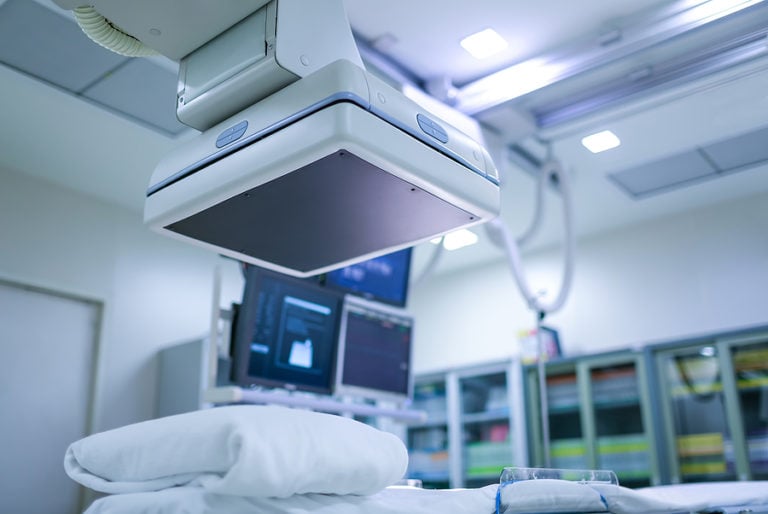 Entry Level ADN, BSN, & MSN Programs in Cleveland, OH
An entry-level nursing program is designed to introduce students to the nursing profession, and features traditional didactic coursework along with clinical practice hours. In the Cleveland area, there are a number of options for entering the nursing field, including Associate's Degree in Nursing (ADN) programs, Bachelor of Science in Nursing programs (BSN), LPN to RN programs for practical nurses who want to transition to a career as a registered nurse, and direct-entry Master of Science in Nursing (MSN) programs.
LPN to RN Programs
LPN to RN programs are designed to help licensed practical nurses become registered nurses by building on existing coursework and experience. Cuyahoga Community College offers an LPN to RN program that is completed in three semesters of evening lectures and labs for LPNs with at least one year of nursing experience.
ADN Programs
ADN programs are entry-level programs designed for students new to nursing, and can generally be completed in around two years of study. They prepare students to take the NCLEX-RN licensing exam and secure their first job as an RN. Lorain County Community College is one of several community colleges and vocational schools in the Cleveland area that offer ADN programs for aspiring nurses.
Direct-Entry BSN Programs
Like ADN programs, BSN programs prepare students for their first jobs as nurses and to sit for the licensing exam. However, BSN programs take longer to complete and provide additional coursework in liberal arts, nursing research, evidence-based care principles, and nursing leadership. Cleveland State University offers a BSN program that features evening classes and clinical practicums on the weekends to provide flexibility for working students.
Find out more about Ohio Accelerated BSN Programs
Direct-Entry MSN Programs
Some students decide to pursue a career in nursing after they have already gotten their bachelor's degree in another subject. For these students, some schools offer direct-entry master's in nursing programs, in which students complete bachelor's-level coursework in nursing followed immediately by master's-level study of nursing and graduate with the master's degree. These programs are usually on an accelerated pace and are academically rigorous. Case Western Reserve University offers a direct-entry MSN program that prepares students for careers as advanced generalist registered nurses.
Find out more about Ohio Accelerated MSN Programs
Cleveland RN Program NCLEX-RN Pass Rates
Top Ranked Accredited Nursing Programs in Cleveland
Listed below are the top nursing schools in Cleveland based on our RegisteredNursing.org RN program rankings for Ohio out of 94 other accredited programs offered in the state:
Baldwin Wallace University - #11
Case Western Reserve University - #8
RN to BSN Programs in Cleveland, OH
ADN-educated nurses with a valid RN license may choose to pursue an RN to BSN "bridge" program in order to earn a higher degree within nursing. These programs often offer partial course credit for ADN coursework in order to help nurses earn a bachelor's degree at a faster pace. In some cases, these bridge programs are offered in an online format that allows nurses to continue working while they study.
RN to BSN Programs
RN to BSN bridge programs allow nurses with their ADN to earn their bachelor's degree in nursing. In many cases, nurses with bachelor's degrees earn higher salaries and have more career opportunities than nurses with their associate's degree. Designed for nurses with their associate's degree or diploma, the RN to BSN program at Kent State University is available to take on full-time or part-time basis fully online and can be completed in as little as 12 months.
Find out more about Ohio RN to BSN Programs
APRN & Nurse Practitioner Programs in Cleveland, OH
For nurses who already hold the BSN degree and would like to advance their careers to become nurse practitioners, clinical nurse leaders, nurse educators, administrators or other leadership positions within their organizations, an advanced practice nursing degree program is a good choice. In the Cleveland area, RNs can choose from Master of Science in Nursing (MSN) programs, graduate certificate programs, and doctoral programs in nursing.
MSN Programs
MSN programs are ideal for nurses with their BSN who would like to become certified in an advanced practice specialty such as various nurse practitioner roles, educators or clinical nurse leaders. Most programs allow you to concentrate your studies along a particular career goal, and some are available in a flexible online format. Case Western Reserve University offers an MSN program with a variety of majors, including nursing anesthesia, family nurse practitioner, pediatric nurse practitioner, education with a population focus among many others.
Find out more about Ohio Nurse Practitioner Programs
Post-Master's Certificate Programs
Post-master's certificate programs are designed to help nurses with their master's degree learn a new specialty area of nursing and become certified without having to repeat their previous master's-level coursework. Kent State University, for example, offers a number of post-graduate certificate programs including ones in nurse education, nursing and healthcare management, and various nurse practitioner roles.
Find out more about Ohio Post-Master's Certificate Programs
DNP & PhD Programs
In the Cleveland area, a few schools also offer programs that allow students to earn their doctorate in nursing. Schools like the University of Akron offer Doctor of Nursing Practice program (DNP), which train nurses for leadership positions designing, implementing and evaluating healthcare delivery practices. Kent State University also offers a Doctor of Philosophy (Ph.D.) in nursing that prepares nurse scientists to conduct research and develop methods for improving healthcare.
Find out more about Ohio DNP Programs