Nursing Programs in Oakland, CA
The nursing field is an exciting profession with plenty of job opportunities and room for growth. There are a number of schooling options for aspiring nurses in the Oakland area, including three of the top accredited nursing schools in the state as ranked by Registered Nursing.
To get started in nursing or to advance your nursing career, check out our accredited program listings sections below: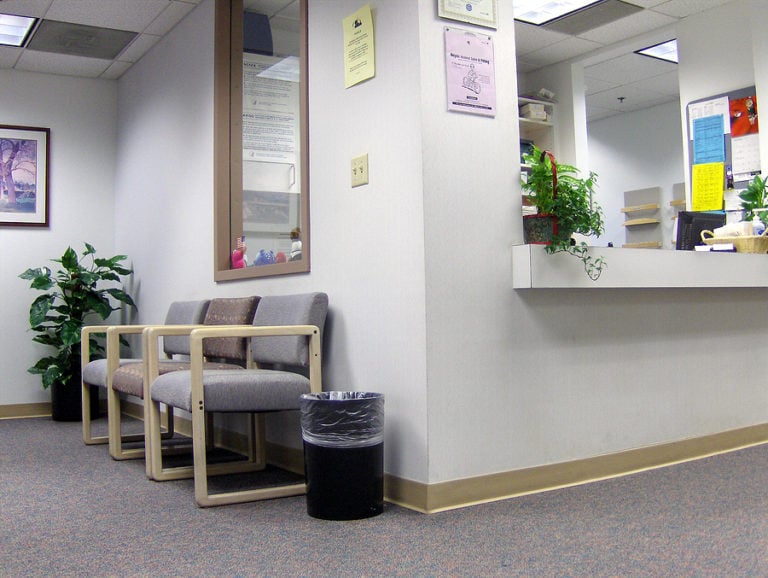 Entry Level ADN, BSN, & MSN Programs in Oakland, CA
The first step toward a career in nursing for those who have just graduated from high school or college is an entry-level nursing program. These programs are designed for those without any healthcare training and include Associate's Degree in Nursing (ADN) programs, Bachelor of Science in Nursing (BSN) programs, and direct-entry Master's of Science in Nursing (MSN) programs.
LPN to RN Programs
Licensed vocational nurses have a solid background in providing quality patient care and working as part of a healthcare team. For LVNs who want to take on more responsibility and/or a leadership role, LVN to RN programs in the Bay Area prepare them to take the NCLEX-RN exam and become registered nurses. The LVN to BSN program at Cal State East Bay provides course credits to applicants who are experienced LVNs, which helps them to earn their BSN degree faster than applicants without nursing experience.
ADN Programs
An ADN program provides students with a baseline knowledge of nursing and an associate's degree to get them ready for their first professional job. Merritt College offers a two-year ADN program that prepares nurses for entry-level nursing jobs as well as to take and pass the NCLEX-RN exam.
Direct-Entry BSN Programs
Direct-entry BSN programs are designed for students who have graduated from high school or, in some cases, have a non-nursing bachelor's degree. Holy Names University offers a BSN program that can be completed in three academic years and two summers and will prepare nurses for jobs in a variety of healthcare settings, including hospitals, community clinics, long-term care facilities, home healthcare, and community health agencies.
Find out more about California Accelerated BSN Programs
Direct-Entry MSN Programs
For aspiring nurses who have completed their bachelor's degree in a non-nursing subject, a direct-entry MSN program allows students to complete their MSN and begin a career in nursing without first earning the ADN or BSN degrees. One example of a direct-entry MSN program is the direct-entry nursing program at San Francisco State University, which offers concentrations in nursing administration, public/community health and the clinical nurse specialist role.
Find out more about California Accelerated MSN Programs
Oakland RN Program NCLEX-RN Pass Rates
Top Ranked Accredited Nursing Programs in Oakland
Listed below are the top nursing schools in Oakland based on our RegisteredNursing.org RN program rankings for California out of 132 other accredited programs offered in the state:
RN to BSN/MSN Programs in Oakland, CA
If you are already a working RN and wish to complete your BSN or Master's Degree in Nursing (MSN), an RN to BSN or RN to MSN program might be the right choice. Also known as "bridge programs" these RN to BSN/MSN programs are specially designed to add onto the RN's existing ADN education and provide a higher degree in less time than a direct-entry BSN or traditional MSN program.
RN to BSN Programs
RN to BSN programs generally take around two years to complete, but completion time may be shorter or longer depending on the school and whether a student takes courses on a full- or part-time basis. San Francisco State University's RN to BSN program provides credit for previous nursing coursework and flexible class schedules to accommodate working students.
Learn more about California RN to BSN Programs
RN to MSN Programs
RN to MSN programs offer nurses with an ADN an accelerated pathway to a master's degree and prepares students for careers in nurse leadership. Touro University offers an RN to MSN program that meets one night per week and one Sunday per month in person, and the rest of the program is delivered online.
Learn more about California RN to MSN Programs
APRN & Nurse Practitioner Programs in Oakland, CA
Registered nurses who are interested in pursuing leadership positions in nursing may want to consider an advanced practice nursing degree program. These programs, which include traditional MSN programs, post-master's certificate programs, and doctoral programs, prepare nurses for exciting, higher-paying careers as nurse practitioners, administrators, educators and nurse leaders.
MSN Programs
The Master of Science in Nursing degree prepares nurses for advanced practice nursing careers, and often offers the opportunity for specialization in a particular field of nursing such as pediatric nursing, women's health, family medicine or mental health nursing. Samuel Merritt University offers a variety of master's-level nursing programs, including family nurse practitioner, case management, and nurse anesthesia programs.
Learn more about California Nurse Practitioner Programs
Post-Master's Certificate Programs
Post-master's certificate programs are an excellent way for masters-level nurses to change career paths and enter a new specialty within the nursing profession. San Francisco State University offers a family nurse practitioner certificate program that is designed to prepare masters and doctoral-level nurses for the Family Nurse Practitioner Certification exam and careers as FNPs.
Learn more about California Post-Graduate Certificate Programs
DNP & Ph.D. Programs
Doctorate-level study is the highest level of education available to nurses, and schools in the Oakland area offer DNP (Doctor of Nursing Practice) and Doctor of Philosophy (Ph.D.) program options. The DNP program at the University of San Francisco, as an example, includes 1,000 hours of supervised clinical practice, preparation for the DNP qualifying examination and an evidence-based practice project. The Ph.D. in Nursing program at the University of California San Francisco includes coursework in nursing science, research, and theory development.
Learn more about California DNP Programs