DNP Programs in California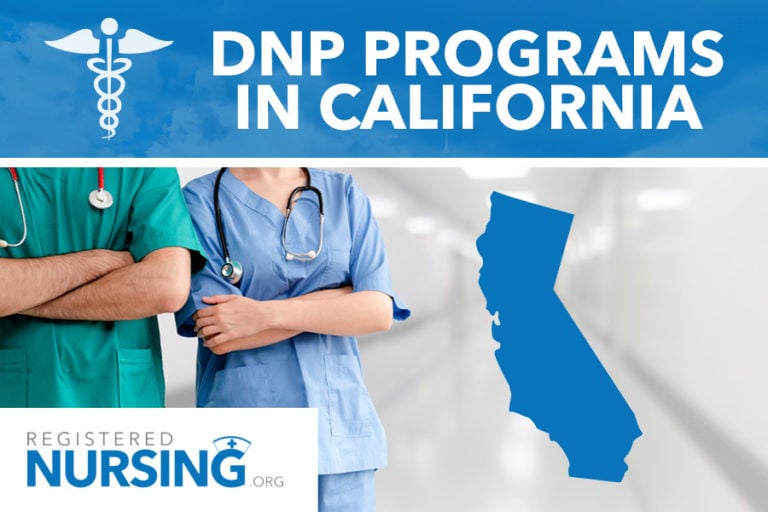 California is an excellent state for nurses to work in. It is one of the top-paying states in the country (BLS) and offers many opportunities for nurses to advance their careers. Nurses can advance to BSN, MSN and DNP level, with the doctoral degree being the terminal degree available for nurses.
Many nurses are looking for careers in executive level nursing, education, and advanced-practice nursing. A doctoral degree is required for certain areas, so it is a wise move to earn a DNP degree depending on the nurse's goal. Curriculum specific to a doctoral degree may include:
Advanced assessment and pharmacology
Quantitative methods and research
Evidence-based medicine and practice
Leadership & management
Population-specific care
Healthcare policy
Choosing a DNP Program
California has about 14 DNP programs. Some are part of a consortium, which means different schools in California are part of the same program. Because there are many to choose from, students who choose to advance their degree to a DNP should consider several things when researching schools in California.
What to Consider When Choosing a DNP Program
Cost – The average tuition for DNP programs in California is around $1000 per credit. This does not include additional fees imposed by the school, supplies, or living expenses. Most schools offer financial aid options, as well as the ability to attend part-time.
Online Option – Most DNP programs in California are online. Some require minimal campus visits. Two of the DNP programs in California are in-person campus study. Students are encouraged to research programs to find the one that is right for them.
Accreditation – Prospective students must make sure the school they choose is accredited by The Commission on Collegiate Nursing Education (CCNE) or the Accreditation Commission for Education in Nursing (ACEN). This ensures the DNP program meets the highest standards in education.
Residency Options – in state/ out of state: Because most of the DNP programs in California are in the distance-learning format, out-of-state students may attend. Occasionally, schools may impose out-of-state tuition fees, which can be significantly higher than resident tuition. Students are urged to research this before applying.
One DNP program in California is through Samuel Merritt University. The school is based in Oakland but has another campus in Sacramento. The university offers both an FNP DNP track as well as a post-master's curriculum. BSN students may apply to the FNP DNP track, and courses are online. Those interested in finding out more about the DNP programs at Samuel Merritt are encouraged to visit their website at samuelmerrit.edu/dnp.
Admission & State Licensing or Certification Requirements
Admission
The admission requirements for DNP programs in California may vary but may include
Hold an unencumbered, active RN or APN license
Have a BSN or MSN degree
Possess current certification in a specialty area as an APN
Complete an interview with faculty
Submit a resume/ CV/ written statement of purpose (or other writing samples)
Complete the GRE or TOEFL
Ensure transcripts from all educational institutions are submitted
Provide professional references
Certification
Certification in a specialty area may be required for licensure. Usually, it's for those on an APRN track (nurse practitioner, nurse anesthetist, nurse midwife, etc.). However, Clinical Nurse Specialists may also need certification. The American Nurses Credentialing Center (ANCC) is one certification agencies and has many options available for advanced-practice nurses.
Licensing
The licensing entity in California is the California Board of Registered Nursing (BRN). The BRN also can certify certain advanced-practice nurses. For example, California graduates can be certified by the board OR a national organization by the ANCC. The board also offers "equivalency" certification if the program meets the BRN's educational standards listed in the California Code of Regulations.
Additional licensing requirements may include:
Fingerprinting
Consenting to a background check
Completing an application
Submitting a photograph
Obtaining a furnishing number if prescribing medications or devices
Paying any fees
California BSN to DNP programs
Many BSN RNs wish to climb the clinical ladder and obtain their DNP. Rather than completing an MSN program then a DNP program, many schools offer BSN to DNP tracks. Going from BSN to DNP can take three to four years depending on whether the student attends full or part-time. Many DNP tracks for bachelor's prepared nurses are for the nurse practitioner specialty, therefore supervised clinical hours are also required. Admission requirements for BSN to DNP tracks are similar to the general admission requirements listed above, but also include:
Current RN license
BSN degree from an accredited school
One year or more of clinical experience as an RN (length of time may vary between institutions)
Completion of a statistics course
GPA of 3.0 or higher
The University of San Diego is one institution that offers a BSN to DNP track. Their website offers curriculum plans for the different NP tracks that are offered.
Related Education Paths
Helpful DNP Agencies and Organizations in California
List of Campus and Online DNP Programs in California
Fresno, CA
Fullerton, CA
Irvine, CA
Loma Linda, CA
Long Beach, CA
Los Angeles, CA
Oakland, CA
Pomona, CA
Riverside, CA
San Diego, CA
San Francisco, CA
San Jose, CA
Are we missing your school's program or need to update information listed? Please contact us so we can make the necessary changes.
Find DNP Programs By City: