California RN to BSN Programs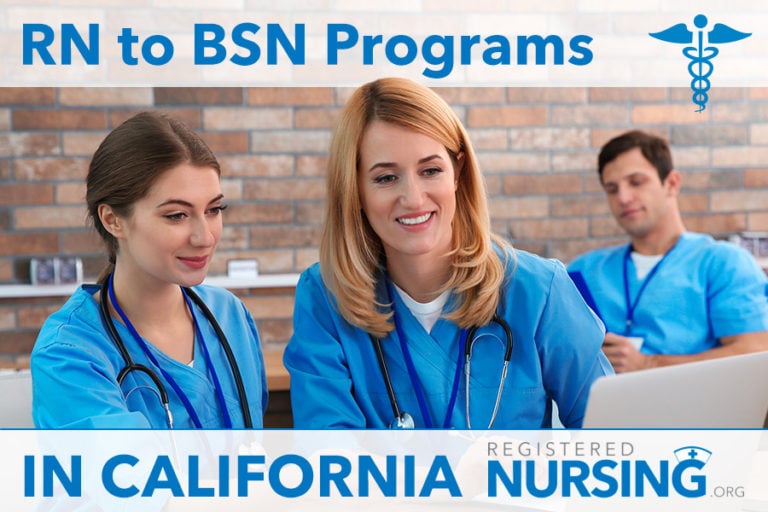 The golden state of California is an excellent place for registered nurses (RNs) to advance their education through an RN to BSN program. With an aging population, hospitals and other care facilities in the state are interested in hiring highly educated nurses who hold a Bachelor's of Science in Nursing (BSN) or higher. If you are a registered nurse and looking to advance your career, there's no better time to consider an RN to BSN program.
2023 - Best Online RN to BSN Programs in California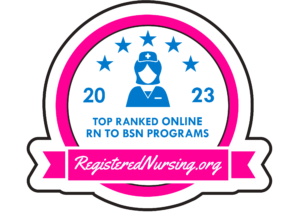 With a greater earning potential and increased employment opportunities, many ADN-educated RNs in California are opting for RN to BSN bridge programs to earn their baccalaureate degree in nursing. With so many online options in the state, choosing the right program can seem daunting. That's why we have ranked the top online RN to BSN programs in California. Peruse our rankings below to find the perfect fit for you, and take the first step toward advancing your nursing career.
For more information on our top nursing school rankings, visit our Methodology Page (https://www.registerednursing.org/rankings-methodology/).
Admissions Requirements for California RN to BSN Programs
Once you narrow down the schools you are interested in applying to, you must ensure that you meet (or exceed) all the entrance requirements. These will vary depending on the school, but in general, you can expect to find the following:
Must hold an active CA registered nursing license
Must have graduated from a board-approved/accredited school of nursing
Cumulative GPA from an Associate's Degree in Nursing program of at least 2.5
RN to BSN Classes & Courses
Once students meet the general education requirements for the program, they will begin the nursing-specific courses. Fresno State University's RN to BSN program, for example, offers the following nursing courses:
NURS 138: Bridge to Professional Nursing Concepts and Issues
NURS 145: Nursing Theories and Research
NURS 152: Advanced Leadership, Management, & Healthcare Systems
NURS 154: Applying Professional Nursing Principles
Online RN to BSN Programs in California
Online RN to BSN programs have exploded in popularity due to their flexibility, allowing employed RNs to complete their BSN continuation while working simultaneously. Since many in-person programs in the state are impacted, meaning that there are more applications than spots available in the program, online versions have even more appeal.
Admissions and Program Length
While some general education courses are required for the RN to BSN program, most students are able to have some prior courses credited towards the completion program. Approximately 120 total units are required to graduate, with roughly 30 of those units from nursing major coursework. Many students can complete the required courses in as little as 14 months. Admission dates can vary, with online programs typically offering more start dates throughout the academic year.
Tuition and Cost of Attendance
Because tuition costs and fees can vary so wildly between programs, it's recommended to thoroughly compare schools before settling on one. As an example, tuition for the RN to BSN program at California State University Fullerton is approximately $11,000-$13,000 for the campus-based program and $14,000-$17,000 for the distance-based version.
Does an RN to BSN Increase My Salary?
Many nurses who complete an RN to BSN program report that the increased earnings make up for the cost of the program. Whether it's achieving a higher-level nursing job, being able to work up the ranks faster, or entering a specialty like pediatrics or surgery, the possibilities are nearly endless for RNs with advanced education.
RN to BSN Salary Comparison in California
Salaries for RNs in California have a very wide range. For example, Payscale reports that nurses in Los Angeles, CA make an hourly wage of anywhere from $31-$59. Nurses wanting to edge up to the top of that scale will need to further their education, and an RN to BSN program is one of the easiest ways to do so.
2023 List of RN to BSN Programs in California
Streamlining the RN to BSN process has become the top focus of the healthcare field in California. To support the forward movement, there are around 35 different RN to BSN programs being offered throughout the state. Nurses in California will be able to make the transition to a degree program and take advantage of the benefits associated with having higher credentials. BSN nurses in the state look to earn on average $18,000 more yearly than an ADN colleague. Opportunities for career advancement at higher wages are awaiting qualified BSN nurses!
Find RN to BSN Programs By City:
Angwin, CA
Azusa, CA
Bakersfield, CA
Camarillo, CA
Chico, CA
Costa Mesa, CA
Fremont, CA
Fresno, CA
Fullerton, CA
Hayward, CA
Irvine, CA
Loma Linda, CA
Los Angeles, CA
Marina, CA
Northridge, CA
Oakland, CA
Redding, CA
Riverside, CA
Sacramento, CA
San Bernardino, CA
San Diego, CA
San Francisco, CA
San Jose, CA
San Marcos, CA
Turlock, CA
Are we missing your school's program or need to update information listed? Please contact us so we can make the necessary changes.