Nursing Programs in Rochester, NY
Are you passionate about helping others and interested in a career as a nurse? Demand for skilled nurses is high, and projected to grow even further over the next several years, according to the Bureau of Labor Statistics. In the Rochester area, there are a number of accredited nursing training programs to get you started on a path to an exciting and rewarding career as a nurse. There is a strong demand for passionate, skilled nurses for those who reside in the Rochester vicinity.
To get started in nursing or to advance your nursing career, check out our accredited program listings sections below: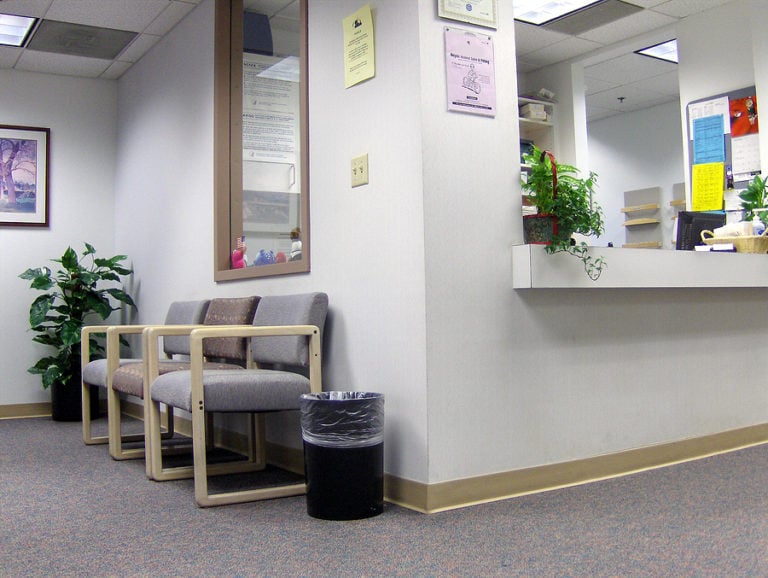 Entry-Level ADN & BSN Programs in Rochester, NY
The first step in becoming a registered nurse is an entry-level training program, which will prepare you to take the NCLEX-RN licensing exam and provide you with the skills needed to land your first job as an RN. In the Rochester area, options for entry-level programs include LPN to RN programs, Associate's Degree in Nursing (ADN) programs, and Bachelor of Science in Nursing (BSN) programs.
LPN to RN Programs
Many nurses begin their career as licensed practical nurses (LPNs) and then transition to RNs in order to earn a higher wage and gain additional patient care responsibilities. The pathway to an RN license for these LPNs is an "LPN to RN" training program, which builds on the practical nurse's previous education and experience. Nazareth College offers an LPN to BSN program in which practical nurses are able to earn a bachelor's degree in nursing and graduate prepared to take a job as an RN.
ADN Programs
Many community colleges and vocational schools offer ADN programs that take around two years to complete and prepare students for jobs as RNs. One example in the Rochester area is Monroe Community College, a two-year program with a 91 percent NCLEX-RN pass rate that places students in Rochester area hospitals and health care facilities for clinical training.
Direct-Entry BSN Programs
BSN programs are generally found in four-year colleges and universities and include in their curriculum general education courses in addition to nursing major classes. One example of a BSN program is found at St. John Fisher College, which places students in clinical settings in the Rochester area and reinforces clinical practice hours with study in the Wegman's School of Nursing simulation center, which mirrors an actual hospital unit.
Learn more about New York Accelerated BSN Programs
Rochester RN Program NCLEX-RN Pass Rates
Top Ranked Accredited Nursing Programs in Rochester
Listed below are the top nursing schools in Rochester based on our RegisteredNursing.org RN program rankings for New York out of 103 other accredited programs offered in the state:
Monroe Community College - #19
Nazareth College - #11
St. John Fisher College - #13
RN to BSN/MSN Programs in Rochester, NY
For ADN-educated nurses who wish to advance their careers and learn new skills, a popular path to career growth is earning a higher degree. RN to BSN and RN to MSN programs are designed to help experienced nurses with their ADN earn a BSN or MSN by building on their existing education and training and delivering a higher degree in less time than a traditional BSN or MSN program.
RN to BSN Programs
RN to BSN programs build on the ADN-holding nurse's foundational training and knowledge and add on more advanced courses in nursing research, leadership, pharmacology and nursing practices. Many programs, such as the one offered at The College at Brockport, are available online and can be completed in as little as 12 months of full-time study.
Learn more about New York RN to BSN Programs
RN to MSN Programs
Less common than the RN to BSN offering are RN to MSN programs. These programs take a nurse from ADN to an advanced practice Master of Science in Nursing degree to prepare them for careers as nurse practitioners, nurse educators, administrators, and leaders. The RN to MSN program at the University of Rochester offers an RN to BS to MS program on an accelerated timeframe in which students can choose from various nurse practitioner tracks or a nurse educator track.
Learn more about New York RN to MSN Programs
APRN & Nurse Practitioner Programs in Rochester, NY
Nurse practitioners and other advanced practice nursing specialties are growing in demand and popularity nationwide. In order to pursue a career in one of these areas, nurses will need to earn a master's degree or higher. In the Rochester area, nurses can choose from MSN programs, post-master's certificate programs, and doctoral programs.
MSN Programs
MSN is the degree level needed to pursue a career as a nurse practitioner, clinical nurse leader, nurse educator, and other advanced practice specialties. The length of a traditional MSN program can vary from school to school, but in general take two to three years to complete. Most programs allow you to concentrate your studies in an area that meets your career goals, such as the program at St. John Fisher College, which offers several nurse practitioner concentrations along with a clinical nurse leader concentration.
Learn more about New York Nurse Practitioner Programs
Post-Master's Certificate Programs
Nurses who have earned their MSN but would like to learn an additional advanced practice specialty may be interested in a post-graduate certificate program. Post-graduate certificate programs allow students to take their careers in a new direction. The University of Rochester offers post-master's certificates in several nurse practitioner specialties as well as in the clinical nurse leader role and nursing education.
Learn more about New York Post-Master's Certificate Programs
DNP & Ph.D. Programs
Nurses who wish to advance to the highest level of nursing leadership, research, and clinical practice may want to consider earning a doctoral degree. Doctoral programs in the Rochester area include Doctor of Philosophy (Ph.D.) programs that prepare nurses for careers in ground-breaking research, as well as Doctor of Nursing Practice (DNP) programs that enable nurses to become expert clinicians who can influence standards of care and healthcare policies. St. John Fisher College, for example, offers a general DNP program for interested students.
Learn more about New York DNP Programs