Nursing Programs in San Antonio, TX
Known for its historic Alamo landmark as well as its thru-the-city Riverwalk, the fast-growing city of San Antonio offers Texas hospitality and friendliness as well as urban amenities. The city has a low cost of living, and nursing professionals earn on average $72,410 per year, according to the U.S. Bureau of Labor Statistics (BLS). The state of Texas is predicting a nursing shortage in the coming years due to population growth and senior nurses entering retirement. As such, there's a large swath of work opportunities for nurses of all levels in the southern Texas city.
To get started in nursing or to advance your nursing career, check out our accredited program listings sections below: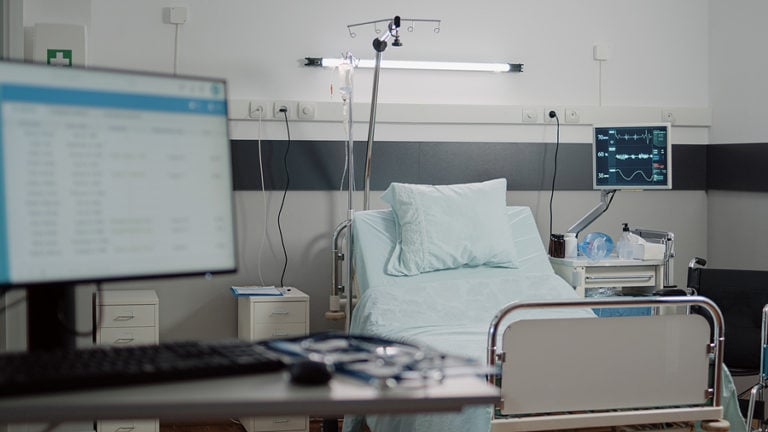 Entry-Level ADN & BSN Programs in San Antonio, TX
If you're a people-person, enjoy helping others and thrive when working in a team, a career in nursing may be right up your alley. Depending on your short- and long-term goals, there are many different paths to enter this stable healthcare profession. The San Antonio, Texas region is home to a range of community and career colleges as well as state and private universities that offer entry-level nursing programs such as LVN to RN, ADN and BSN.
LVN to RN Programs
Licensed Vocational Nurses learn from the ground-level all the work that goes into caring for patients.  Though this entry-level position can be a smart place for nurses to begin their careers, LVNs are limited in the type of work they can perform. The LVN to RN bridge program at Baptist Health System School of Health Professions in San Antonio, TX enables LVNs to transition into the RN role in a timely manner. Graduates of the fast-track program earn their Associate of Applied Science in Nursing and gain the competencies to sit for the NCLEX-RN exam.
ADN Programs
Patients rely on nurses' caring natures to get through difficult treatments and therapies. Nurses provide pre- and post-operative care, tend to wounds, and administer medicine. With so many hospitals, doctor's offices, and nursing homes hiring, nurses have an abundance of work opportunities. San Antonio College, part of the community college system, offers a competitively priced Associate of Applied Science degree in Nursing. The theory and clinical-based curriculum readies students for the NCLEX. Moreover, because it is affiliated with the University of Texas system, graduates can more readily transfer into state universities in the future.
Direct-Entry BSN Programs
Though Registered Nurses are not yet required to hold bachelor's degrees, those with the BSN credential have a competitive edge over their peers when applying to open positions. Top hospitals in most major cities only hire RNs with BSNs in order to earn or maintain their prestigious Magnet status. Wayland Baptist University, which has a San Antonio Campus, offers a full-time BSN for dedicated students who want to launch their careers with an advantage. The BSN at the Christian school includes a complete hands-on clinical with instructional courses.
Find out more about Texas Accelerated BSN Programs
San Antonio RN Program NCLEX-RN Pass Rates
Top Ranked Accredited Nursing Programs in San Antonio
Listed below are the top nursing schools in San Antonio based on our RegisteredNursing.org RN program rankings for Texas out of 121 other accredited programs offered in the state:
University of The Incarnate Word - #10
UT Health San Antonio - #11
RN to BSN/MSN Programs in San Antonio, TX
Spend less time in the classroom and more time at patients' besides when you go back to school and earn your degree via an RN to BSN or RN to MSN program in San Antonio, TX. Many of these bridge options can be completed partially or fully online during timeframes that are convenient to you, the working professional nurse.
RN to BSN Programs
If you are a working nurse, you may have thought about returning to college to obtain your Bachelor of Science in Nursing. With convenient online offerings, such as the one at Galen College of Nursing, nurses can improve their chances of attaining a promotion with a BSN. The mobility-friendly online bridge program makes use of modern distance learning formats so instruction is engaging and rigorous. The bridge RN to BSN program can be completed in about a year at the nursing-only college, which has a campus in San Antonio, Texas.
Find out more about Texas RN to BSN Programs
RN to MSN Programs
ADN-educated RNs who know they want to enter into higher-level roles such as the nurse practitioner may prefer to enter an RN to MSN bridge program. These programs allow nurses to earn their Master's of Science in Nursing in around 2 years of study. The University of the Incarnate Word offers a 100 credit-hour RN to MSN degree program that is delivered in a full-time, hybrid format.
Find out more about Texas RN to MSN Programs
APRN & Nurse Practitioner Programs in San Antonio, TX
Provide primary healthcare services and treatments to patients by earning your advanced practice nursing degree or certificate. Nurse Practitioners can specialize in adult/gerontology care, pediatrics, or family medicine (amongst other specialties) and provide treatments to patients with minimal oversight. Others can advance into nurse administration roles and mentor others. APRNs command competitive salaries in San Antonio, TX.
MSN Programs
Tending to patients' needs day after day can prove rewarding but also familiar. After years of working on your feet caring for patients, some nurses decide to make a change and lead others. By earning a Master of Science in Nursing, seasoned nursing professionals can gain the competencies needed to enter management. The Baptist School of Health Professions in San Antonio, Texas offers a fully online MSN with a concentration in Nursing Administration. Program graduates are qualified to apply for charge nurse or nursing administration positions and earn more competitive salaries.
Find out more about Texas Nurse Practitioner Programs
Post-Master's Certificate Programs
Nurses with post-graduate certifications can take on primary care roles so that physicians can spend their time on other pursuits. At the University of Texas Health Science Center at San Antonio (UTHSCSA), nurses with Master's of Science in Nursing degrees can earn certs in four specialized Nurse Practitioner areas. With hundreds of contracts with clinicals in the area, including community-based, ambulatory care, or treatment centers, students gain the real-world experience needed to succeed on the job.
Find out more about Texas Post-Master's Certificate Programs
DNP Programs
Those with Doctor of Nursing Practice degrees lead nurses and healthcare professionals in a clinical rather than research setting. If earning a DNP, the pinnacle degree in nursing, is in your plans, the University of the Incarnate Word in San Antonio, TX offers an accredited leadership-focused program. DNP-prepared nurses at the Catholic-founded institution learn clinical management skills so they can lead others, implement evidence-based care and improve patient outcomes.
Find out more about Texas DNP Programs