Nursing Programs in San Diego, CA
Sunny San Diego is a wonderful place to start your nursing career. With registered nursing (RN) programs that span from novice to advanced, prospective RNs in the city have their choice of quality options.
To get started in nursing or to advance your nursing career, check out our accredited program listings sections below: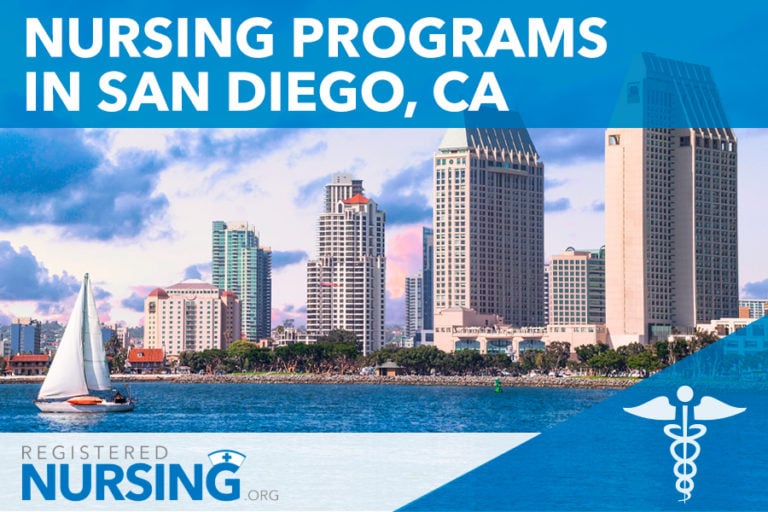 Entry-Level ADN, BSN, MSN Programs in San Diego
The San Diego area boasts a number of schools offering direct-entry Associate's Degree in Nursing (ADN), Bachelor's of Science in Nursing (BSN), and Master's of Science in Nursing (MSN) programs. No matter where you are on your journey to become a nurse, there's a program out there to help you reach your goals.
LVN to RN Programs
Licensed vocational nurses are experienced at providing basic patient care in a variety of healthcare settings, and many LVNs choose to build upon these skills and become registered nurses. Specialized LVN to RN programs, like the one at San Diego City College, provide a pathway for LVNs to earn their associate's degree and pass the RN licensing exam.
ADN Programs
Two-year ADN programs are typically available at community colleges throughout the city. San Diego City College, for example, offers an ADN program that requires 62 total units and includes courses in Medical-Surgical Nursing, Maternal-Child Health Nursing, and more. Graduates are eligible to take the NCLEX-RN examination for nursing licensure.
Direct-Entry BSN Programs
These four-year degrees are considered the gold standard in nursing education and are often required for hospital positions. Direct-entry programs mean that the student does not have to hold an RN license or nursing degree prior to starting the program. San Diego State University offers a traditional BSN that includes a unique international experience component that students have the option to fulfill via study abroad. Most accredited BSN programs in San Diego are found at traditional colleges and universities. Required courses may include Pathophysiology, Clinical Pharmacology, and more.
Learn more about California RN to BSN Programs
Direct-Entry MSN Programs
Direct-entry MSN programs, also often referred to as Master's Entry Programs in Nursing (MEPN) are designed for those who hold already hold a bachelor's degree in another field. These programs can generally be completed in less than 2 years. While not as common as other program pathways, San Diego does offer one through the University of San Diego. Their program includes courses in Health Assessment, Evidence-Based Practice, and more, and takes 21 months to complete.
Find out more about California Accelerated MSN Programs
San Diego RN Program NCLEX-RN Pass Rates
Top Ranked Accredited Nursing Programs in San Diego
Listed below are the top nursing schools in San Diego based on our RegisteredNursing.org RN program rankings for California out of 131 other accredited programs offered in the state:
California State University, San Marcos - #20
Grossmont College - #3
Mira Costa College - #18
San Diego City College - #5
RN to BSN/MSN Programs in San Diego
Licensed RNs who have earned a diploma or ADN and are looking to obtain higher degrees have the option of enrolling in "bridge" programs. This allows the nurse to build upon their nursing knowledge and credits them for the courses they have already completed, making the programs quicker to complete. RN to BSN and RN to MSN pathways are the most common bridge programs.
RN to BSN Programs
RN to BSN programs in San Diego allow nurses to complete a bachelor's degree in nursing in less than 2 years. This type of program is commonly found online, so that busy RNs can fit in their studies. California State University - San Marcos offers a fully online RN to BSN program designed to be completed in just 16 months. The total cost of the program is currently $9,880.
Learn more about California RN to BSN Programs
RN to MSN Programs
The RN to MSN program typically has two options: a pathway for those who hold an ADN and one for those who hold a BSN. Depending on the entry point, this type of bridge program can take anywhere from 2-3 years to complete. While RN to MSN programs can be offered online, San Diego's Point Loma Nazarene University offers a traditional program that meets one night a week and select Saturdays to accommodate working RNs.
Advanced RN & Nurse Practitioner Programs in San Diego
For San Diego nurses who are ready to further their nursing careers, advanced programs are available. This includes MSN, Post-Graduate Certificates, and DNP programs for those who wish to become nurse practitioners.
MSN Programs
A traditional MSN degree typically requires a BSN and takes around 2 years to complete. San Diego is home to many MSN programs where students can specialize in areas such as Women's Health & Midwifery, Nursing Informatics, Adult-Gerontology, and more. The University of San Diego offers an MSN program with many different specialization tracks. Courses taken may include Introduction to Health Care Delivery Systems and Theory of Nursing Education.
Learn more about California Nurse Practitioner Programs
Post-Master's Certificate Programs
For MSN-educated nurses who want to switch specialties (for example, a Family Nurse Practitioner who wishes to become a Neonatal Nurse Practitioner), post-graduate certificates are a wonderful choice. Post-grad certificate programs are often shorter and cheaper than traditional degree programs, and many are delivered in an online format. National University offers San Diego nursing students certificate programs in Family Nurse Practitioner and Psychiatric/Mental Health Nurse Practitioner specialties.
Learn more about California Post-Graduate Certificate Programs
DNP Programs
One of the highest nursing degrees obtainable is the doctorate nursing degree. The University of San Diego offers both BSN to DNP and MSN to DNP program pathways. The length of these programs hinges on the nurse's prior level of education. Specialization options include Family Nurse Practitioner, Psychiatric Nurse Practitioner, and several dual specialization options.
Learn more about California DNP Programs