DNP Programs in Florida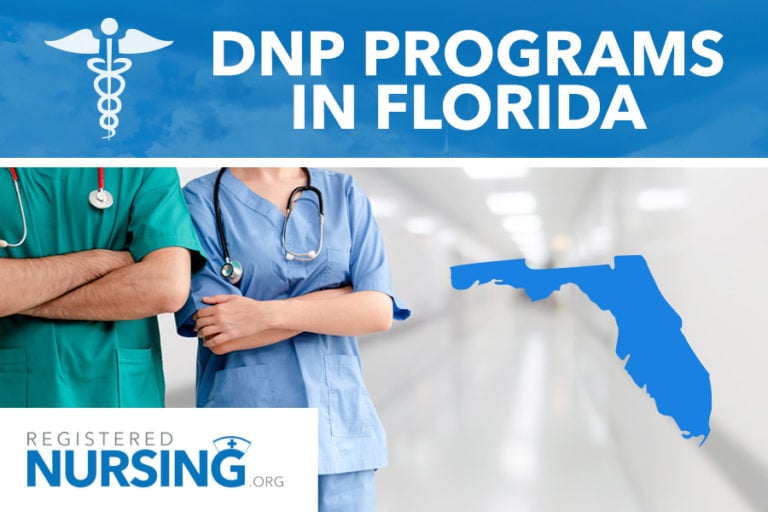 For nurses, obtaining a doctoral-level nursing degree (DNP) demonstrates the highest level of expertise and knowledge in their field. It also indicates that the nurse exemplifies leadership and problem-solving. Nurses who earn a DNP can become:
Nurse Practitioners
Nurse Anesthetists
Nurse Midwives
Informatics experts
Nurse executives
Additionally, MSN-prepared advanced practice nurses can build upon their clinical expertise by earning a DNP.
Choosing a DNP program
It can be intimidating to investigate DNP schools without a starting point. Florida has twelve DNP programs available- which further broadens the research needed. To help narrow down the choices, prospective DNP students should consider the following.
What to Consider When Choosing a DNP Program
Cost– The average cost to attend a DNP program in Florida is around $600 per credit. Tuition may be higher depending on resident status. Books, university fees, and supplies are added costs. Tuition is also variable in Florida, ranging from below $300 per credit to over $1000. The good news is that most schools offer financial aid options.
Online options– All the DNP programs in Florida offer online or hybrid courses. Some advertise 100% online study, but sometimes campus visitation is needed for interviews or to meet with an advisor. Online programs are beneficial because most DNP students are already working as a nurse or APRN, and it works well with their busy schedule.
Accreditation– Nursing programs need to be accredited by the Commission for Collegiate Nursing Education (CCNE) or the Accreditation Commission for Education in Nursing (ACEN). While some programs may have regional accreditation, the CCNE and ACEN are nationally-recognized accreditation bodies that meet strict educational standards in nursing. As stated earlier, twelve DNP programs in Florida are accredited by the CCNE.
Residency Options– Depending on the track, DNP students may be required to complete a set number of clinical hours to graduate-mainly those in APRN tracks. The required hours vary between 1000 and 2500 hours. Some schools allow DNP students to count their MSN clinical hours towards the hours required in the DNP program. Students should investigate this when researching schools. Florida also has post-graduation residency programs for nurse practitioners; an example being the University of Miami's Oncology Fellowship. These programs offer additional clinical experience on top of required clinical hours in school.
Florida Atlantic University's DNP program was the first CCNE-accredited program in Florida. It offers tracks for both BSN and MSN-prepared nurses and focuses on practice leadership in both. It is a hybrid program, offering online classes as well as in-person campus visitation. However, some classes are held on Saturdays to accommodate students further. For those in the NP track, 1000 clinical hours are required. For post-MSN DNP students, completion of a project is required.
Admission & State Licensing or Certification Requirements
Admission
Admission requirements may vary not only between schools but also based on tracks. BSN to DNP applicants may need additional requirements than MSN applicants. General admission requirements may include:
An active, unrestricted Florida RN or APRN license
An MSN or BSN degree from an accredited school
GPA of 3.0 or high (may vary between programs)
Letters of recommendation
Resume/CV
Interview with faculty
Writing sample (such as a statement of purpose)
Certification
DNP students in APRN tracks such as (NPs, CRNAs, Midwives, or CNSs) are, upon completion of the program, eligible to sit for certification exams through a nationally recognized agency. Examples of certification bodies include:
The American Nurses Credentialing Center (ANCC)
The American Association of Critical-Care Nurses (AACN)
The Pediatric Nursing Certification Board (PNCB)
Licensing
For graduates of a DNP program who completed an APRN or CNS track, applying for licensure in the state of Florida may be done online. Requirements include:
Valid RN license
Hold an MSN or DNP degree
Demonstrate proof of APRN specialty certification
Submit evidence of malpractice insurance
Submit transcripts
Complete application and fingerprinting requirements
For APRN who dispenses medications (which is different from prescribing), must complete a Dispensing Application
For CNS applicants, demonstrate proof of completing required clinical hours OR provide proof of certification in a specialty area as a CNS
Florida BSN to DNP Program Options
Of the twelve accredited DNP programs in Florida, ten offer BSN to DNP tracks. The program can take three to four years to complete, and supervised clinical hours may be required for APRN or CNS students. The specific curriculum may vary, but can include:
Role development of the APRN
Advanced pathophysiology and pharmacology
Advanced health assessment/ differential diagnosis
Evidenced-based medicine
Leadership
Research
BSN to DNP students are not limited to just APRN roles- they may specialize in informatics, organizational/ executive leadership, or as a clinical nurse specialist.
Related Education Paths
Helpful DNP Agencies and Organizations in Florida
List of Campus and Online DNP Programs in Florida
Boca Raton, FL
Coral Gables, FL
Fort Myers, FL
Jacksonville, FL
Miami, FL
Miami Shores, FL
Orlando, FL
Tallahassee, FL
Tampa, FL
West Palm Beach, FL
Are we missing your school's program or need to update information listed? Please contact us so we can make the necessary changes.
Find DNP Programs By City: