2023 - Best Nursing Schools in Delaware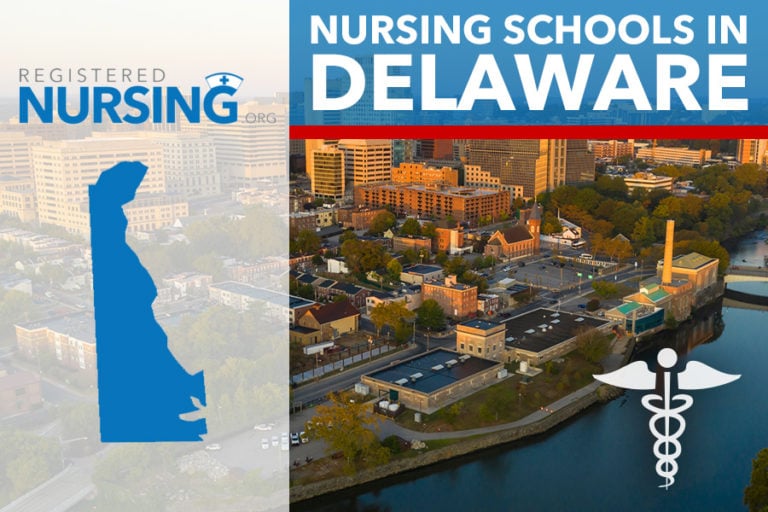 Delaware is dedicated to supporting their nurses in providing higher education opportunities that will in turn offer these nurses with higher than average annual earnings, and career advancement opportunities. There is direct correlation to a nurse with their Bachelor's of Science in Nursing (BSN) and the wage/opportunity differences. It has been estimated that a nurse with their BSN earns 15% more than their counterpart that only holds an ADN. Delaware is looking for nurses that are striving toward excellence and are driven to provide the best quality care for their patients.
For RN bridge programs visit:
2023 Best RN Programs in Delaware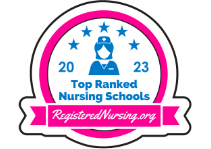 Selecting the best nursing school in Delaware can be difficult. To make the process easier first look for a school that supports students towards licensure and beyond. A great way to measure this is through NCLEX-RN "pass rates." We have ranked the top 3 nursing schools in Delaware by analyzing current and historical NCLEX-RN "pass rates", meaning the percentage of graduates who pass the exam, out of the 7 RN programs in the state. Programs reviewed include schools that offer an Associate in Nursing (ADN/ASN), BSN, or Direct-Entry MSN Degree.
For more information on our top nursing school rankings, see our Methodology Page (https://www.registerednursing.org/rn-ranking-methodology/).
424 Savannah Road
,
Lewes
,
DE
19958
Score: 93.84
Beebe Healthcare's Margaret H. Rollins School of Nursing offers one of the country's leading accredited RN diploma programs. This program emphasizes nursing foundations, clinical experience, and preparation for the NCLEX-RN examination. Dedicated faculty and staff serve students as mentors and role models.
Program Details
Programs: Diploma
Phone:

(302) 645-3300
400 Stanton Christiana Rd
,
Newark
,
DE
19713
Score: 91.51
Delaware Technical Community College in Stanton prepares students for careers as essential members of health care teams. This program can be completed in five semesters and also offers an accelerated path allowing students to complete requirements sooner. Advanced placement in the program is available for Licensed Practical Nurses (LPN) who hold a current license and for nationally certified Paramedics.
Program Details
Programs: Associate in Nursing, LPN to RN
Phone:

(302) 454-3900
25 North College Ave
,
Newark
,
DE
19716
Score: 91.41
The University of Delaware's traditional BSN program welcomes students who wish to develop the skills and knowledge needed to take on the role of registered nurse. The school's rigorous and innovative 4-year program includes service-learning, research opportunities, mentorships, and community engagement to create well-rounded nursing professionals.
Program Details
Programs: BSN
Phone:

(302) 831-2792
ADN Programs in Delaware
One of the most expedient paths to becoming an RN is that of the college ADN program. Generally, the Associate's Degree in Nursing is 2 years in length and focuses on skills such as understanding and applying healthcare principals and processes to provide evidence-based and empathetic services, including patient needs assessment while meeting ethical care standards. Delaware has a four or so ADN programs offered throughout the state.
What to Look For in an ADN Program in Delaware
How should potential students evaluate whether an ADN program is going to help them meet their goals of becoming an effective advocate of patient health and all that it entails, including acute and preventive health-care measures? Try using the following school criteria to help:
Accreditation
Offering great value to students and regulatory control to institutions, accrediting bodies create measures to which schools can evaluate themselves to ensure a standard of programming that creates excellent nurses. It is important for students to ensure that their school choices are accredited by either the Accreditation Commission for Education in Nursing (ACEN) or the American Association of Colleges of Nursing (AACN).
Licensing
Completing your ADN through an accredited school should lead you to being able to take the NCLEX-RN exam for your state, right? This wasn't always the case, so double check that your school program actually lists that you're eligible for nursing licensure once you graduate and take the exam.
Program Outcomes
A school's reputation for academics is an important consideration. Here are some indications that you've found a great ADN program:
Number of graduates compared to non-graduates
NCLEX-RN examination successes
Graduate satisfaction survey data
Post-diploma employment
Delaware Technical Community College offers the ADN program through three of its campuses in Dover, Georgetown, and Stanton. Soon-to-be nurses gain insight and experience learning about and working in acute care and long-term care facilities as well as in public health and private clinics.
ADN Program Admission Requirements in Delaware
Many students wonder what the admissions criteria are for each of their school choices, as the information can be difficult to find and less than straightforward. The following is an example of admissions criteria for the college level program:
Meet the 'Abilities' section of the screening criteria
Have a GPA of 2.5 or greater
Have completed the NLN Pre-Admission Examination (NLN-PAX)
Complete the online application
Have completed a background inquiry and health history
Provide documentation confirming updated vaccination schedule and CPR certification
Tuition and Costs of ADN Programs in Delaware
Figuring out the total cost of attendance for a particular ADN program can be key information that helps students make a choice to attend a particular institution. Rolled in to the total cost of attendance are items like textbooks, equipment and housing – even uniforms – in addition to tuition costs. The estimated tuition cost for students attending Delaware Technical Community College ranges between $1,800 and $2,000 per semester, depending on how many credits a nursing student takes. Overloading courses incurs additional fees, and students may wish to speak with an advisor to research housing and equipment costs for the program.
Advantages of ADN Programs
Each student has a unique set of experiences that make up their personality and drive their decisions, which means that some will see distinct advantages to ADN programs. The program covers adult health, maternal and newborn heath, and children's health and focuses on hands-on experiences. ADN programs are also quite a bit less expensive than their BSN counterparts.
BSN Programs in Delaware
Bachelor of Science in Nursing programs in Delaware are on par with other BSN degree programs across the nation. Generally, they operate on a 4-year timeline with all the components of the ADN programs, as well as additional time spent in class learning about nursing theory, management and informatics. BSN degree programs tend to prepare nurses equally well for patient care as well as professional advancement. Throughout the state, over 200 graduates take the NCLEX-RN each year, with a pass rate of about 85%. The state offers a few BSN degree programs at universities for students looking to earn their BSN.
What To Look For in a BSN Program in Delaware
Finding the right BSN program to fit your needs is an important first step in your professional path. Some of the factors that bear comparison between schools are whether the schools themselves have specialties – that is, are they 'known' for a particular aspect of nursing? Many students consider location as a factor – not only are in-state fees considerably lower than out of state tuition, but many students choose to lower their academic debt and commute to school from home if close enough.
Dover, Delaware is home to the renowned Delaware State University College of Education, Health and Public Policy to which the Department of Nursing belongs. Nursing grads from the university are prepared to provide compassionate care to meet the needs of each individual patient they encounter.
BSN Program Length in Delaware
A regular-length BSN program is 4 years, or 8 semesters, with summers off. There are accelerated options available that make use of the full calendar year to condense the program offerings into about 2.5 years. Students should think carefully about how best to use their off time and what pace of programming would suit them best.
BSN Program Admission Requirements in Delaware
GPA must be 3.0 or greater
Any pre-requisite courses must be completed by the spring of the application year
All science courses must have been taken within the prior 5 years
NLN-PAX must be successfully passed
Must be a student in good standing with the university
Provide evidence of a completed background inquiry and health history
Provide evidence of updated vaccinations
Tuition and Costs of BSN Programs in Delaware
BSN tuition is a major consideration for many students, and is subject to change from year to year. Students who are taking a regular course load will have a tuition cost of about $7,500 per two semesters, which includes all mandatory university fees. These costs do not include nursing uniforms, texts, or housing and living expenses. Students are advised to research carefully to ensure they can sustain their budget over the 4 years of the program, and to apply for financial aid each year.
Advantages of BSN Programs
With looming healthcare shortages, more and more students are seeing the value in choosing a BSN degree. Over the next decade, there will be gaps left in the structure of many hospitals and clinics as nurses retire, and BSN graduates are well able to move into those roles. Another key advantage to a BSN degree is the professional network between many universities and their hospitals, ensuring a positive relationship for clinical rotations.
MSN Programs in Delaware
Increasingly, students are differentiating themselves in the workforce by getting an advanced degree, in this case, the Master of Science in Nursing or MSN. Students who graduate successfully from one of Delaware's BSN programs can apply to a variety of universities' online campuses to complete their MSN curriculum.
MSN Program Length in Delaware
Typically, an MSN program may be as short as 2 years, or more than double that length when taken on a part-time basis. While distance education does make for more flexible scheduling, students should be cautioned about taking on too many work or volunteer commitments during their MSN coursework.
MSN Admission Requirements in Delaware
Every nursing program has standards that students must meet in order to gain acceptance to the program. Each program is a little different, but here are some of the core requirements:
A BSN from an accredited institution
A GPA of 3.0 or greater
Competitive GRE scores dated within the last 5 years
DE RN license in good standing
Tuition and Costs of MSN Programs in Delaware
More costly than undergraduate and college programs, master's level studies range in their cost. Often offered as separate expenses, programs do not include additional fees, books, housing, uniforms or equipment, therefore we encourage graduate students to speak with a finical advisor to make sure that they have an understanding of the total cost of attendance.
For NP programs visit:
Getting a Delaware Nursing License
Delaware state regulations for nursing licensure or by endorsement are as follows:
Application completed with appropriate fees paid, also include the following documentation:
Completed 'Authorization for release of information' for background check
Copy of driver's license or ID from the DMV- if no driver's license, submit voter's registration card, federal tax return, military form 2058, or W-2 form
Transcript sent from the institution directly to the board
'Nursing Reference Form' completed by yourself and the institution- sent directly from the school to the board
Registration for NCLEX-RN examination
Apply for endorsement of licensure can be done by providing the above information, as well as:
Photocopy of current license
Verification of successful completion of NCLEX-RN
Accelerated Nursing Programs in Delaware
You may already be on the career path of becoming a nurse, but have you looked beyond graduation? There are options to accelerate your degree or bridge your existing degree with that of a higher degree. The accelerated program is offered as a full-time, on campus, 17-month degree program, and does not recommend working while taking the program, as it is quite intensive and has clinical hours running concurrently. Admission eligibility and tuition are all dependent on meeting the requirements for entrance, as some of the requirements are additional courses that will also affect tuition costs. Tuition is dependent on a variety of factors which can also include housing costs.
Latest Delaware NCLEX-RN Pass Rates and Statistics
Total Number of State Approved Schools: 7
Total Number of Test Takers in 2021: 639
2021 Average Statewide Delaware NCLEX-RN Pass Rate: 85.4%
Continued List of All RN Programs in Delaware
Here is a continued list of all RN Programs a continued list of all RN Programs a continued list of all RN Programs a continued list of all RN Programs a continued list of all RN Programs a continued list of all RN Programs.
Are we missing your school's program or need to update information listed? Please contact us so we can make the necessary changes.