Charge Nurse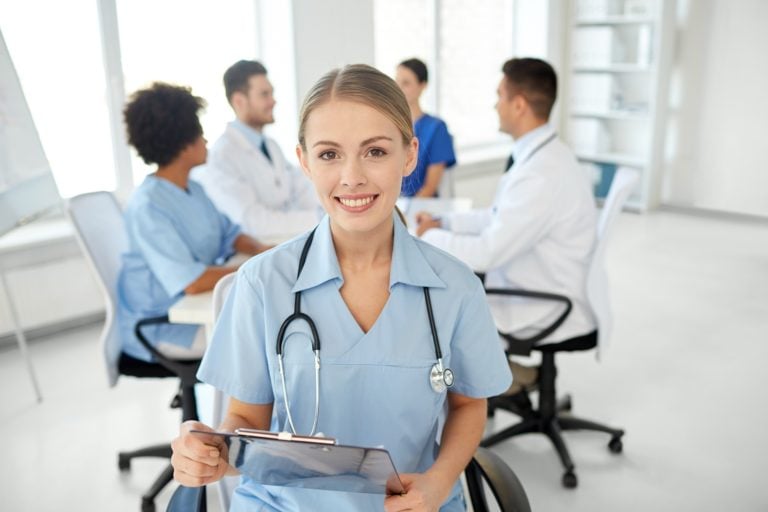 What Is a Charge Nurse?
A charge nurse is an RN who is essentially 'in charge' of a ward in the hospital or other healthcare facility during their shift. These nurses perform many of the tasks that general nurses do, but also have some supervisory duties. Aside from caring for patients, the charge nurse ensures that everything is going smoothly during a shift and coordinates between the staff nurses and physicians or hospital administrators. These nurses delegate tasks, prepare schedules, and monitor admissions and discharges. A mix of clinical experience, communication, and solid leadership skills are needed to excel in this position.
Becoming a Charge Nurse
Once a degree and RN licensure is earned, RNs will generally need a minimum of 3-5 years of experience in a clinical setting before they can get hired as a charge nurse. Since charge nurses can work in different wards or departments, gaining experience in a particular specialty (like ICU, labor and delivery, etc.) is a good idea if an RN thinks they may want to eventually become a charge nurse in that niche.
The following are typical skills mentioned in charge nurse job descriptions. Exact requirements can fluctuate based on the state and the employer, but in general, those looking to become charge nurses will want to be able to do the following:
Able to provide direct care to patients
Must be able to move, lift, and position patients
Responsible for supervising licensed and unlicensed team members and staff throughout the facility
Able to monitor and chart information
Provide everyday guidance, support, and direction to staff
Must have excellent communication and interpersonal skills
Able to efficiently and skillfully assess medical situations and expedite care
To search and apply for open charge nurse positions, visit our job boards.
What Are the Education Requirements for Charge Nurses?
Hospitals and other health facilities typically hire charge nurses who hold at least a BSN degree and have passed the NCLEX-RN. RNs with higher degrees, such as an MSN degree, may stand out more to employers, since this position requires a higher amount of knowledge and responsibility. Experience is also important, and up to 5 years of clinical RN experience may be required for some charge nurse jobs, so this is not necessarily a career choice geared toward new nurse grads.
Are Any Certifications or Credentials Needed?
There is no credential or certification specific to charge nurses, but many have other certifications. Basic life support, pediatric life support, advanced cardiac life support, and CPR certifications are all either required or preferred for RNs applying to charge nurse positions. Charge nurses in specialty units may also need to earn credentials or certifications specific to that department.
Where Do Charge Nurses Work?
Charge nurses are needed in many different medical settings. Aside from hospitals, charge nurses can be employed in medical clinics, physician's offices, nursing homes, urgent care clinics, and other specialized medical care facilities. A small amount of travel may be necessary in this position due to the managerial aspects of the job, as charge nurses are sometimes required to attend offsite meetings.
Charge Nurse FAQs
Many healthcare facilities offer charge nurse positions to nurses who have clinical experience, as well as experience in leadership (i.e., nurses who have acted in a relief charge nurse role or have demonstrated leadership abilities as a staff nurse). In some cases, a BSN is preferred, but this is dependent on the facility.
Charge nurses can work in a variety of settings such as:
Hospitals

Nursing units
Emergency department
Intensive care
Labor & Delivery
Surgery services

Medical Offices
Ambulatory specialty departments
Nursing homes
Rehabilitation facilities
Dialysis Centers
Home Health
A quick search for "charge nurse" through this RN job board yielded thousands of results - from full-time to part-time and on-call, the opportunities were plentiful. These postings usually do not include internally-posted positions within a facility. It's important for nurses to ask around to find which organizations offer charge nurse positions, as some have gone toward nurse manager-led departments as opposed to charge nurse-led departments.
Regardless, nurses have clinical advancement opportunities readily available in many health care settings, including the charge nurse role. Nurses who are flexible, organized, and adapt well to change would make excellent charge nurses.
What Does a Charge Nurse Do?
Charge nurses manage many aspects of busy hospital wards or medical facilities. They supervise the staff nurses, coordinate care, oversee treatment, and handle lots of paperwork. Aside from the supervisory role of their jobs, charge nurses are also on the floor seeing patients themselves and may need to take charge when an emergency arises. Charge nurses must also be knowledgeable about their employer's policies and procedures and ensure that they are carried out properly by staff.
What Are the Roles and Duties of a Charge Nurse?
Supervise and provide support to staff
Create and/or maintain staffing schedules
Train and orient new hires
Participate in patient care meetings
Oversee and maintain policy, procedure, and safety compliance
Meet regularly with administrators to report and discuss personnel and patient care status
Assume primary responsibility and react quickly and efficiently in an emergency
Provide patient education
Oversee patient admissions and discharges
Monitor and order supplies
Charge Nurse Salary & Employment
Charge nurses can expect to earn between $50,400 and $90,523 annually, with the median salary landing at $68,863 per year. Type of employer, location, and the RN's level of education and experience will determine exact salary.
Registered nursing in general is an in-demand profession, and charge nurses are no exception. Skilled charge nurses who possess a mix of clinical and managerial expertise are needed to guide staff nurses in increasingly complex and busy medical settings. A charge nurse is an excellent "next step" career for an ambitious RN who has gained valuable experience and is looking to take on more responsibility.
Helpful Organizations, Societies, and Agencies