Wound Care Nurse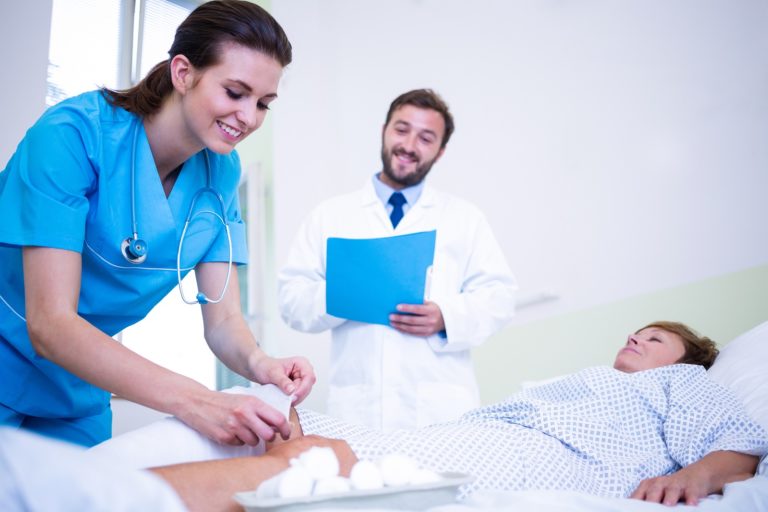 What Is a Wound Care Nurse?
The wound care, ostomy, or continence and foot care nurse (also referred to as a WOC nurse) specializes in assessing and treating skin breakdown and wounds, especially pressure ulcers. They often cross-train in the care of ostomies. This nurse is commonly consulted during a patient's stay in the hospital when a wound or pressure ulcer (bedsore) is discovered, or if the patient has an ostomy. The wound care nurse is responsible for determining the proper course of treatment to promote healing and continually assess the patient's skin.
Becoming a Wound Care Nurse
Once a nurse completes their degree and passes the NCLEX-RN, they may decide to go into wound care nursing. This will typically require some additional training and education, and nurses may decide to focus on a particular sub-specialty of wound care nursing, such as ostomy or foot care. Many RNs enter into wound care nursing after treating patients with chronic wounds in other nursing areas, such as oncology, med-surg, or critical care. It is not common for a new graduate RN to be hired directly into this position without gaining some bedside experience first.
What Are the Education Requirements for Wound Care Nurses?
Most wound care nurses hold a Bachelor's of Science in Nursing degree or higher. This is because the requirements for Certified Wound Care Nurse (CWCN) certification include a BSN stipulation. Nurses must also hold an active RN license and complete some additional training in order to become certified. Most hospitals and healthcare employers also like WOC nurses to have some prior professional nursing experience.
Are Any Certifications or Credentials Needed?
The Wound, Ostomy, and Continence Nursing Certification Board offers information on 4 certifications available:
Wound, Ostomy, Continence
Foot Care
Advanced Practice
Wound Treatment Associate
Vohra Wound Physicians also offers a Vohra Wound Certified Nurse (VWCN™) certification. They offer specialized options for facility-based RNs and LPN/LVNs, as well as for home-health RNs. Students who complete Vohra's wound care certification will also earn 30 Continuing Nursing Education Credits (CNEs).
Eligibility for these certifications varies, so be sure to carefully review each certification before applying. Read more for further clarification on wound care nurse certifications.
Where Do Wound Care Nurses Work?
Wound care nurses generally work in hospitals in different units:
Operating Room (OR)
Critical Care
ICU
Inpatient settings where patients are bedridden
They may also work for home health care agencies, nursing homes, hospices, or public health agencies. There is a growing need for WOC nurses in long-term care settings to help with complications from diabetes in particular.
What Does a Wound Care Nurse Do?
Wound care nurses utilize a variety of techniques to assess, treat, and care for patients with wounds. This includes wound debridement, cleaning, bandaging, and working with the doctor and care team to determine if other treatments like surgery or antibiotics are necessary. They often work with patients who have ostomies, diabetes, or pressure ulcers. WOC nurses also offer education to patients and their caretakers on how to care for wounds at home and how to prevent infection and further injury.
What Are the Roles and Duties of a Wound Care Nurse?
Assess and monitor wounds
Debride, clean, and bandage wounds
Work with the care team to determine if antibiotics, surgery, hyperbaric oxygen therapy, or other treatments are needed
May work in a specialty capacity to care for ostomies, diabetic foot care, and more
Educates patients and caretakers on wound care, infection and injury prevention, and pressure ulcer care and prevention for those who are bedridden or have limited mobility
Completes proper documentation for Medicare reimbursement and writes orders to promote wound healing and the prevention of skin breakdown
Wound Care Nurse Salary & Employment
Things like location, education level, and experience will undoubtedly affect the salary of a WOC nurse. With that said, the median salary of a wound care nurse is $64,076 with a range of $41,701 – $83,160.
The employment outlook for a wound care nurse is excellent, due to the high demand for this specialty in a variety of settings (acute care, nursing home care, etc.). The aging population and the prevalence of obesity and diabetes make wound care nursing a stable nursing specialty. WOC nursing is also a fairly independent specialty, and has a wide variety of applications, making it a versatile area of nursing.
Do Wound Certified Nurses Make More Money?
Oftentimes, yes! Certified nurses have been shown to earn on average $9,000 more per year than their uncertified colleagues, according to the American Nurses Credentialing Center. Wound Certified Nurses not only report higher salaries but also greater job security and more career opportunities because wound care expertise is increasingly sought-after.
Helpful Organizations, Societies, and Agencies